Reckon The School Of Rock


By:- Ringo Pebam *



It's midnight!! And it's party time for us insomniac net Zombies who "BARK AT THE MOON"!! Like 'Ghosts who walk'', we traverse far and wide into the virtual cyber world and are used to LIVING AFTER MIDNIGHT. No, we don't tom-tom drums for sending messages like the native Africans but exchange mp3 files of immortal rock and heavy metal numbers that we can't live without. Lo and behold! We are like SPEED KING(S) on the information HIGHWAY TO HELL. And we recall our school days as vividly as the psychedelic and HEAVY METAL SKULLS on our tees and patched jeans. Yes. THOSE WERE THE DAYS, the SKULL DAZE. Life was cool! School, tuitions, music, guitars, movies, sci-fi, football, BMX, walkman stereos and we had them all. No military/security metal detectors to CATCH THE RAINBOW collections of Beatles, CCR, Smokie, Eagles, Nazareth, Grand Funk Railroad, Led Zeppelin which were neatly packed in our school bags like the vitamin rich tiffin packs of the day. And remember, we weren't all the rich spoilt brat pack of the rich and the famous Manipur.

Audio Cassettes of Judas Priest, Iron Maiden, Black Sabbath, Uriah Heep, Rainbow and others flooded Imphal from Shillong, Gauhati (now Guwahati) Moreh, Kathmandu etc. officially marking the death of Long Play (LP) discs that dotted the hills and dales of Manipur. Soft Rock Vol - 1, 2, 3, 4… Heavy Metal Vol - 1, 2, 3, 4,… would introduce us to Kansas, Boston, April Wine, Dire Straits, Scorpions, Yes, KISS, Neil Young, Bon Jovi, Europe, Poison, Cinderella, Ozzy Osbourne, Def Leppard, Ronnie James Dio, Quiet Riot etc. High Schools were the venues where we gaily exchanged audio collections. And the innocuous looking cotton or woolen bag would be the medium that carried these prized possessions. The network was big, the music was huge. Indeed, the mode of exchange functioned just like what we are experiencing now, using BitTorrent/Azureus/LimeWire peer-to-peer (P2P) exchange.

Recall how every year we longed and eagerly wait for the 5th of September – Teachers Day celebration. Most often, this was the day where we got to see our seniors execute headbanging hard rock/metal acts in school without a regular music coach. It was magical indeed!! We watched them with gapping mouth, amazed and awestruck.

The talented quartet from Class X batch of 1988-89 in our school performed Empty Rooms. Next day, we went on a wide wild hunt for audio cassettes of Garry Moore at every nooks and corner of markets in Imphal (remember "Voice De Shanti" at Keishampat Junction?). Some of us even landed at the CORRIDORS OF POWER of some Rock `N Roll pioneers in Imphal after the search. Painted their faces like Simmons, Stanley, Frehley and Criss of the KISS, those high school boys would scream out numbers from Judas Priest, Deep Purple, Poison etc. With ties and decent black and white uniforms, some others would re-create softer ballads like "SOLDIER OF FORTUNE" (Deep Purple) and "AMERICAN DREAM" (The Dirt Band).

From the back benchers to the toppers of the classes, those seniors made the impact as hard as the rock and as metallic as the steel. They not only inspired us but gave us the courage not to FEAR OF THE DARK. A senior who passed out in 1991-92, who was a topper in his class and RIDING ON THE WING, he would match the vocal chord of Rob Halford literally SCREAMING FOR VENGEANCE. Another Manipur Board High School Leaving Certificate Exam 2nd rank holder, of the year 1986, used to set his magic fingers on the electric guitar. He scored one of the highest marks in Mathematics and there was this anecdote doing the rounds that – he played the guitar and solved mathematical problems simultaneously on his mind. Wow!! Was that the physics theory of electric acoustics setting the Algebraic maze on fire!! We all wondered. And it wasn't the FLIGHT OF ICARUS that failed despite courage. By then, these people have taught us the bright and DARK SIDE OF THE MOON as well as the SUN and the STAR. We learnt to excel in our studies too.

By late 1980s, we were the FORTUNATE SONs because we got chances to go to concerts at GM Hall, MFDC Ground, Ranch etc. It was the time when Free Me, Sweet Child of Mine, I Want to Break Free, Highway Star, Paranoid, Breaking the Law, Number of the Beast, The Trooper were the lead numbers at every show. Notable bands of the era were Hell's Angels, The Cannibals, Rex, The Dark Krusaders, Post Mark etc. Their cover versions of Iron Maiden, Black Sabbath, AC/DC, Deep Purple, Nazareth and Guns `N Roses were simply astounding. LOVE HURTS. Yes it was now the love for lively rock performances and we did come back home with an aching HEART. Not that we missed the two beautiful rocking sisters Ann and Nancy Wilson of the American band Heart or Lita Ford but thinking about the next big gig in town. Next day, saying NEVER SAY NEVER we would continue to DREAM ON.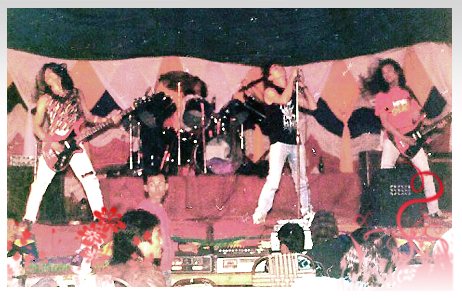 POST MARK: POSTING THEIR MARK WITH THRASH
In the early 1990s, good tidings of superb rock music performance by bands from Manipur in other parts of India excited us all. Rockers from Manipur were climbing the STAIRWAY TO HEAVEN of fame. As the rock music mania conquered the hearts and minds of THE YOUNG ONES in Manipur, the state's capital indeed became the PARADISE CITY, free and fearless. And the mania helped trace the fact that there were already die hard Rock `N Roll posts elsewhere in the state, OVER THE HILLS AND FAR AWAY like Churachandpur and Ukhrul. No, it was not the SYMPHONY OF DESTRUCTION you get to hear these days about political turmoil and BLOOD BATH IN PARADISE, that's Manipur where every one refuses to THROW DOWN THE SWORD.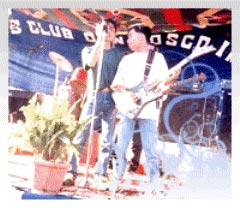 BOSCONIANS '93 - ROCKING IN THE BOYS' SCHOOL

There were two rock events that left an indelible mark on our impressionable young school minds in the 1990s. Reckon the number: 1-9-9-3 and 1-0 (Class X). These numbers might not mean much to others. We brought our alma mater - Don Bosco, Imphal, the best and most enduring band of those years – Phoenix. And Guess what?? It was the RISING FORCE and the phoenix was alive. The big names, the who's who of the rock music circuit of Manipur were seen in the crowd in our own school ground on that momentous day, 18th of April, 1993.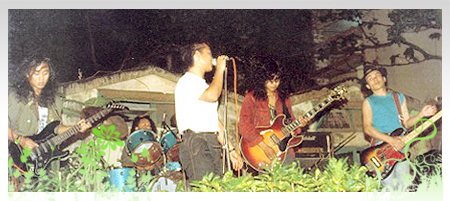 PHOENIX: ROCKING AND TRUCKING ACROSS THE SKY
It was literally like KNOCKIN' ON HEAVEN'S DOOR. Our tender hearts made an AXIS: BOLD AS LOVE and Jimmy Hendrix would have smiled upon us from above the clouds of PURPLE HAZE. He surely would have been elated even if Phoenix had done covers from the album ARE YOU EXPERIENCED. Phoenix was BLOWIN' FREE, each band members performing like a WARRIOR. In faraway Britain, Wishbone Ash would have felt the pulsating rhythm of Manipur's Phoenix spreading its wings. Everyone asked COULD THIS BE MAGIC!! Some did not even have breakfast and lunch when they came but would STAY HUNGRY for everyone wanted Phoenix guys to go on till they drop.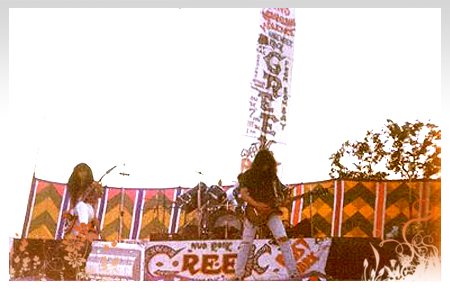 POST MARK: STEALING THE GREEK'S SHOW

Sometime in early '90s a band called Greek came to Imphal. For long, the local crowd had been eagerly waiting to see the boys from Bombay. As the clock was ticking towards the show time, the Ranch Ground was gradually flooded by rock fans of all hues. Donning their favorite rock and heavy metal gears, the fans were ready for a comparative experience and a new high. Post Mark, the rock band from Imphal, labeled as the "Godfather of Thrash Metal in North East" opened for the Greek. And the Greek(s) from Mumbai were no ALEXANDER THE GREAT. CAUGHT SOMEWHERE IN TIME, the audience could not be mesmerized by the band. With not very impressive performance, Post Mark actually stole the show with their thumping numbers. A lesson well learnt. It was time to compete with others in India and abroad because we had our own talents that could match anyone in the trade. But how long did this dream last? We are still wondering.

Nu-Metal, Death Metal, Hip-Hop rule music channels and the charts these days. We can't live in the past. But have we mentally traveled back in the past to analyze why some of our best rock bands could not stand the test of time? And why are there no continues rock band tradition in Manipur led from the front by former stalwarts? Where have all the `70s, '80s and '90s rock and metal heroes in the state gone? Some young bravehearts in the first and current decade of the new millennium are still playing hard so that in the next decade they can say "Wow" to themselves. But does this feeling legitimize the early annihilation of the pioneering talents? It is heartening to note that some have experimented with new genre of music and a band like Eastern Dark with impressive veteran line up have come up with compositions in Manipuri reflecting the current socio-political conditions.





When we go and watch major rock and metal bands coming to India and perform, we remember our local school Rock 'N Roll heroes. We call them heroes because they were the ones who initiated the move. Let's give them some honour, let's give them a platform, to rise again from the ashes, just like the proverbial PHOENIX. YOU CAN'T KILL ROCK`N'ROLL. And FOR THOSE ABOUT TO ROCK (or ROCKED), WE SALUTE YOU.


Dear Like-Minded-Fellow-Rockers,

We have dwelled in the same world in one way or the other; we have struggled at some point of our lives trying hard to do 'the thing' - arranged instruments, hired amplifiers, practiced so hard, without much support from anyone except nungdums on the roof from neighbors. But don't forget, we did get a pat on the shoulder at the end of our shows - "Well done, sons".

If you are in Ahmedabad or Pune or Delhi or Mumbai or Chennai or anywhere.. and if there comes up any concert or festival or anything which can be a platform for our musicians back home, lets try our best to promote them.

NOW, we have a mailing list, we are not that big, there are about just 50 of us, from Bangalore, Mumbai, Imphal, Delhi and others places. JOIN US, Let's add some magic to the echoes of the beautiful melodies from Manipur.

To join the yahoo group (mailing list), please go to:
http://launch.groups.yahoo.com/group/rock-music-manipur/

Primary aim:
1. to help and promote rock musicians of Manipur(and NE) in every possible way.

2. to wire up all the rock music lovers of Manipur(NE or from anywhere), who are residing in Manipur and outside.

3. to share information and ideas about the music.

The classic masterpiece "WOMAN" by Phoenix/Phynyx can be downloaded from this group's file directory. (Access to download the MP3 file is given to 'anyone', in the spirit of SHARING).

- Ringo


Also read: Silent echoes from Manipur


---
This article also appeared in the Sunday Edition of The Sangai Express, Imphal, on 7th of Oct '07.

* Ringo Pebam, a Software Engineer in Bangalore, and a Free and Open Source Software enthusiast, contributes regularly to e-pao.net.
The writer can be contacted at ringo_pebam(AT)yahoo(DOT)com.
This article was webcasted on October 14th , 2007


* Comments posted by users in this discussion thread and other parts of this site are opinions of the individuals posting them (whose user ID is displayed alongside) and not the views of e-pao.net. We strongly recommend that users exercise responsibility, sensitivity and caution over language while writing your opinions which will be seen and read by other users. Please read a complete Guideline on using comments on this website.