ROCK'ing' ON Silver Screen:
Beyond language and cultural barrier

Ringo Pebam *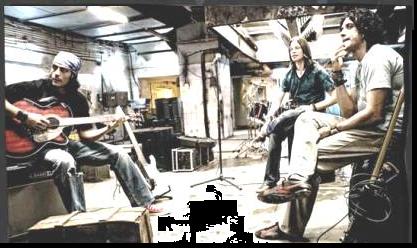 A still from the movie 'Rock On!!'
Like any other aspiring college youth, Joe Mascarenhas has a dream. He tries his hand on making it big with his rock band called 'Magik' and his girl friend Debbie longs to become a successful fashion designer. Ten years later, Joe, a talented guitarist struggles hard to support his family. He finds no work but his passion for playing the guitar refuses to leave him. He occasionally fetches meager amount playing for clubs and on people's wedding nights. The rock musician in him could not make him happy just performing on such occasions. The saving grace was the little money that he gets after such shows. For the crowd at such venues did not regard them as stars or acknowledge the fact that Joe was a good musician. An individual who really mattered was Debbie who had the big dream of becoming a fashion designer/stylist. She slogs day and night to make ends meet. Debbie looks after a small time fish business, cooks food, looks after the kid, pays the bills and does all the domestic chores. That's one side of the story of "Rock On!!" the movie. And there are many a parallel narratives with the many struggles of rock musicians of the North East and across the country.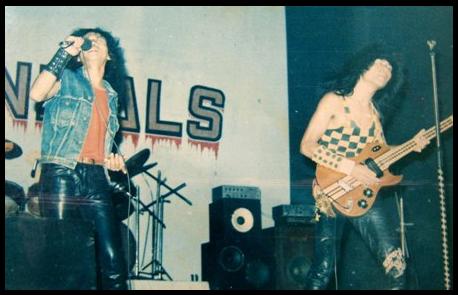 CANNIBALS performing sometime in late 80's. Seen here are vocalist Paul and bassist Jimmy.
In an increasingly polarized world of civilizations and cultures, music is the balm that not only soothes the pain but also builds bridges. This is followed by the everydayness of struggle for survival. The role of Rock N Roll in the lives of the invisible many is an interesting topic. Rock N Roll progressed in the West and reached the hills and valleys of the North East in mid sixties via the radio wave. Mention may be made of 'RADIO RANGOON', BBC and other stations people tuned into between the heady 60s and the enlightening 70s followed by a proliferation of numerous vinyl records that reached music stores in fledging townships across the region.

North East has its own greats and pioneers: 'Blood and Thunder' and 'King Apple' - the mothers of all hard rock and metal bands in the region; Great Society/Lou Majaw - a testimony of real talent, sheer grit and determination; Soulmate - one of the most respected bands in the country today that rocks against time and place; Abiogenises - the only Grammy listed band from India in two categories. These bands are also backed up by key music events like the ROOTS Festival- a month long tour of states of NE, with local and foreign acts, the one and only of its kind in the country. In Manipur, pioneering bands like Magnetos and Runway Tracks made their debut in the 70s. Despite the previous indifference shown by the some segments of the population, the 80s and 90s saw the flourishing rock bands against all odds. The emergence of Cannibals, Phoenix/Phynyx, Dark Krusaders, Post Mark and others made a definite impact on the youth horizon. They were not only accepted, but respected.

The story projected on the silver screen and the reality that is with the many struggling rock musicians in the North East was amply reflected in a recent mail thread in RMM (a rock music community/forum) that centred around the Bollywood movie called "Rock On". At first, I was not quite impressed by it, thought it will be just another Bollywood movie. I checked out the songs of the film by chance and the numbers struck me with awe. Not a classic rock album, but quite amazing as a rock music based Bollywood product. The guitar riffs of 'Rock On', the metal 'Zehreelay', the riff based catchy and rhythmic 'Pichle Saat Dinon Mein', the faster 'Socha Hai' and 'Sinbad The Sailor', the soulful 'Tum Ho Toh', the acoustic ballad 'Phir Dekhiye'. Shankar-Ehsaan-Loy is a phenomenon. Ehsaan Noorani and Loy Mendonsa, accomplished musicians who had experimented with blues, jazz and assortment of musical genres, Shankar Mahadevan who has strong foundation in Indian Classical Music - are the men who composed the songs of Rock On. The killer riffs, the lead solos and the melody we get to hear in Rock On are theirs. Farhan was trained by Shankar to sing for Rock On. Dominique Cerejo, Suraj Jaggan and Caralisa Monteiro lent their voices in the album. Much respected Urdu poet Javed Akhtar's lyrical brilliance is very well made used in these rock songs. The time they are a-changin'.

I did not bother much about the box office fate of the movie. All that I thought was that reality shows on TV like "Indian Idol', "Voice of India" and "Saregama", will now have participants belting out these rock songs, the orchestra that plays RD Burman's, Anu Malik's, Himesh Reshammiya's music will now play the guitar riffs and lead solos of rock, and the uncles and aunties who frequent the TV studios as audience will do the head banging. Bollywood is not new to adopting rock and roll numbers but most were either adaptations or just 'lift' from popular western rock acts/tunes of the era. In the 60s, Indian melody emperor Mohd Rafi along with Asha Bhosle, Balbir S, Batish SD sang a song called "Dekho Ab To" for the film "Jaanwar" (1965). This number was a lift by the music director Shankar-Jaikishan from the Beatles' "I wanna Hold Your Hand". The song sequence was picturised on the original Bollywood screen roller (just a roller not a rocker, if you have seen how this actor rolls over the hills and dales wooing his screen lovers!!) Shammi Kapoor and one of his onscreen heroines. Recall the drum rolls towards the end that was more akin to Bhangra beat than the Liverpool sound by Ringo Starr!! And now what a co incidence! If one can fault Shankar-Jaikishan for lifting the tune then now it is time to appreciate Shankar-Ehsaan-Loy for the original compositions of Rock On.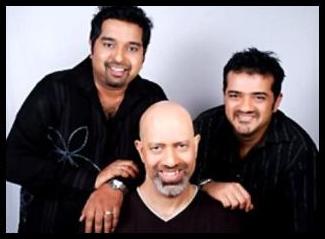 Shankar-Ehsaan-Loy
I could not catch the first day first show of 'Rock On' last week, but I managed to catch the second day second show. There were metal heads with long hairs in the front rows, clad in metal t-shirts, who would whistle and clap every time Farhan and company performed a number, a number that is of rock genre. I love the movie for bringing rock music genre in a mainstream movie and for the story line which connects with life and many a youth's dreams, passions, bonds, relationships, compromises and ethics. 'Life is journey, not a destination', well expressed.

If you were/are/aspire-to-be in a rock band member, if music had bonded you and your friends, if you had a passion/dream remained unfulfilled, if you ever had experienced life's bitter compromises, you will find yourself connected to this movie. Rock On will make you think. We had dreams and passions in life, but how many of us live to see it, how many of us did not surrender in testing times? Are we really happy compromising with what we love? A very well paid job is everything? A passionless and mechanical life is worth it? Where exactly is the inner satisfaction? Just to borrow a line or two from Pink Floyd: "And did they get you to trade your heroes for ghosts? And did you exchange a walk on part in the war for a lead role in a cage?"

A story of a rock band is just a metaphor, Rock On is about anyone, about living our dreams. Aditya (Farhan), Joe (Arjun), KD (Purab) and Rob (Luke) are four friends who dreamt of making it big time as a rock band. They endured the hardship and faced the odds - rock music unable to get accepted in the mainstream, commercial success given more priority by the market bosses, than being given the freedom to remain true to the music. Compromises to be made with life and dreams, they disbanded. Ten years on later they met again, tormented and tired with life that is passionless. They decided to live their dreams and they lived. Luke Kenny, Arjun Rampal and Purab, the trio's performances deserve lots of accolades. To top it all, there are several beautiful rocking moments in the movie - the walk out to the stage, behind stage tension during a competition, behind stage drama once the results are announced, gusty guitar solos, ceremonial jumps into the crowd, impromptu lyrics during practice sessions etc. If I am allowed to make a wish here, my wish would be recruiting Saif Ali Khan for another hard rock sequel to Rock On. I have got ample reasons for doing this, one, Saif is a Bollywood star who can also perform for real. Two, remember, this guy has performed with the rock band Parikrama live on stage strumming loud enough for the fans to acknowledge his real talent, the real rock star quality in him.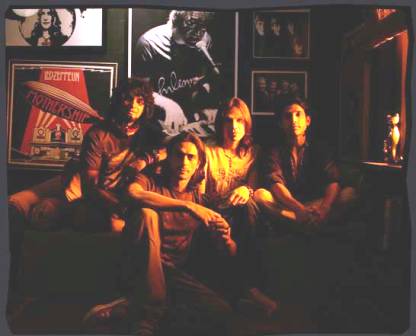 Cast of the movie 'Rock On' dreaming dreams with Led Zeppelin, John Lennon and The Beatles
Farhan had said in an interview to 'Times of India' (Aug 10th '08 edition): "People who consider themselves guardians of our heritage feel rock music is an alien influence. Can music at its very core be alien to any culture? I mean India did not invent cricket, so should we think of our national obsession with it to be against our sanskaars?" That was very well said; he has made it creep into the consciousness of the masses. Farhan also commented: "There are some really good bands and musicians emerging from all parts of the country. Bands like Dream Out Loud, Them Clones and Soulmate to name a few." That was not fair. How could you compare 'Soulmate' with 'Dream Out Loud'? Rudy Wallang (Soulmate's guitarist) is a veteran Guitar God of the blues/rock in the country.

Abhishek Kapoor deserves special mention too. Thanks for daring to make a movie, without giving a damn to the film industry advisers and going all out for the out-of-the-box and radical approach. Your movie ignites the many a flickering flames into brighter and bigger flames. If you are thinking of making another movie and looking for a story, you can base it on ROOTS Festivals. ROOTS Festivals is like something India has never witnessed in the sense of its real touring experience, and it's something which no promoter would ever do. Bollywood has made 'Rock On'. It's a good sign but how I wish the Indian film industry would have done it twenty years ago. And in recent memories, we also recall 'Indian Ocean' composing the soundtrack of Black Friday, where rock is fused with classical Indian music, without diluting the rock elements. Wherever Bollywood wishes to surge ahead, 'Rock On' is a movie whose spirit transcends culture, region, religion, politics... and reaches the core of one's heart. A Big Thumbs up to the actors/movie makers, and most of all to the unsung heroes - Shankar-Ehssan-Loy.
---
* Ringo Pebam, a software engineer based in Bangalore contributes regularly to e-pao.net. The writer can be contacted at ringo_pebam(AT)yahoo(DOT)com.
This article was webcasted on September 4th 2008.
---
* Comments posted by users in this discussion thread and other parts of this site are opinions of the individuals posting them (whose user ID is displayed alongside) and not the views of e-pao.net. We strongly recommend that users exercise responsibility, sensitivity and caution over language while writing your opinions which will be seen and read by other users. Please read a complete Guideline on using comments on this website.