Peace Sells But Megadeth Rulez
By Rohan Meisnam *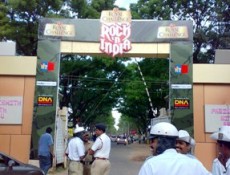 Rock in India
Well the day came at last, the day most rockers have been waiting for all their life, the 14th of March 2008, the reckoning day. It was the first rockfest, ever, of its kind in India with some of India's best bands opening up for the main event at Palace Ground, Bangalore. The concert was a part of Megadeth's Gigantour.
The venue consisted of two stages, located at some distance from each other, one for the main events i.e Machine Head and Megadeth exclusively and the other for all the Indian Bands. Casino Blues, Junkyard Groove, Mother Jane, Perestroika, Thermal and a Quarter, Millennium and Pentagram were the Indian bands warming up the crowd for the final onslaught.
But I wont stress too much on the Indian bands or Machinehead either as I was there mainly for MEGADETH not that I don't like them or enjoyed there sets, all of then were really talented and awesome but my mind (and lot of crowd) was pretty much fixed on the all conquering and the gods of metal, the entity known as MEGADETH.
Casino blues, a new emerging band from Guwahati, started off the show followed by the remaining Indian Bands. Fans rushed towards the stage where they were performing to rock with them while many more crowded in front of the main stage just sitting down and waiting for the main event in the afternoon heat, sipping whisky and reserving their energy.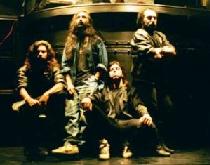 Early Millenium
Millennium gave a stunning set, performing after being in hiatus for the last 7 years. Verhnon Ibrahim the frontman asked the crowd to chant the words "metal army" and every soul in Palace Grounds joined them. Even members and crews of Machine Head and Megadeth were seen watching them with amazement from the other stage on the other side of Palace ground.
Formed in 1985, they are India's pioneer Thrash Metal band, who has played from Shimoga to Shillong. For those who grew up watching them in MTV's Head Banger's Ball in the beautiful and peaceful early 90's of Manipur, it was a real treat to have seen them live on stage.
How much did I wish Manipur's own Thrash Metal stalwarts of the country – POST MARK was there, giving company to Millennium. Millennium's 1992 video '
Peace Just In Heaven
', won them 'Skull Krusher of the week' award on MTV's show Head Bangers Ball. There is good news in the offing for fans of this most respected metal band in the country – an album tentatively called METAL ARMY, is being planned for recording. METAL RULEZ \../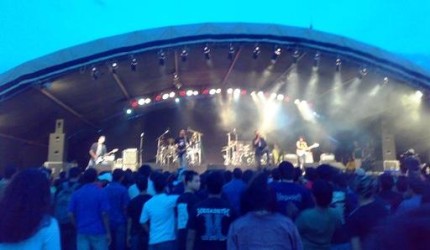 Millennium on stage
The last performer was Pentagram, and their sound was not much liked by the crowd. They became more of an annoyance to the crowd, whose patience was growing thin. Personally, I was disappointed with Pentagram. They even got booed and when there set ended the crowd was thankful that they were spared from the irritation known as pentagram.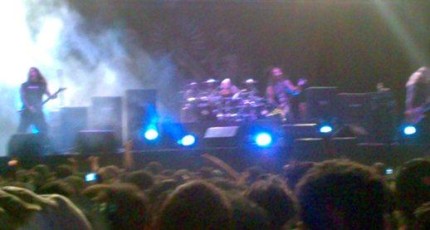 Machine Head
Machine head was up next on the mainstage and immediately launched into their set. They were amazing n they delivered one hell of a performance. But as their set progress even they were not spared from the ire of the crowd.
The crowd started chanting 'Dave Mustaine' and 'Megadeth' during their set and Rob Flynn throwing glasses of whisky into the crowd just wasn't enough to suffice the crowd and some fans even started booing them. And Mr. Flynn must have been left realizing that the initial response they got from the crowd was just too good to last. And their set ended with the crowd growing wilder each second.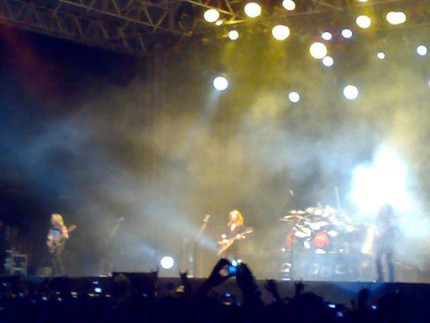 Moment of Truth - Megadeth starts performing
Then came the moment of truth, the moment everyone had been waiting for. Dave Mustaine finally graced the stage with his presence, his trademark flying V guitar in hand and his fiery red hair. It was a sight to behold. I couldn't believe that I was actually there just a few feet away from Dave Mustaine, a living god whom I had grown up worshipping.
I couldn't believe that i was actually there just a few feet away from the god of metal Dave Mustaine whom I had grown up worshipping. I slapped myself several times to make sure I wasn't dreaming. The feel of seeing Megadeth in the flesh was overwhelming; I stood there spellbound gapping my mouth in disbelief. My eyes swelled with tears.
Till a few years back the only ways to see Megadeth perform in a concert were through TV and through video recordings of their concerts. But there I was at Palace Ground watching my heroes perform in the flesh and for the first time in my life I counted myself lucky.
There are 6.5 billion on earth and Megadeth could have been anywhere else but on that night the metal gods were with us and finally answered the prayers of the thousands metal heads of this country and that realization was just too immense and cant be described through words.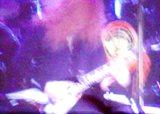 Dave Mustaine wowing Bangalore
Dave Mustaine formed Megadeth, after being kicked out from Metallica due to his alcoholicism and drug abuse, to avenge his firing from Metallica. And he got his revenge by giving Metallica a run for there money at every turn.
Anyway let's get back to the concert. The crowd was in frenzy as the band came on stage. they started the carnage with '
Sleepwalker
' from their new album 'United Abomination' with Chris Broderick on lead guitar, James Lomenzo on bass guitar, shawn Grover on drums and last but not the least Dave Mustaine who doesnt need any introduction on vocal and guitar.
Personally I would have loved to see Marty Friedman, Dave Ellefson and Nick Menza still in the band but these new guys were awesome and never let anyone feel the absence of the above mentioned trio, the whole venue was an ocean of black T- shirts in high tide.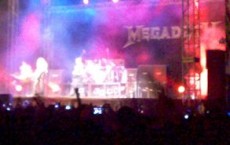 Peace sells but who's buying
They followed up the first song with
Take no prisoners
and that song was brutal and had the crowd in a frenzy jumping head banging, shoving, mosh pitting and singing along. Anyone with a heart problem wouldn't have lasted even a minute out there.
Then came
Wake up dead
,
Skin o my teeth
and
Washington
is next all from United Abominations. The raw brutal power of their music conquered the crowd drove them even wilder than already were. Next came
Kick the chair
and
In my darkest hour
and the crowd never seemed to tire and that song had not only got the crowd kicking chairs but also got them getting kicked with the amazing amount of marijuana joints they were smoking up and the whisky they were guzzling down.
They launched
Into in my darkest hour
followed by
Hangar 18
and the familiar guitar solo had me enchanted. Next came
Gears of war
and made the crowd go wilder than before. They followed it up with
A Tout Le Monde
and by the look on Dave's face I could tell that he was totally surprised when the whole crowd took over vocal duties from him and continued so throughout the song.
Bet he was never expecting that kind of response from the crowd. Then came
Tornado of souls
which has one of the most amazing guitar licks in the metal world. That song was among the first Megadeth songs I fell in love with on hearing it for the first time.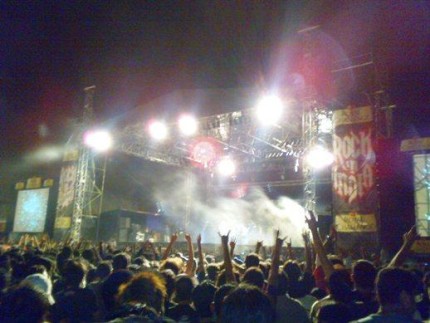 Tornado of souls
Next was
Ashes in your mouth
followed by
Never walk alone
, an amazing song. Then they unleashed the song which most of the crowd must have been waiting for -
SYMPHONY OF DESTRUCTION
that song had me spellbound.
To watch them performing that song was just too awesome and that song was probably the highlight of the entire concert, what with the crowd chanting Megadeth in chorus during the riffs and it fitted perfectly as if it was actually a part of the song and that gave a whole new dimension to the song.
Than
Trust
landed after that song and trust we have on Megadeth to rock us everyday of our life. They delivered some of their greatest songs, songs after songs and had the crowd in frenzy. They than exploded into peace sells and that song had everyone listening in awe.
They even let one of Machine Head's crew members sharing the stage with the metal gods singing
Peace sells but who's buying
with them during the chorus. He was one hell of a lucky guy. As the end to the evening was getting nearer the crowd demanded more and more, Megadeth gave and launched into burnt ice. And as the last song for the night they unleashed
HOLY WAR
......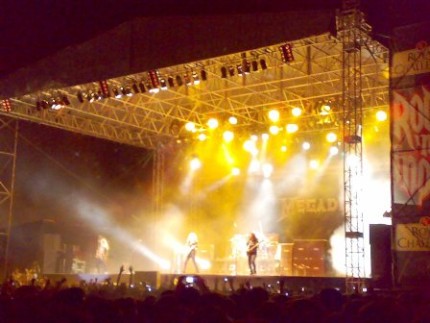 A Tout Le Monde
THE PUNISHMENT DUE
my favourite Megadeth song and I couldn't believe that I was actually there way up front watching them sing that song. To everyone's surprise they broke into the
Four horsemen
, from Metallica's "
Kill Em All
" album, which apparently was written by Dave Mustaine himself during his Metallica days but they finally came back to
Holy War
and had every single person there singing it with him.
And night finally ended with the band giving the crowd the traditional rock bow. Dave parted with him promising to come back to India soon and he and the band throwing plectrums, drumsticks and Dave's wrist bands to the crowd. They were just too awesome, awe inspiring and powerful and flawless.
And complete with Dave Mustaine's trademark sneer and their all conquering performance was enough to convert all the non believers to the metal faith and reminded everyone why they are the best. And if they do indeed come back to India than I'll be there once again screaming and shouting and singing and mosh pitting.
Till than I'll keep on rocking and you should too waiting for the gods to grace me with there presence and bless me. And lets all get together and never let the fire of the metal faith to die.
Credits:
Inputs from Ringo Pebam on "Millennium".
Photo Courtesy: Krishnakanta Leiphangbam
Early Millennium Photo Courtesy: Gigpad.com
---
* Rohan Meisnam, who is studying Management in Bangalore, writes to E-Pao for the first time. He can be reached at cobain512(at)yahoo(dot)com . This write-up was webcasted on May 13, 2008.
---
* Comments posted by users in this discussion thread and other parts of this site are opinions of the individuals posting them (whose user ID is displayed alongside) and not the views of e-pao.net. We strongly recommend that users exercise responsibility, sensitivity and caution over language while writing your opinions which will be seen and read by other users. Please read a complete Guideline on using comments on this website.