Mark Of 'The Beast 666'
– 'Eddfest' (Live in Bangalore) -


By:- Rowland Soibam *



I left the office around 5 am b'coz I was doing a Night shift. It was a normal chilly day but it was totally different for me as I was heading for the greatest concert of my life. I had to walk for at least 10 minutes to get my home through dark roads (Fear of the dark was on my mind) as the Sun was still hiding in the dark.

I reached home, had a shower, and drank a cup of strong coffee, dressed up. It was still dark outside. I got ready and took the Bullet and headed towards the Palam Airport. The road was off short of traffic and I was riding the bullet with Maiden songs all over my head.

The 'Hallowed be thy name' tune were on my lips. As I rode through a place where there were a lot of trees, I got the feeling of the Fear of the dark album cover where Eddie the beast clings out of the tree to take you with him. Oh my Devil!! The Beast was everywhere. Got a giggle of myself and sung "My mind is playing tricks on me coz it's a bad dream...."

About 35 minutes of riding I reached the Airport. Boarded the flight and reached Bangalore by 12.30 pm. Once I touched Bangalore, I directly headed for Palace Grounds, the venue of the concert; I was in state of shock as there are lots of Fans who were already in the multiple queues. Some fans were already there since 6.am.

I asked to myself, "What the Hell I am doing here. Am I late? Will I be able to glitch "The Beast"? I assured myself "No matter what, after going through all since last night I had to be in. I don't mind "Gate Crashing" anything for the 'Beast 666'."

Somehow, I manage to push myself into the line. I entered. To my surprised, the front row was like a beehive totally full. The sun was burning on us.

At 5 pm the concert kicked off with FTN from Delhi and they played some numbers from 'Korn' and some of their own original stuffs. The band or the songs sounds more like Nu Metal, Riff with Power Age and Vocal Grudge's. They were not bad, fair enough, college Band. Unfortunately, they were booed by the 'Restless Souls', 'The Beast's Fans".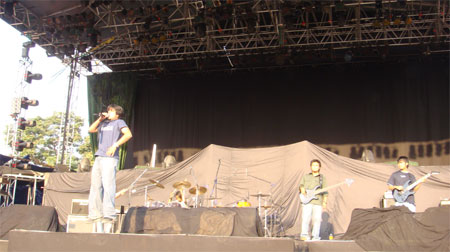 FTN - opening act for the concert



Then entered 'Parikrama' and this was the very first time when Parikrama played an all original stuffs in their long list of live performances. I have seen them before in colleges' events and in live road shows almost a decade ago. They pretty much sound like college band. But, I guess now they look more matured and grown up in the music style. It must be the 'Eddie' Effects.

When Lauren Harris the daughter of Steve Harris belt out some of her numbers it was OK at first. But never last long, as the thirst of The Legendary Beast could not be quenched these bands.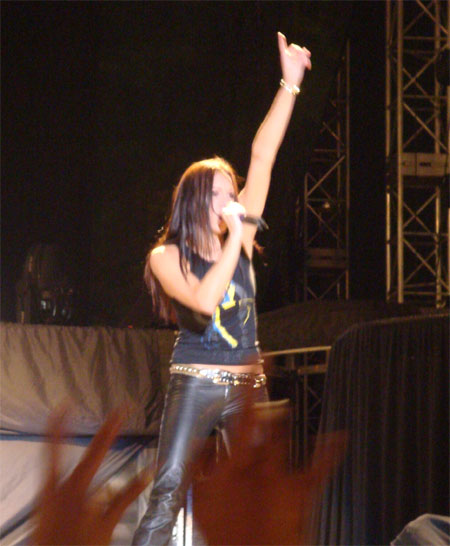 Dont mistake her for Avril Lavigne - She is Lauren Harris



So, the crowd booed her too and Screamed for 'The Metal God', the echo of the crowd which was little over 30,000 plus. Some estimates the figure might be over 40,000 it was so coordinate that it just sounds more like praying to The GOD of Rain longing for the rainfall in the desert.

Around 8.10 pm, The Legendary Beast started to 'Roar' and unleashed the first number "A Different World'. The crowd became numb and got Mass Hysteria. They stood like Zombie grumbling unfamiliar words. This was Real. We were watching Live 'The Metal Gods', in flesh.

They slowly carried away the crowd with their classic numbers "Wrath child, The Trooper, Hallowed Be Thy Named, Run to the Hills and Fear of the Dark, 2 Minutes to Midnight" just like the Pied piper taking away the Rats with his Magical notes to the Edge of the world.

We were mummified with their words and songs. On every song we jumped and sang along with 'The Beast' screaming from the top of our lungs. I am almost chocked with thirst, hunger coz I didn't had any lunch.

Next to me there were 4 Metal Chics from Bangalore. Oh my goodness! They know each and every lyrics of the song The Maiden played. They sing along from the latest album to the classic. Dude we should really salute them. It's very rare to find these Metal Chics especially in India (Mind you they were not girls from the North-East).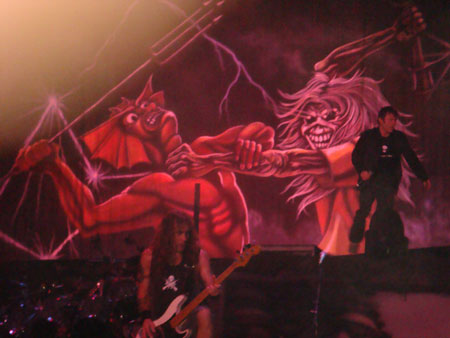 Bruce Dickinson & Steve Harris



They saw my condition and they shared a bottle of Fizz drinks and relief for a while but still not satisfied and I don't want to move an inch from the place where I stood or else I will be left out. I asked to them, "Hey guys how come you are into Heavy Metal Stuff?".

One of the girls replied, "Dude, we are not influence by any of those Music channels show, and we do listen the music by our Heart and Soul not by judgment of Music channels." She also said, "Yeah now a days especially females they are more prone into Boys Band or Hip Hop. And we don't not like those lips singer".

Somehow I managed to stand still till the last number of The Gods. It was a concert of a lifetime indeed.

Next day, I caught an early Flight at 5 am and was back to my pavilion - Delhi. And thus have to start my monotonous life, Office (same old work) and get back to home and sleep. But the memory of the "Eddfest - Mark of the Beast 666' will linger on till...

Comments from a Reader:

Rowland Soibam is more commonly known as "Thrash" – a pet name given by his close ones, seeing his love of thrash metal, which later on became a name synonym to rock lovers of Manipur. He helped Manipur in one way or the other to enter the world of Death Metal, Speed Metal, Dooms Metal, Gothic Metal etc etc. He was the source of audiocassettes (mostly unknown and unheard bands whose albums were not released by Indian Music Labels) of these genres of music in Manipur in early 90's. He selflessly gave away his precious cassettes (music videos/mp3 CDs at later stages – late 90's) to whoever came asking for them, knowing very well that he will *not* get them back. Ask any local bands of those days and they will name 'him' for the music they got to listen to. These, his close friends only know. He was just happy that he could share the music, for the love of the music. He still can be sought after, if anybody needs any help.

- Ringo Pebam :: ringo_pebam(at)yahoo(dot)com

Also read: ,
---
Rowland Soibam, a former DJ (Disc Jockey) at various well-known Pubs and Clubs in Bangalore, is presently based in Delhi and works as Software Media Technical Support. This is the first time he is writing to E-Pao.net . He can be reached at thrash666ad(at)yahoo(dot)co(dot)in . This article was webcasted on April 04th, 2007


* Comments posted by users in this discussion thread and other parts of this site are opinions of the individuals posting them (whose user ID is displayed alongside) and not the views of e-pao.net. We strongly recommend that users exercise responsibility, sensitivity and caution over language while writing your opinions which will be seen and read by other users. Please read a complete Guideline on using comments on this website.