Living with Rock 'N' Roll and my hus-band


By:- Rajkumari Sunita *



Traversing back in time and recalling those days of leather, long hair, bullet belts, spandex, dragons, skulls and spiked wristbands…Oh Hell, these images combined seem to have a sound of its own that screams 'I can kill you with my spikes'.

There was nothing left that he did not do to make himself look outrageous. Self styled moral police forces all over the world and in Manipur castigated them, called him and his tribe crazy nuts, outcasts, outlaws and in fact exhausted every synonym available in their arsenal of words.

And I had all the possible antonyms to thwart their censure. Yes, he and his tribe to me were intelligent, gutsy and brave. Just think of it!! Can any Manipuri youth of those days with Vivek's ( I call him Vi) complexion dare do what he did, wear red pants? Takes real guts, man!!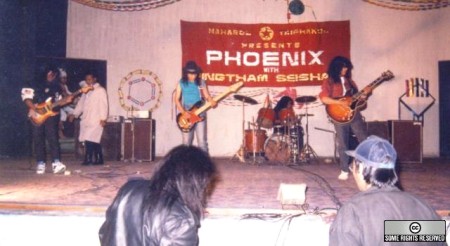 The story never ends. My mother shouted on top of her voice, 'How can you bloody go out with that man"? My brother backed her as if they were part of a choir.

And he told me, "Let me catch you with that bloody outcast in a public place someday and you'll know what your brother is made of".

Poor soul, little did he realize that I could outsmart him by not letting him see the day he longed to see. I was extra careful and took precautions.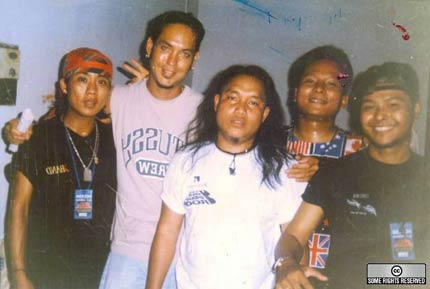 Phoenix band members with Danny McGill



I had to make few sacrifices those days, no normal girls of my age group could. No picnic with Vi. No thabal chongba (how my heart wept when I heard those musical beats on those moonlit nights), no, nothing.

It was just music in my room and books, books and more books (I had to prove that Rock N Roll isn't noise pollution and my love for that guy with the long mane is for the real music).

I had to face all possible pressures from every possible corner. And I also took it as my responsibility to make Vi realize that he has to acquire a Masters Degree to proceed on in life. Getting a stable job was a goal I shared with him.

But I watch him experiencing agony while he was trying to find the job that suited him best. He had to face a peculiar situation too.

At a point, It was his hair or his job. It was plain choice, no in between, there were no maybes. He finally had to pay adieu to his mane, all for the job, which was all for me.

We finally did win. We got married and have a wonderful son now. I thought, "OK, this guy might finally bid goodbye to his music and begin serving the state government". But how wrong I was when one fine day, without a penny in our account, with no salaries for months, this guy decided he had to record an album.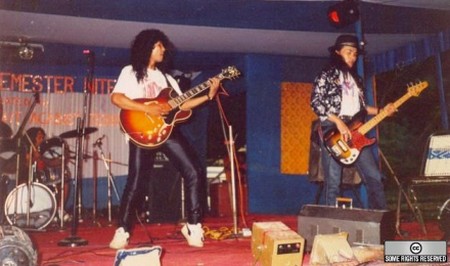 He gave me the honour of writing the lyrics for him. Why me again! With my two year old son on my back, doing the dishes, the guy waited with a candle.

"So darling, have you written the songs?" As if the songs were lying there in the corner and all I had to do was to pluck and cook them.

And can you imagine, he was asking me the lyrics for his songs as if he was asking for a second helping over the dinner table. With a sulking face, I tried inking the most appropriate lyrics for the album "ROCK N ROLL DREAMS".

And being true to oneself was having the nerve required for the set task. Words just came by and settled on pages of the note book.

The words were lying there in the corner waiting to part of the proposed work. Words after words, sentence after sentences, they poured, creating stanza and stanzas.

With the cracking dawn, Vi began doing what he liked doing the most…strumming and plucking the tunes, over and over, over and over again. What agony! What ecstasy! What pure agony?

Now, he had to find a studio to record those songs and of course the studio fee. If there is a will, there is a way, so goes the old adage. Vi finally recorded all the songs and got all dues paid (One thing I admire about Vi, he always pays everybody their due, his close friends helped him in the album and nobody had any grudge or bad things to say about him).

Now, it was time to market the album he recorded and that wasn't the end of the story. Both of us were zero in marketing strategy.

If I were Arindham Choudhary, I will fall flat on my face (are you listening or still counting your chickens?). No Robin Sharmas, No Shiv Kheras can help this place on earth change its mind. I am a Manipuri, unique one at that!

Days passed by but the ordeal with marketing his music album continued. I thought again, "Thank God! life is normal now". But the devil struck again.

One fine day, he came home very happy saying he got about thirty grands. My sixth sense said something was wrong here – the big smile and a bunch of boys accompanying Vi. Looking at them, nostalgia hit me hard and I knew something was cooking behind the facade).

I said, "Hello' and 'Hi' and the boys all answered with the same zeal. I thought I would politely ask them what was up.

And before I could even go ahead and they said, "Yes, we have agreed to make a video on the song Stop the Killing. And we are sure it's going to be a breakthrough". Then all the boys complimented me on the beauty of the song that I had written for Vi's album.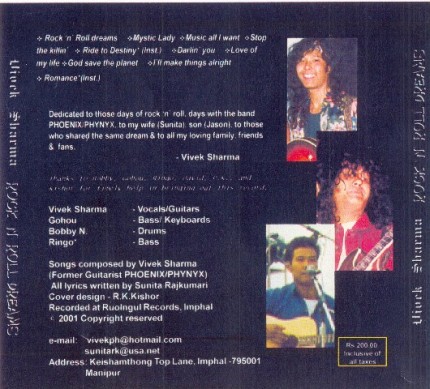 Album Cover of "Rock n Roll Dreams"



The realization hit me real hard. "Yes, it won't cost much and we have talked with Tamo Vivek that thirty thousand is enough to make the video. We have also made a deal that we won't be taking any studio charges".

These boys were from the Shallow River studio. "That's good", I said. "Thank you guys for not charging for the studio…..". The video of Stop the killing was finally made and released. Bravo! Vi did it again. And so the story went on…

What did I do? Where did I go wrong? What I did that summer was killing a bunch of mosquitoes. But how happy he was, pure ecstasy, pure joy!

Days past, years rolled over and Iron Maiden came to India. The fever started. Before I knew, he already caught the fever. This guy had loads of official engagement and only God knows from where did he get the news about the Maiden's visit.

Numerous phones calls he received and uncountable call he made. This time, he renewed his contact with his nephew (God knows where all his metal associates disappeared, the old guys just couldn't keep up, I guess).

Vi made plans, booked the plane tickets and noted down every possible details and news about the Maiden show. After he had done everything, I came to know Vi was hitting Bangalore for the lightening show.

Oh God! Not again. But the metal freak in me doused my anxiety and for a momentary madness I was about to join him forgetting all over again that we have a seven year old son with his school examinations on at full swing.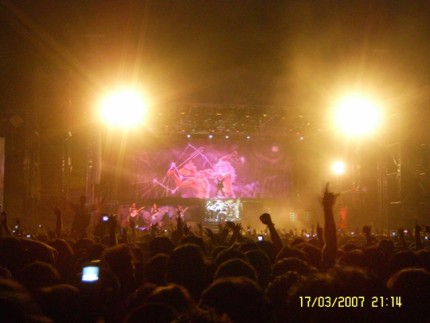 Iron Maiden performing in Bangalore
Pic Courtesy: Sandeep Kelvadi



The big day came for Vi to hit the sky. The Maidens were in India and Vi is all set to go. He packed his clothes days back, completed pending office works much in advance.

And lo! A day before he had to leave for Bangalore, some family members found out that the stars were not in his favour and the day of his departure was inauspicious. With his parents dead opposed against him leaving that particular day, Vi had to find a way.

So, he slept outside the house to anticipate his departure by a day. This was the best possible way to ward off all evils and devils lurking to put hurdles on his way on the day of the departure.

What a sight it was! What a sight it really was! There was just one problem. He could not ward off predatory mosquitoes. Our seven year old son, not knowing what was going on, was worried why his father had to sleep in the courtyard that night.

I was pained by the fact that I not only had to answer to my son's query but what would I tell my neighbours when they see and find out that Vi spent the night in the courtyard and the picture perfect scene of his bed and the mosquito net still lying outside. What a day or was it night?

My woes did not end there. Next morning, minutes before the final departure to catch the plane, our parents intervened and put a blanket ban on his visit to Bangalore.

Call it superstition or believe in divine intervention, the reason was that Vi was not getting the right breathing at that moment. My, oh my, not another torture!

My husband's one way destiny at the moment was to watch Iron Maiden perform in the garden city. I heaved a sigh of relief after he left.

And thought life goes on and I know what Rock N Roll did to my husband that precise moment.

Yes, its true. You can never part with first love and VI's first love was (is) not me but 'Rock N Roll'.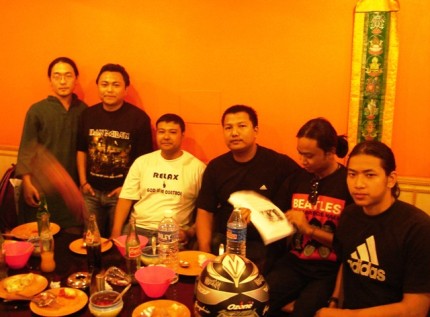 Being received by youngsters in Bangalore
All the pictures are licensed under Creative Commons License - "Attribution-Noncommercial-No Derivative Works 3.0 Unported".
http://creativecommons.org/licenses/by-nc-nd/3.0/

The copyrights of all the pictures above (except Iron Maiden's concert picture) are held by Vivek Sharma.
This is to solely to protect the rare archives of the musicians from being misused.

- Ringo Pebam
Related Article:
---
* Rajkumari Sunita, a Scientist by profession, contributes regularly to e-pao.net. She wrote this article on 26th September, 2007.
The pictures are provided courtesy of Ringo Pebam - ringo_pebam(AT)yahoo(DOT)com.
This article was webcasted on December 26th , 2007


* Comments posted by users in this discussion thread and other parts of this site are opinions of the individuals posting them (whose user ID is displayed alongside) and not the views of e-pao.net. We strongly recommend that users exercise responsibility, sensitivity and caution over language while writing your opinions which will be seen and read by other users. Please read a complete Guideline on using comments on this website.