Heavywater @ Guruskool


By:- Anthony Chirom/Ringo Pebam *



SUNDAY JAM is a uniquely informal musician's meet that is part of an on-going endeavor by Guruskool (Gopal + Geeta) to support musicians. Every first Sunday of the month, music bands meet at Guruskool's farm space in Nelamangala to share, perform and jam.

One doesn't expect it to be a jam packed audience but the important part is the ambience created by the various artist enjoying every note and every roll of the music they play. We owe a lot to this two wonderful soul, Gopal and his better half Geeta for this event.

Thanks Gopal and Geeta for the SPIRIT, for your support and untiring effort to make this event a happening one. Your farm is our own Max Yasgur's farm. Like Mountain did for Yasgur, we should be doing a song for you :-)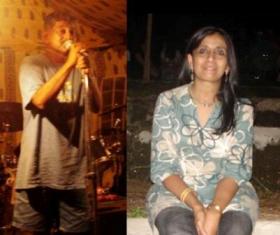 Gopal and Geetha



To begin the story.. we started out well and got lost on our way to Guruskool (Courtesy: Ringo-and-Bolin's simulating music discussion ) and then headed towards the venue. Everything was coming fine until we had our own version of mud-slinging way of life (something like a Woodstock's mud life!! )..It was fun-tastic. Our first experience in Sunday JAM started with MUDS and MUDDY WATER .. Cool it was !!



Fun with Muddy Water on the road to Guruskool Farm..



Anyway to cut the story short,it was Heavy Water's show last night at B'lore, and their friends were there. They did a sound check, and before they started performing their set list, Da Meghanath the lead guitarist of Heavywater called up Boss Leishangthem on stage.

He then gave him his guitar, very nicely he helped him with the guitar strap over his shoulder, and fixed the distortion pedal and the cables. It was indeed a magical moment to see two of the great guitarist showing respect to each other. Neither had an iota of ego between them nor the sense of pride. Professionalism in its truest form and that was something we should learn..



Meghanath fixing the cables and processors for Boss -- Boss giving solos.



Boss then fired up the stage with his extended lead solos on Neil Young's 'rockin' in a free world'. And everyone was like ..WHOA !! the tapping .. bending .. one hand strumming .. and the other hand calling the crowd.. Boy!! that was like Satriani. NICE one BOSS !!

Just when Heavy Water was about to take on the stage, KK called up asking for the direction to the venue. It was getting late, it was already dark, and we sort of thought it might not be a good idea for him/them to come. But the passion for music was enough for them to hump on the motorbike.

They got their motor running, and headed out on the highway, racing with the wind. On the humpy road that leads to Guruskool farm, their bike's headlight broke! But that did not dither them, Abu drove with KK sitting behind holding the front headlight with his hand. Wow.. what a spirit !! Like a true nature's child we are 'BORN TO BE WILD' !!

Heavywater took the stage with heavy thumping of Mocha's bass and flawless Falaw's riff added fuel to the fire. Falaw provided the much wanted wah wah effect for the stormbringer and man, it was good to hear when Mocha coupled him with his great bass lines.

No wonder, all those sleepless night and hard day work pays off really good.. And all we (I) need is BURN.. and simply ecstastic!! The perfect timing of tune of two guitars. Da Meg and Falaw.. the dynamite duo... Keep on rocking guys!!!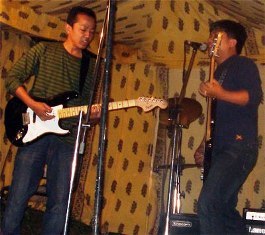 Falaw(left) and Mocha(right)



And Bolin, what's there to say? He was not the same Bolin we used to see every night. He got transformed to something else. A Keith Moon/ Bonham on the making. And all we can say is WOW guy.. you did it !!!!!! With his eyes transfixed onto the cymbal, the rolls were too good .. Love to watch him play Rock Bottom.. Kinda left an impression ;)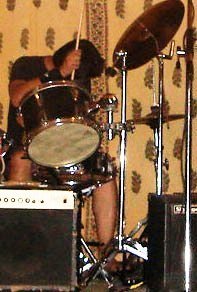 Bolin on the drums



Amarjit : A self styled rocker. Starting with ROCK BOTTOM to BURN to ONE TUNE DOWN ..Phew.. this kid's got some nu metal vocal instinct inside him. He is the flamboyant vocalist of the band.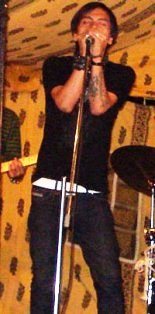 Amarjit



Da Martin.. hmm!! PURPLE MANIA ... stormbringer !! Indeed he bought the storm in all of us to ignite us. Da Martin needs no introduction. He is former Vulkaryies (of the Summer Rock Contest '92 fame), former Rubber Band (rock band of SSIT, Tumkur, Karnataka), former Sonic Flare a Banglaore based band. He is our Neil Young.

Da Martin, we are waiting for your BT Road song to come out, very seldom we get to hear songs that reflect the social consciousness of life back home.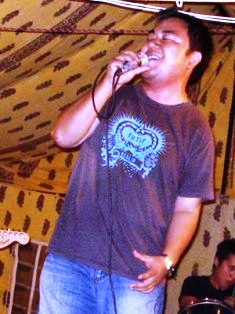 Martin



Da Meghanath's gesture to fellow guitarist Boss took us by surprise, and he was lovely - the hall mark of a humble/ honest/ true musician. A smooth hand - "the perfectionist" one should call him and it suits him too.

His cool attitude and his smooth fingers and his depth technical knowledge maketh him the perfectionist. An avid reader of rock chronologies of classic heavy metal and singularly a purple- zeppelin guy.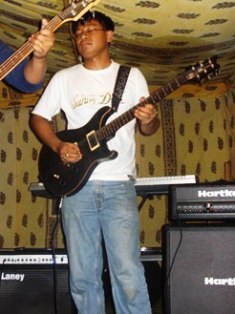 Meghanath



These guys aren't spoofs. These are guys serious about their music. These rockers don't have to settle for that beat up guitar and the little puny amp they saved their allowances for. Or the paneled basement of an indulgent parent. They've got the money to rock out in style. Great sound equipment. Excellent instruments. And are always in the lookout for a professional studio space or just a simple garage which is enough for a good crack.

Heavy Water has evolved over the years, beginning in the vein of blues-inspired heavy metal, then encompassing hard rock, progressive rock, a period dominated by synthesizers and, more recently, modern rock ...

These guys are a real treat to watch out for .. !!!!!

Heavy Water's original number 'One Tune Down' is being used for the Freedom Jam promotional video (biggest free music festival in India, tentatively postponed to the last week of October 2008) : Watch video here.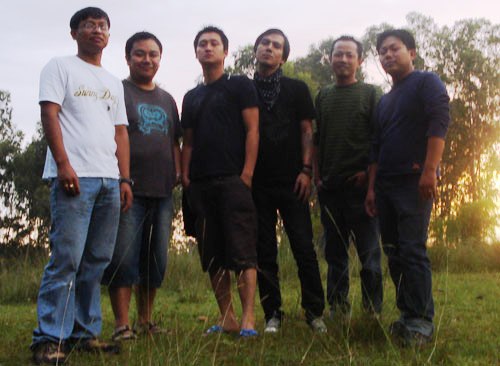 Heavywater



To the egoless spirit of Rock, we salute you !!

Join the crowd at: http://groups.yahoo.com/group/rock-music-manipur/


---
* Anthony Chirom and Ringo Pebam contributes for this Rock Concert Review to e-pao.net . The writer can be contacted at tull_chirom(at)yahoo(dot)com and ringo_pebam(at)yahoo(dot)com . This announcement was webcasted on October 16th, 2008


* Comments posted by users in this discussion thread and other parts of this site are opinions of the individuals posting them (whose user ID is displayed alongside) and not the views of e-pao.net. We strongly recommend that users exercise responsibility, sensitivity and caution over language while writing your opinions which will be seen and read by other users. Please read a complete Guideline on using comments on this website.