God gave Rock 'N' Roll to you


By:- Ringo Pebam *



Runway Tracks/ Phoenix/ Phynyx, Machine Head/ Cannibals, Hell's Angel, Post Mark, Dark Krusaders besides other bands had taken the rock music scene in Manipur to greater heights - from the early days of Magnetos, Sudden Friends, J.B. Band and Runway Tracks playing rock 'n roll numbers at moderate concerts at Roop Mahal Theater, GM Hall and MDU in the 70's and early 80's. These bands created a new wave of heavy metal scene by around mid-80's playing Black Sabbath, Led Zeppelin, Deep Purple, Judas Priest, Uriah Heep, Iron Maiden etc, with leather pants, torn jeans, long hair, blazing guitars and heavy metal thunders at fully packed GM Hall, Range, Thau, Polo Ground, MFDC, Indoor Stadium, Churachandpur's Light house and various other venues all across Manipur.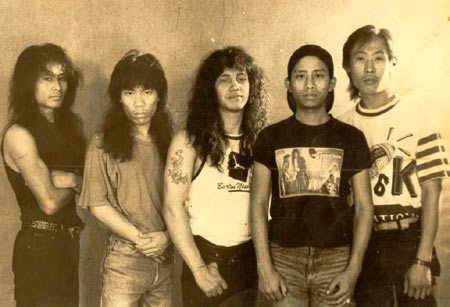 - Cannibals -
L-R: Jimmy, Ritchie, Momocha, Paul and Matthew
Introducing heavy metal to India with a bang, Cannibals won the coveted best band in SRCC's 'Crossroad' in Delhi in 1988-89. They conquered Calcutta in 1991 at St Xavier's college. Phoenix/Phynyx won their first award for the best band in the North East Beat Contest in Shillong in 1990 and continued winning various other prestigious awards at IIT-Bombay's 'Livewire' '91, and BITS-Pilani's 'Oasis' '93. Shillong boasted of The Great Society, Bangalore had Millenium, Calcutta had Shiva, and Bombay had Rock Machine. Of the many talented Manipuri bands, these two bands not only made their presence felt, but also gained and commanded great respect across the country. Runway Tracks/Phoenix gave birth to the masterpiece called "Woman".

Phynyx was voted one among the top five bands in India in an opinion poll conducted by the Rock Street Journal. Cannibals in general and Momocha in particular, who is a legend in his own right, were held in high esteem by musicians in the Indian rock circuit. Regardless of awards the legend of Dark Krusaders/Post Mark/Hell's Angel will always remain, we have seen them perform, and we know how good they were; what the audience felt at their concert venues is their testimony.

We have heard Phoenix/Phynyx performing "Woman", Cannibals "Sweet Reggae" and Post Mark "Soar High" in the 80's and 90's, but they could only be heard by those fortunate few who were present at their live concerts. Those songs never got released commercially with major record labels. I had "Stamp on you", the first album of Post Mark, which only a few might have bought. The story ended there and their music could not cross the border of Manipur (or maybe the North-East).

I got a chance to listen to a cassette full of original tracks by Phynyx in the early 90's. It was not a commercially released album, but a compilation of demo tracks. The songs were fantastic and I still remember the tunes. Since then, I have been hoping to find their albums in CD racks in giant music shops across the country. Sad but true, it's been more than a decade and I haven't seen a single album released.

Phynyx, are you listening? Pentagram, just a budding band back then, and the opening band for a concert headlined by Phynyx in New Delhi in the mid 90's, have released two albums, and have even performed at UK's prestigious Glastonbury rock festival. Musically, our bands were, and still are, no less than bands from the rest of the country, but unfortunately they couldn't get far.

- Phoenix -
L-R: Nutan, Sando, Ringo, Vivek and Bobby
Bands which have made the impact and inspired so many of us, had to struggle in every step of the way - their practice sessions at their residences were greeted with showers of stones on their rooftops from neighbours, they had to pool in the limited money they had to hire amplifiers and drum kits. Distortion pedals and guitar processors were hard to find and not cheap; money had to be saved to go and participate in competitions outside the state. Money was, indeed, a problem and they had neither sponsors nor moral support, except from the few souls who believed in them.

There was no MTV/VH1, no internet to search for lyrics and guitar tabs, no mp3s, no winamp and no softwares like 'Guitar Pro'. They had to depend on those worn out audio cassettes, press the rewind/play button very often to figure out the lead guitar solos and depended on friends studying outside the north-eastern region to get them song/lyrics books. They would refer to small sections of the 'Sun' magazine, dedicated to music, for lyrics. The musicians had to be their own managers and organizers - from printing and selling tickets to decorating the stage, as there were no event management groups (they wouldn't have been able to afford them had there been any).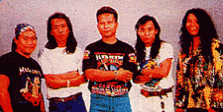 - Phynyx -
L-R: Bobby, Gouhau, Lien Gangte, Ringo Golmei, Vivek Sharma
A life dedicated to rock music is not so easy. A son getting into rock music was every mother's nightmare. Mothers loved their children, so much so that they were scared. Elders and the society in general have the impression that lovers of Rock Music are - amangba-angang, street hoodlums, drug addicts, good-for-nothing, high school drop outs, and simply, imitators of the western culture. Often they got color blind with what they saw in general, and failed to realise that it takes lots of creativity to compose songs, and that their sons had the genius in them.

In a small place like Manipur, we have many sub-cultures within our broad traditional culture. Due to the coming of the western education, we found a platform to assert many things which were new to the Manipuri society. The primary reasons why the mothers of the rockers were upset, were perhaps not because of the music, but the other influences that came with the music - like sporting long hair, drugs, torn jeans, bikes, etc.

It's true that these factors existed, but only to a certain sector of the youth and only upto a certain stage. It was unfortunate that the youth, who were true to the music, had to bear their image of innocence and creativity obscured with the above mentioned factors. Scores of kids from every part of Manipur who had access to those music, and had the talents in them showed the urge to play. Towns like Churachandpur has a rich history of Rock 'N Roll bands. Rock Music developed as a sub culture even in the urban pockets and sub-townships like Kakching. Kakching's very own band Holy Rider bagged the second prize in a toughly fought 'Summer Rock Contest' in early '90s.

'Talent Search' - a platform to showcase talents in my school (Don Bosco, Imphal) was mandatory for every class in late 80's to the early 90's. It was a good initiative, which broke the general psyche that science and scores in report cards are not everything and that there's also a thing called 'Art' which holds equal importance. Rock Music is just another form of music like Hindustani, Ghazals, Karnatic, Pung Cholom etc.

In the words of my high school senior, Rajen Chingakham - "Music is basically conceptual mathematics. It is cryptic but once you understand it, it is amazing." In early 90's a group of youth who loved music and called themselves SMART, came out boldly, selflessly and successfully organised the famous "Summer Rock Contest" through which talented bands were discovered - NH-39, Miracles, Metal Teens and Holy Rider to name a few. Guitarist like Boss Leishangthem who was discovered in the contest in '95, went on to become an official judge at IT-BHU's CROSSWINDZ '05, an annual all India rock competition. SMART conducted some 54 events - festivals, concerts, competition till the late '90s. I wish those talent hunts still exist today.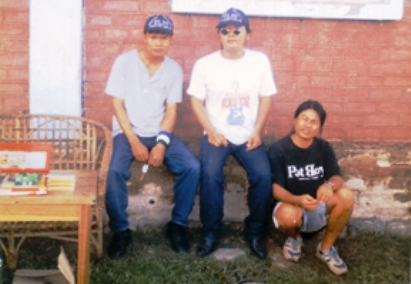 - Drixian Empire (Formerly Dark Krusaders) -
L-R: Lalthankima, Jessy L Ralte, Loncy
Call it lack of sponsors, call it lack of exposures and opportunities, call it lack of professionalism, call it the not-so-easy means of livelihood, talents fades and dies in Manipur. In spite of this, one thing is for sure - deep in your hearts the passion for music never dies. Can you turn your head away and pretend like your mind is not being pulled towards the music when you hear somebody play Led Zeppelin's "Stairway to Heaven"?

The 80's is long gone; it's no more those days when the fate of your music lies in record company deals. Now there are internet radio stations - your hard work, your original songs, which are so close to your hearts, can be reached to people around the globe. We are no more confined to the cocoons. www.jamendo.com and www.garageband.com are some websites that are dedicated to bands worldwide that are seeking greater exposure, where new independent artists can be discovered.

India's own www.rsjonline.com and Manipur's own www.e-pao.net are doing their best to promote new talents, demo tracks can be sent to them, so that you are heard and recognised. It is from the e-pao site that many of us who have been away from home for long, get the chance to hear original tracks by band like Eastern Dark. License like Creative Commons can also be used, which provide a flexible range of protection and freedom for authors, artists, and educators. There are softwares by which you can virtually jamming along with other instruments rather than playing alone. Welcome to the matrix.

If money is one factor that makes you lose heart, then it's high time you realise how much bands outside Manipur are earning. Most of the major rock bands in India charge about 1.25 lakhs per show and they have atleast a couple of shows in a month, and there are bands in Manipur who are much better than them. Welcome to the brave new world.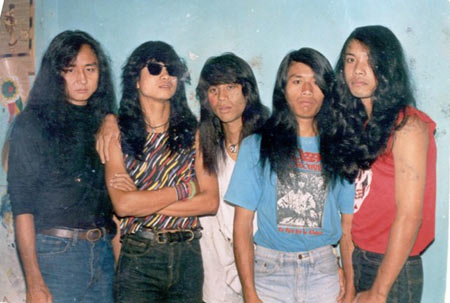 - Post Mark -
L-R - Ingocha Thingom , Boycha, Abungcha Kshetrimayum, Bipin Sanjenbam, Imocha Ph
There's also "Indie rock" - a shorthand for "independent rock", for many of its artists are unsigned or signed to independent record labels, rather than major record labels. Blues band "Soulmate", from Shillong, produced a demo and simply broadcasted it on www.radioverve.com - an Indie rock internet radio. Overnight they had gigs, record label offers and a website promoting their music. They are the first Indian blues band to perform in Memphis. ''It's all about smart promotion. If you can perform, there should be no reason for you to sit at home and feel useless. I couldn't let that happen,'' said Vijay Nair a 24 years old band manager.

There are lots of things to be done - to revive, to promote the abundant talents and to bring them to the national and international scene.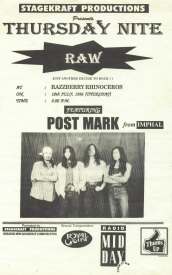 Banner of a Post Mark Concert at Mumbai - 1996
Click for Enlarged View

Our budding musicians can be encouraged to have some kind of formal trainings in music; to learn to read and write music - like tablature (for fretted stringed instruments) and staff notation (standard 5-line musical notation). But if music is really understood it is okay, for it is not a formula that should be used to compose music; the beauty is in what comes out from the musician's inner self with no formula as such. Such a person was Stevie Ray Vaughan, whose music always amazed blues players.

It will be good if more budding bands step outside Manipur for more exposure and compete with the rest of the country. www.gigpad.com can be frequented, where information about major gigs across the country is given; mailing lists can be subscribed to, to keep one updated about the happenings in other cities. Bangalore has bands jamming every first Sunday of the month. In the recently concluded 'Campus Rock Idols' there were two Hmar boys - David Khawbung and Zuala Hrangchal, in the Delhi based band "FTN", who won the best band award, and the biggest prize they are given is - to be the opening act for Iron Maiden.

Come March 17th and Iron Maiden will rock Bangalore. Maiden singer Bruce Dickinson commented "To say we're all really looking forward to going to Bangalore is something of an understatement. It's very special to us to be able play to new fans in countries we've never been to before, and we hear the Indian fans are very loud and into their metal. The fans should know that we are bringing the whole stage show we used in Europe and America and that Eddie will definitely be joining us! We are crafting a special set to include both songs from 'A Matter of Life and Death' and a load of other favorites. It promises to be an absolutely amazing atmosphere playing outdoors in front of the palace."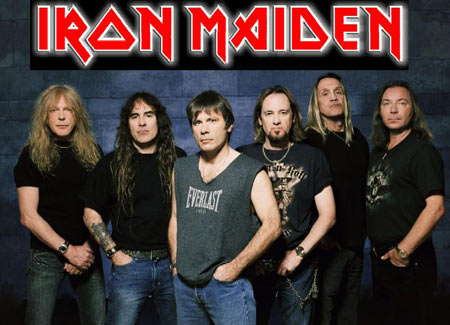 - Iron Maiden -

Maiden fans from across Asia will be coming down to Bangalore. Dear Rock Musicians of Manipur, come to Bangalore, you've got to watch your Gods play 'live'. You are the most deserving heavy metal musicians of the country. If Steve Harris and Bruce Dickinson had come in disguise, stood among the crowd in the concerts at GM Hall or Polo ground, and silently watched you playing their songs to perfection in a place like Manipur (with poverty, lack of instruments/ gadgets/ sponsors/ sound systems...) Iron Maiden would have surely loved you to be their special guest at their upcoming Bangalore concert.

Pioneers and stalwarts of rock music in Manipur are still remembered and held with highest respect - Mangcha, Subu Konsam, Somo Ayekpam, Sando Laishram, Nutan Elangbam, Tiken Akoijam, Kaaikho, Momocha Laishram, Lien Gangte, Jessy Ralte, Lienchungnung Gangte, Deepak Nambram, Paul Kamei, Mick, Caroline, Abungcha Kshetrimayum, Phurailatpam Vivek Sharma, Ritchie Ramshanga, Eddie, Raju RK, Ringo Golmei, Benjamin, Vikram Chongtham, Imocha, Bobby (Yaiskool Lakpa) N, Dubby RKů.. Many other heroes and unsung heroes are not at all forgotten, if listed out their names it will take up lots of space here in this newspaper column. Most often we tend to respect and decorate noted film makers, dancers and artists of other forms of art more. The names mentioned above are also our men of honor; they are equally talented in their form of art. They should also be given the same "Ekai Khumnaba Utpa" in our society. Their road was filled with immense obstacles, which they successfully overcame doing what they love most. Nothing is more difficult than breaking barriers. They did exactly that.

Bands like Ultra Vires, Lapps, Nexus, Power Pak, Rex, Angel Dust, Crystal, Salvator, Red Devils, Metal Teens, Holy Rider, Miracles, Young Ones, NH-39, Angellica, Illegals, Black Widow, Valkyrie, Dead Bones, Dark Ages, Infidels, Black Insurgents etc are still being cherished.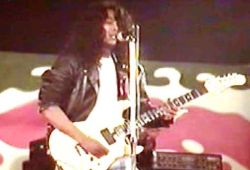 - Phurailatpam Vivek Sharma -
Pic Courtesy :: Improck.com
In recent years we have heard of "Rock 'N Roll dreams", a solo album by Phurailatpam Vivek Sharma who in the '80s and '90s made major contributions to Manipur's rock with his neo-classical guitar works. The Drixian Empire (formerly Dark Krusaders) had recorded some outstanding original tracks like "No where to Run" and "Broken Piece of Battery". The coming up of new music schools and sound engineering being taken as a serious profession in Manipur are in the news. Momocha Laishram is back with his new band X-Cannibals.

Revive, re-energize, rejuvenate and keep writing beautiful music; you have it in your blood. How can we forget the ever soothing 'Woman', the sweet and catchy 'Sweet Reggae', 'Soar High' - perhaps the first thrash song fused with a touch of ethnic thabal-chongba beat and lai-harouba melody ...

The glory days of rock... are they coming back? They surely will, Rock 'N Roll is not dead.

God gave rock and roll to you,
Put it in the soul of everyone

You don't have money or a fancy car
And you're tired of wishin' on a falling star
You gotta put your faith in a loud guitar

If you wanna be a singer, or play guitar
Man, you gotta sweat or you won't get far
Cause it's never too late to work nine-to-five

You can take a stand, or you can compromise
You can work real hard or just fantasize
But you don't start livin' till you realize - "I gotta tell ya!"

"I know life sometimes can get tough!
And I know life sometimes can be a drag!
But people, we have been given a gift, we have been given a role, and that role's name is... Rock and Roll!"


Remembering SMART

Smart was perhaps the first event management group to have come into existence in the early 90's. Because of them many great milestones in Manipur's rock music were reached - most notably "Summer Rock Contest" series and "Rock Yatra".

A free-rock-concert at Pologround in 1992, in connection with the inclusion of the Manipuri language in the 8th schedule, where about 14 bands headlined by Cannibals and Post Mark performed in front of about 10,000 screaming fans, which was perhaps Manipur's biggest, Manipur's own Woodstock - was organised by 'Smart'.

Some names of the group-of-men behind the one and only SMART are: Joshep Hmar, Biboy, Gune, Romesh, Chaoba, Bung, Bobby etc.

The Rock Music Community of Manipur thanks them for their initiatives.
Acknowledgement:

This article was not written in a vacuum; it won't have been possible without - Sanjeev Thingnam(Delhi), Dominic Mao(Baroda), Senate Kh(Imphal), Bindeshwar Thoudam(Imphal), David Buhril(Delhi), Izzy Pudaite(Germany), Rajen Chingakham(US), Balan Brahmachari(B'lore), Rohen Irom(Mumbai), Robindro RK(B'lore), Pranoy Ayekpam(B'lore), Martin Haobam(B'lore) etc.

Thanks for the time and energy put into collecting the old photos/newspaper cuttings of the bands from Imphal, scanning them and sending them to me; for the incredible patience in revewing the drafts and the review feedbacks submitted; for the missed-out points pointed out; for the new suggestions; for the words and sentences said over phone calls and e-mails which I have incorporated herewith in this write up; for the late night brain storming sessions over the phone across B'lore, Delhi, Imphal, Mumbai and Baroda(thanks to my sister too, whose phone I used to make all the numerous STD calls:-))
NOTE

Feedbacks from the readers are most welcome. If any error is found or if any deserving musicians are missed out in this article, I would be glad to accept them. If anybody has any newspaper or magazine cutting of our Manipuri bands, please preserve them, and inform me at ringo_pebam(AT)yahoo(DOT)com, for it will help us build a chronology of the history of Rock Music in Manipur.


---
Ringo Pebam, a Software Engineer in Bangalore, and a Free and Open Source Software activist, contributes regularly to e-pao.net. The writer can be contacted at ringo_pebam(AT)yahoo(DOT)com. This article was webcasted on March 11th, 2007


* Comments posted by users in this discussion thread and other parts of this site are opinions of the individuals posting them (whose user ID is displayed alongside) and not the views of e-pao.net. We strongly recommend that users exercise responsibility, sensitivity and caution over language while writing your opinions which will be seen and read by other users. Please read a complete Guideline on using comments on this website.