Former IRON MAIDEN performing in Shillong


By:- Ringo Pebam *



Paul Andrews, better known as Paul Di'Anno, the first prominent vocalist in the heavy metal band Iron Maiden from 1978 to 1981, will be performing in Shillong. His vocal style catapulted the band from their pub gigging days to New Wave of British Heavy Metalís No 1 band.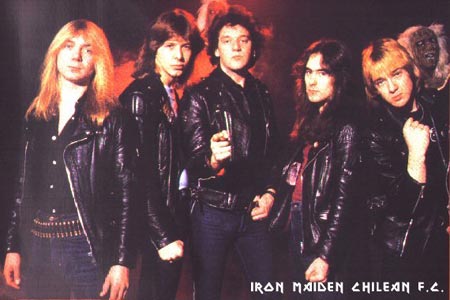 Paul's Singles with Iron Maiden
Running Free, 1980
Sanctuary, 1980
Women In Uniform, 1980
Twilight Zone/Wrathchild, 1981
Purgatory, 1981

Paul's Albums with Iron Maiden
Iron Maiden (1980)

"Remember Tomorrow", 1980
"Running Free", 1980

Killers (1981)

Infos for Rock Bands from Manipur

Still Waters - from Gangtok became the First Indian Band from North East India to launch an album Online.
http://www.stillwatersonline.tk/
The album is a re-release of their debut album Such A Long Time - an album(on tape then) that got sold out within few days of itís release in 2002.

Are our Manipuri Rockers back home listening ??

Check out http://radioverve.com/.
RadioVeRVe is an internet radio station which focuses on promoting Indian Independent/Indie music.

The threesome of Kaustubh Srikanth, Gaurav Vaz and Shreyas Srinivasan pool their talents together and create a one-of-its-kind venture, India's first Internet radio station dedicated wholly to independent Indian music.

"For example there is the band called Avial which plays only Malayalam rock music. Then there are some great bands from Shillong and the rest of the North East. It's like that old story about building the railways. At first, when people hear that the government wants to build a railway they wait by the site, but no work starts. They get frustrated and leave. Then the government comes in to see if the area needs a railway, but doesn't find any people around. So it doesn't build a railway," Shreyas philosophises.

The problem, adds Kaustubh, is that even though a lot of talent is present throughout the country, much of it is usually isolated as there has been no collaborative effort to bring it all together. "That's what we're trying to do."

What is also interesting about Radio Verve is that it is built entirely on free and open source software, taking forward the idea of a community-driven project.



Other upcoming gigs:
October 2 Mumbai Paul Di'Anno
October 5 Mumbai INXS
October 7 Bangalore INXS

References:
gigpad.com
pauldianno.com
wikipedia Entry
http://www.pauldianno.be/pics.html
Paul Di'Anno Interview
Stillwaters online
radioverve
Hindu.com

Acknowledgement:
Thanks to Pranoy Ayekpam who today morning broke me the news of Paul Di'Annoís upcoming Shillong concert


---
Ringo Pebam, a Software Engineer in Bangalore, and a Free and Open Source Software activist, contributes regularly to e-pao.net.
The writer can be contacted at ringo_pebam@yahoo.com
This article was webcasted on September 22nd, 2006


* Comments posted by users in this discussion thread and other parts of this site are opinions of the individuals posting them (whose user ID is displayed alongside) and not the views of e-pao.net. We strongly recommend that users exercise responsibility, sensitivity and caution over language while writing your opinions which will be seen and read by other users. Please read a complete Guideline on using comments on this website.