First buzz of the LazyB

Anthony Chirom and Ringo Pebam *
On 14th Dec '08, at the Indira Gandhi Musical Park, Bangalore, just as the crowd were filling in for the session, sponsored by Radioindigo, there was this bunch of Manipuri fans waiting for Heavy Water and yet another debutant "LazyB" to take on the stage.

Heavy Water, as usual, were tight, but only to get better with 4 guitars this time .. Sound was great and Martin's "Stairway to heaven" was mesmerizing. The percussion was pummeling and innovative while the guitars did their dirty work. Good stuff.

But the evening was for the debutant "LazyB", who the night before, were bit nervous and bit a skeptic (our thoughts) about the event. Nonetheless, they took on the stage with Audioslave cover as opening followed by RHCP's "Easily" and Priest's "Living after midnight".

Their first ever act was full of confidence and this they proved by not wasting any minute while on stage. They knew what they were and they firmly held together their nerves with their rockin' gestures.

They came like a means to the ever-evolving heavy metal and rock canon.

What started as a classroom practise and jamming along with seniors over a peg resulted in forming LazyB.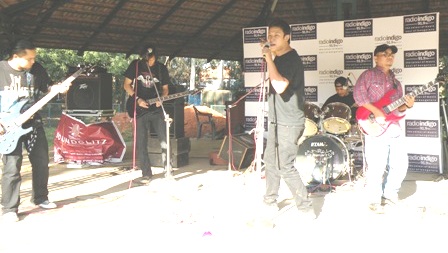 LazyB on stage
Ajay (drums), along his friend Peter (bass), Denise (vocals) and Abhijit (guitar) formed the band with Boss (guitar) giving the support and guiding them with his incredible experience.
Boss's connection with the band members was widening the circle surrounding their music no matter what medium of transfer.
Whether he was interpreting other artists' material or his own, his razor-sharp instincts told him the right band could take such a bond to even greater heights.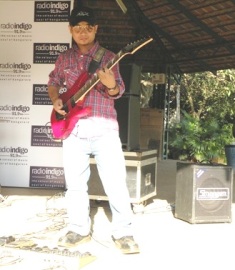 Boss
What more can we say of Boss of his performance that day - "he was astounding!"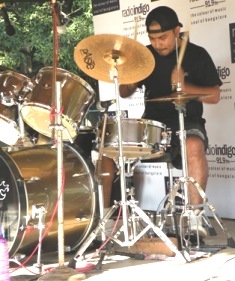 Ajay
Ajay is the silent guy but has a noisy hand and a kicking foot. Started up with a lesser energy but as the minutes passed by his adrenaline got pumped up.. Good drumming in '
Living after midnight
'.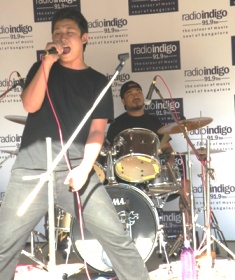 Denise
Came along Denise's "Do you guys think we are freshers"? The irony was well taken... He sounded like Chris Cornel when he first sang the Audioslave cover, although there were some offbeat scales when he was singing '
Living after midnight
", but hey its LIVE version.
The Rock-N-Roll-blood infused in his blood when he was young in high school, had wanted to erupt for long, and has finally come. Way to go, Denise. You have the killer voice.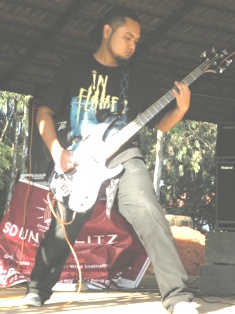 Peter
Peter "the bassist" - the power stand and not even a single note fluttered...very focused!! He's got the look too of the real pro bassist and so he will be..!! Carry on Peter with power-stand and stand tall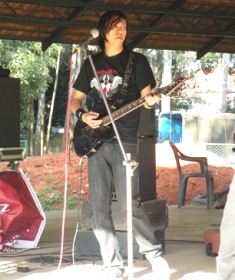 Abhjit
Abhijit the tall and lanky guitarist..!! What else is there to say "just keep on rocking.." We like the way you play so cool.. like Izzy Stradlin.
This is yet another beginning of rock saga!! Talents from the north-east have always been well endowed and this time around also we have another upcoming "
LazyB
" taking the stage. Folks, lets give them our support just as we have been supporting each other.
With the talented Boss there to steer the band, and the young bloods giving in their all to exploit the talents hidden in them, a lot can be expected from this newly formed Bangalore based band – LazyB!!
Rumours or true.. we heard that they have an original track already!! Hmm... See you!!
---
* Anthony Chirom and Ringo Pebam are software engineers based in Bangalore. They contribute regularly for E-Pao, and can be reached at tull_chirom(at)yahoo(dot)com and ringo_pebam(at)yahoo(dot)com
This article was webcasted on 02nd Jan 2008.
---
* Comments posted by users in this discussion thread and other parts of this site are opinions of the individuals posting them (whose user ID is displayed alongside) and not the views of e-pao.net. We strongly recommend that users exercise responsibility, sensitivity and caution over language while writing your opinions which will be seen and read by other users. Please read a complete Guideline on using comments on this website.