"Cleave" of the people, for the people & by the people
RK Tinki *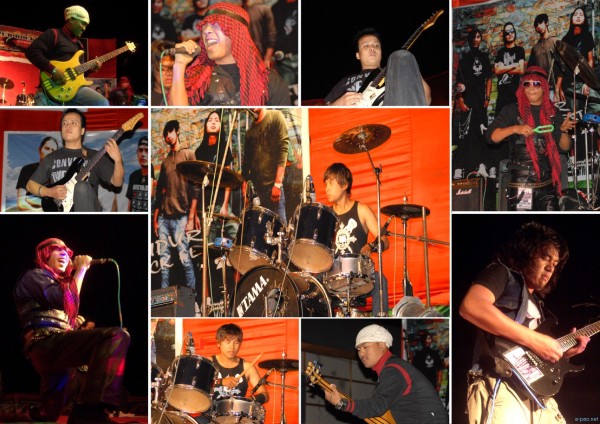 (
Winner of Manipur Rock Contest 2009-2010 and Manipur Idol 2009-2010, including best Guitarist, best Drummer, best Bassists, best Vocalist and best vocalist imphal west manipur idol
).
With the competition growing each passing day, "Rock bands" of different genres are working hard in their fields. Music, love and brotherhood being its motto, we don't differentiate castes, religions or creeds in this field, rather all the Rock lovers enjoy & live on a rhythm of beat.
Rock, being its one kind of music, attracts large number of people ranging from young to old. We believe that music knows no boundaries and it's always there to support you in your happy, excited, sad, love... etc hours.
Cleave gets its meaning from the dictionary - "to split or cut something by using sharp or a heavy object", but we have somewhat personalised and transformed it as "crushing of evil by a force of music", we also believe in doing so in our society with our music.
Just as we mentioned earlier, the competition is growing each passing day; we have created our genre and we called it "Progressive Secllusion Metal", under which, we composed many original songs based on fantasy, current situations, HIV/AIDS and historical facts and many other songs like
Princess of Arabia, Dusk or Dawn, ART, Seven Years Devastation (Chahi taret khuntakpa), Soldier of Silence, Night of the damn
etc being our original Numbers.
We want to expose our original Numbers to our beautiful fans everywhere and make them realise we are always there for them in their hard times and good times. We also believe that band must have at least one original composition to expose themselves who really they are and what message do they want to convey to the people.
Most people think that "Rock" means drug addiction but we want to make clear to each and everyone that rock means God; it is a kind of music where you can express your love, anger, passions and sorrow under a rhythm through which other people get to know about your emotions, ideas, messages and the role you can play to your society.
So let us not live in a false idea and let us not spread a wrong message but rather give them support and encouragement to show the world the rocker's belief and the "goodness" of our society.
Like every band having its own icons, we also have our icon bands, bands like
Dream Theater, Iron Maiden
...well, these are the foreign bands but we also follow the teaching and foot steps of our elders which have far more good and bad experiences about the rock culture.
We would like to address them as "Sir"—Sir Momocha, Sir Sando, Sir Samson, Sir Vikram, Sir Guru Rewben Mashangva, Sir Vivek, Sir Paras, Sir J Kamei, Sir Kumar, Sister Alvina etc - not only to them but we also follow the teaching of those persons, those great souls who have left us for their heavenly abode.
Some of them being Sir Abungcha, Sir Dubby, Sir Pravin, Sir Sunil, Yambung Sanayaima, and those who are unknown to us are the icons of our band and we follow their teachings. Sir Momocha is a great and a down to earth person who has lit up lights on us; we owe every success to him and his teaching we chant everyday. We would also like to point out Sir Sandos' teaching here, "Be sincere" sincerity means close to "God" and "God" means everything.
Our heartfelt thanks also goes to Sir Paras who has helped us from road side shows to the moving stage shows. Sir Vikran for his beautiful thought that, "rock the people's heart and leave an image".
Sir Samson for the beautiful teaching on how to keep on the rhythm and how to be one with the rhythm and needless to mention Sir Kumar and Sister Alvina, they are really the ones who have made us reached to the heart and mind of every single person in Manipur, without them, we wouldn't have been in this field and taking this opportunity we would like to thank them from the core of our hearts.
Lastly, we would like to appeal to all the people especially to the youths that "If you have the instinct of Rock, don't hide yourselves behind the curtain, come out and Rock, the World is waiting for you."
Cleave are
Ningthoujam Billai, (guitars)
RK Tinki, (vocals)
Thoudam Bipin, (guitars)
Chongtham Khunjaoba (drums),
RK Vavindra (bassists).
---
* RK Tinki (a band member of "Cleave") contributes to e-pao.net for the first time. The band can be contacted at cleave(dot)therock(at)gmail(dot)com
This article was webcasted on January 21st, 2010.
---
* Comments posted by users in this discussion thread and other parts of this site are opinions of the individuals posting them (whose user ID is displayed alongside) and not the views of e-pao.net. We strongly recommend that users exercise responsibility, sensitivity and caution over language while writing your opinions which will be seen and read by other users. Please read a complete Guideline on using comments on this website.