A Manipuri Concert in Bangalore - The Other side of the evening
By: Marc *



Sadananda, Bobin, Sophiya and Yaiphabi along with the Kangla-Sha ensemble came to Bangalore to entertain the Manipuri crowd on the 7th Jan 2006.
They did their work and left us entertained.
Following is the other side of that evening as I had felt.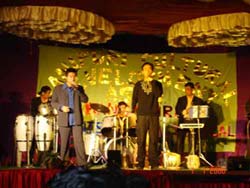 Bobin and Sadananda rocking the crowd with an intergrity song

The donor card said "time: 5:00 PM". And I did enquired about it.
The organizer member who handed me the invite asked me to reach earlier.
And I think to myself "Hmmm! They plan to keep the time. Maybe they need to start earlier and end earlier too as there are some early closure rules in Bangalore".

For the uninitiated, let me dwell a little into this 'early closure rule of Bangalore'.
There used to be a few liquor bars and cabaret joints who employ lady dancers to dance to filmi songs or usually to accompanied by a live band. People go there and in full bollywood gansta cinema istyle, they would throw notes (of money, of course) while they drink (what else) liquor. These are popularly called the dance bars in Mumbai. Mumbai reminds me.... I think the problem started when the Maharastra Govt came down heavily on these dance bars. Legend has it that the dance bar girls fled to neighbouring cities and towns and Karnataka was badly hit. Bangalore came into prominence since then. So Karnataka Govt also decides that it'll clamp down on this money minting business of the night.
It raided such places where live music and dance acts are being conducted. Actually they went a little ahead to raid other hang out places such as pubs, discos and lounges. The reason: they play live band or music (with a DJ) and girls are found dancing there too (dancing at a Disco, you know).
I think the interpretation became such that any song and dance performance could be a problem especially so in the late evenings.

Indian Express had reported this as:
A new law 'Licensing and Controlling of Public Entertainment (Bangalore City) Order, 2005,' originally introduced to curb the unregulated growth of dance bars/cabarets, or 'live-band joints' as they are known in Bangalore, has pulled the shutters on night life in the city.
The law, which came into force on June 24, is seeing owners of not just cabarets but also lounge bars, restaurants and discotheques struggling to meet stringent licensing conditions. You can read the whole story at the Indian Express site.

Okay now. where did I leave on my story of the Sadananda concert.
Well so ... I had thought the organizers must want to close it early so that they don't attract any untoward attention from the Bangalore police.

I reached the venue around 5:30PM already thinking they must have started.
But I was just not only mistaken, but I was badly mistaken, as the stage doesn't even look like there is going to be any live show there. Around 6:20 PM or so the musicians came around and started fixing their instruments and checking it out. It went on and on. The crowd kept swelling up. Sometime around 8 PM, the first voice of the MC (or 'compere' as they are called in Imphal) came over the microphone....
"Mayamgi damak-ta toilet asi ground asigi Yet-thangba maikei-da semjare. Nupi-gi, Nupa-gi toh-ngan toh-ngan leibani".
And I thought how apt.
They have not started their show 3 hours after they were supposed to have start but the only thing they can think of saying as the first announcement is where the toilet is.
"Ngasigi concert asi matam chaana houba ngam-houdre. Mayamna Ngakpigani. Athuba matamba houjarage."
Maybe that would have sounded very un-cool, huh?

Before the show actually started, there was a dance recital, Manipuri dance recital. The dancer had selected a song of which the CD had been handed over to the sound engineer earlier. The MC started saying "song number 5" from behind the stage through the microphone. He must be trying to communicate to the sound engineer.
Finally it didn't work and he pleaded "Song number 5 adu thabinaba kana gumbana amukta haibiyu".
Well, that was cool!
Someone communicated to the engineer about the requirement and the song started.
The start must have caught the dancer and the MC by surprise and the MC was heard shouting...
"Muthatlo muthatlo".
And as if realizing that the local-Kanada-speaking engineer would not understand that, he attempted a ...
"swami stop" With all the dramatic effect he could muster that could match the "Hatti patta haiba lum ado kayam watli?" line from Devdas.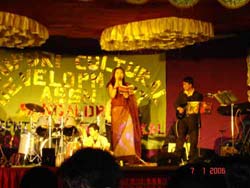 Yaiphabi rendering a popular album number

The show did start with Sadananda and Bobin. Yaiphabi and Sophiya also were there to entertain the crowd. True to meitei nature, guys and girls started walking up congratulating the singers and passing their requests written on piece of papers to them. Then the Paisa-Thaba guys followed. After much Paisa Thaba act, the same Paisa-Thabers would come up to exchange their bigger notes for the change on the stage and more Paisa thaba continued. Iam not sure if they watch these "bollywood-gansta-istyle-cinemas" or even frequent those places the Bangalore Police is hell bent on closing. The fact is they put lots of style in Paisa-Thaba. Some would throw it on the singer. Some would dish out each note and throw them around the singer. One was even seen dishing it out and handing it over to the palm of the singer. This got me very scared. I looked around and I can see few Bangalore Police already at the venue. this made me more scared.
What if.... they pulled up the singers and all of us and book us under the 'Licensing and Controlling of Public Entertainment Order, 2005'.
I dread to see the newspaper headline the next day.

As the time struck 10 PM, I decided to leave the place.
As I got out, I met the same organizer member who handed me the donor invite and had asked me to come early. He said,
"Tamo, Khara nung-ngairamdou mandre. Penna touba Ngam-dre. Mathang da amuk toushi".
I dont know if that was a hint that another such thing is coming up OR just an apology.


---
* Marc contributes on and off to e-pao.net. This contribution comes after a long gap.
This article was webcasted on January 15th 2006.
---
* Comments posted by users in this discussion thread and other parts of this site are opinions of the individuals posting them (whose user ID is displayed alongside) and not the views of e-pao.net. We strongly recommend that users exercise responsibility, sensitivity and caution over language while writing your opinions which will be seen and read by other users. Please read a complete Guideline on using comments on this website.