2 MINUTES TO MIDNIGHT!!!!!!!


By:- Pranoy Ayekpam *



Ever since I heard the news about Iron Maiden's 'A Matter of Life and Death' Tour will include Bangalore, the following months were never the same for me. I had literally put up a countdown in my diary to mark the proximity of the event. And as the days drew closer, my patience was running out to see Bruce Dickinson, Steve Harris, Adrian Smith, Dave Murray, Janick Gers and Nicko McBrian performing a list of heavy metal classics in front of me and bless me with their esteemed presence.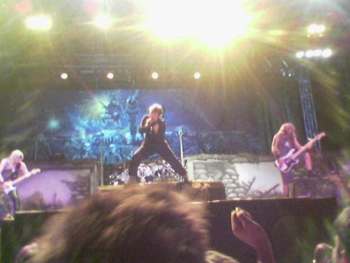 - L-R: Adrian Smith, Bruce Dickinson & Steve Harris-
Picture Courtesy: Imoyaima Nameirakpam
Came 17th March '07, D-Day has arrived. The grand buddies of heavy metal will be spreading out a delicious treat in just some hours to come. People in black T-Shirts which read 'Iron Maiden' (and other heavy metal bands) were all around on the streets of Bangalorhe, all set to move toward Palace Ground. For me, the preparations were almost lost in vain. Just how much I hated my faculties at that hour for assigning me with an untold task! Nevertheless, I managed to reach the venue at 3 p.m. when the gates had just opened. There were hundreds of people who reached before I did. But I somehow found my way to sneak in before many of them did. I even made my way to the front row before the show started. As the number of audience increased, the venue was jam-packed (with even no place to keep my feet) well before the first act performed. And I waited for the daddies of metal for hours in the scorching heat.

Appeared F.T.N. (an acronym of F*** the Name), a Delhi based band, winners of the Campus Rock Idols 2007 at around 5.30 p.m. They churned out a list of covers from bands like Korn and such. Not much a genre of music that I enjoy listening and many felt they were a wrong band to open for a classic metal band called Iron Maiden. Ever since their appearance on stage, there had been chants from the crowd wanting them to disappear right then! The wrong band on the wrong occasion! All they got from Bangalore that evening were some thousand middle fingers up in the air. Well, what luck for the amateur rockers getting to perform on the same stage as IRON MAIDEN!!!

Parikrama were the next group on stage. They unrolled an (very rare) all-original set. They had an impressive stage presence. They got Bangalore moving with their bluesy-classic rock-style list. The crowd hummed with them during their hits like 'But it Rained' and 'Whiskey Blues', a song which they sang for the pub city, Bangalore. Vocalist Nitin Mallick did magic to the crowd which bitterly wanted MAIDEN on stage. But some were bitter enough to boo them off-stage!

Bangalore had more expectations from Lauryn Harris, daughter of the Iron Maiden founder bassist, Steve Harris. But she failed to live up to the crowd's expectations and impress Bangalore with her music. Not even her charming looks managed to pull the crowd who were thirsty of Iron Maiden. She was fired with chants like "Call ur Daddy!" which reminded me of the Maiden hit "Bring me your Daughter (to the slaughter)".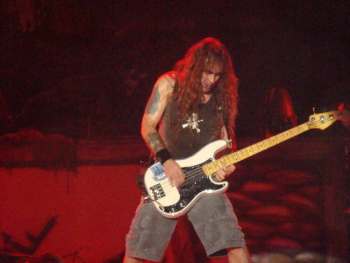 - Bassist Steve Harris on stage -
Picture Courtesy: Ajay Nongthombam
As I turned back, I could see that the venue was tightly packed with people still pouring in! Everyone was holding their breath to catch their first glimpse of Iron Maiden. When the backdrop was finally unveiled, which depicted the seedy city wall like in a dying dream, Bangalore screamed their lungs out as at the same time, the stage unveiled the troupe of six veteran musicians who were ready to assault the city with their respective musical instruments! They started their assault with "Different World" - a number from their current album 'A Matter of Life and Death'. It was quickly succeeded by two more numbers ( These Colors Don't Run and Brighter Than A Thousand Suns ) from the same album. The crowd was delirious to watch their gods perform live in front of them. The next number coming from the gods was dedicated to Leon Ireland, the then vocalist of a Chennai based band called Moksha, who had passed away in December last year. Moksha was the only Asian band to have been featured on one of the Iron Maiden tribute albums released by a UK based record company called Energie Records. Moksha played a section of their mammoth 8 song Maiden medley (performed at most of their concerts) and also their original "Chasing my Life". The song which Bruce sang for him was Wrathchild. And then with another change in the backdrop, it was E-minor on the guitars with a song, none other than The TROOPER!!! The backdrop depicted the single album cover of the Trooper with Eddie holding a Union Jack. Bruce too, that evening, churned out the number waving two Union Jacks!!

These showmen are aged without a doubt but the amount of energy they had on stage was matchless. The four stringsmen (including bassist, Steve Harris) were all over the stage. I wish I could see the drummer, Nicko McBrian run too. Jokes apart!! But it was Bruce who took me for a speechless ride with his sheer energy. He rolled the crowd with his sharp "SCREAM FOR ME B-A-N-G-A-L-O-R-E!!!!!!". There was literally no part of the stage that he didn't touch. At one point of time, he climbed up the metal scaffolding beside the stage and slid back down! Whoa!!! What an immense stamina! And he still managed to shout his lungs out with no instance of shortness in breath. This sure was a show of a lifetime!

The event was beautifully lit on Iron Maiden's own stage gears which was well assisted by some thousand mobile phones which captured the magical moment. I personally found it quite surprising to see quite a number of faithful maiden fans who sang along the lyrics with Bruce Dickinson. Numbers like Trooper, Number of the Beast, Run to the Hills, Iron Maiden, 2 minutes to midnight, Evil that Men Do, etc. got enormous response from the crowd. But the favourite among them was "Fear of the Dark" where the crowd filled in with the humming along the vocals as well as the guitar tunes!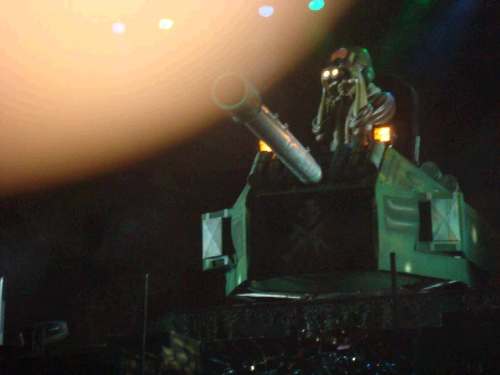 - EDDIE atop a tank checking out Iron Maiden fans through a pair of binoculars -
Picture Courtesy: Ajay Nongthombam
The highlight of the night, apart from the band itself (and of course, water! for the thirsty souls) was the appearance of the eagerly waited EDDIE!! By the time he appeared, I had already descended back due to acute suffocation. I could faintly see Eddie's appearance. As the crowd was taken in awe and Dickinson to a sarcastic smile, a huge tank appeared on stage and popped up Eddie from the inside, taking a look towards the crowd through a binocular. I wish I had a binocular at that very moment!

Iron Maiden then took up a clichéd gimmick of fooling the crowd making them believe it was the end of the show. And I realized that many had already moved out before Maiden reappeared on stage! They performed a couple of tracks before they finally wound up the show with heavy metal's greatest number, "Hallowed be Thy Name". My heart couldn't get enough and was still weeping for my favourite tracks like "Can I Play with Madness?" and "Aces High". Well, at the end of the day, I'm happy to have been blessed by the fathers of heavy metal. It sure was another show of a lifetime. I felt lucky enough to be able to make it for the gig when I compared myself to greater Iron Maiden fans than me who could not watch their idols performing live. And as Bruce promised that they'll be back in India within the next SEVENTEEN months, all I'll have to do is wait for them eagerly!


Songs belted out by Iron Maiden that memorable night:

Different World
These Colors Don't Run
Brighter Than A Thousand Suns
Wrathchild
The Trooper
The Reincarnation of Benjamin Breeg
For The Greater Good of God
The Number of The Beast
Fear of The Dark
Run To The Hills
Iron Maiden
2 Minutes To Midnight
The Evil That Men Do
Hallowed Be Thy Name

Team E-Pao!
Also read:
Iron Maiden 17 Years Itch
---
Pranoy Ayekpam, a management student in Bangalore, contributes for the 2nd time to e-pao.net. The writer can be contacted at perf_strangerin(AT)yahoo(DOT)co(DOT)in. This article was webcasted on March 29th, 2007


* Comments posted by users in this discussion thread and other parts of this site are opinions of the individuals posting them (whose user ID is displayed alongside) and not the views of e-pao.net. We strongly recommend that users exercise responsibility, sensitivity and caution over language while writing your opinions which will be seen and read by other users. Please read a complete Guideline on using comments on this website.