Ziona the great
Laimayum Bashanta Sharma *


Ziona is a 66-year-old Indian man but not Ziona Chana. Chana is his father's name. In Mizo people do not use or add their father's name to their name. Ziona is the proud papa to what is believed to be the largest family in the entire world. He leads a Christian based religious sect in India that is called, you guessed it, Chana.

This particular sect was formed in 1942 and is currently 400 families strong. While this is a large following Ziona has collected, his 400 family following is by no means the purpose of this story and has absolutely nothing to do with largest family tag placed on him.

Ziona is the proud grandfather to 33 grandchildren, but that is just the beginning to this man's brood. He's also the father to 94 children, born to him by 39 wives.His family is 167 strong (some being wives to his eldest sons). Ziona proudly boasts, "I once married 10 women in one year."

You wonder how this family manages to sustain life with so many of them scurrying around? They all pitch in to sustain life in their four-story building in the mountainous village of Mizoram state. All his wives take turns cooking, while his daughters clean the house and do washing.

His sons do all the outdoor work, like taking care of the livestock and farming. When any single day is said and done, the gigantic family has consumed 200 pounds of rice and 130 pounds of potatoes, all of which they produce on their own. The family lives almost entirely on their own resources and occasionally receives donations from followers.

All Ziona's wives share a dormitory near his private bedroom and all of his son's and their families live in different rooms in the same building. Everyone shares a common kitchen. It is said by all that know Ziona that he likes to have seven to eight of his wives surrounding him at all times.

Here's the last important thing that should be known about Ziona Chana……..he wants more……..he said he'd like to have a larger family surrounding him, he's looking for more wives……..then more little ones. The constant activity he engages in is either going to give him a heart attack or help prevent him from ever having one.

Ziona met his oldest wife, who is three years older than him is, when he was 17. He thanks God for giving him a huge family to look after and considers himself as 'a lucky men'. All the men of the family work as carpenters and Ziona says proudly-"we don't want any help from the Government".

Rinkmini one of Ziona's wife who is 35 years old said-'we stay around him as he is the most important person in the house, he is the most handsome person in the village. She says that Ziona noticed her on a morning walk in the village 18 years ago and wrote her a letter asking for her hand in marriage.

Huntharnghanki another wives, said that the entire family gets along well. The family system is reportedly based on 'mutual love and respect'.

Commented on HUFFPOST SOCIAL NEWS by Pierre F Lherission, "If Mr.Ziona Chana has 39 wives, 91 children, 33 grandchild¬ren, and 14 daughters-in-law, NASA should have his sperm on its bank to help populate the six billion potential planets in our Galaxy without having to worry how much Donald J. Trump will charge for the extra-terrestrial lands. Mr. Ziona Chana genetic material could help humanity escape the inexorable doomsday on earth. While the western countries have been criticizing China for its current one child policy, the Western countries are surreptitiously promoting and rewarding alternative life style as a form of population control and entertaini¬ng the thought of eliminatin¬g the useless eaters because of the Malthusian nightmare.

On February 2011 NASA has announced that their planet-hunting spacecraft, Kepler, has discovered 1,235 potential new planets and five of them are about the right size, and in about the right location, to potentially support life. Scientists estimated that as many as 6 billion Jupiter-size planets exist in the galaxy. So let's stop the genocide because very soon our mastering of the law of gravity will allow us to reach the apparently boundless extra-terrestrial real estate.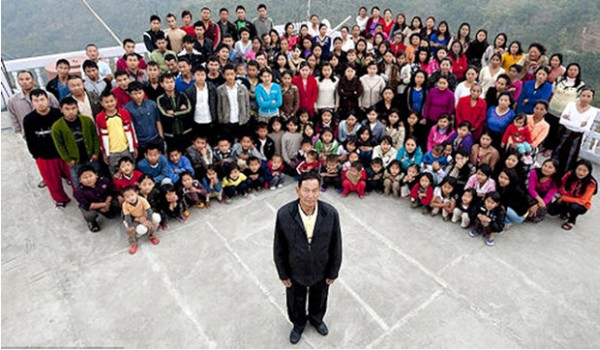 Ziona and family
---
* Laimayum Bashanta Sharma (Correspondent, THE PIONEER, New Delhi) is a frequent contributor to e-pao.net . The writer can be contacted at bashanta_lai(at)yahoo(dot)co(dot)in
This article was posted on February 28, 2011.
---
* Comments posted by users in this discussion thread and other parts of this site are opinions of the individuals posting them (whose user ID is displayed alongside) and not the views of e-pao.net. We strongly recommend that users exercise responsibility, sensitivity and caution over language while writing your opinions which will be seen and read by other users. Please read a complete Guideline on using comments on this website.