The spice of love and life : Part 2
Krishna versus Khamba
Korou-nganbi Naorem *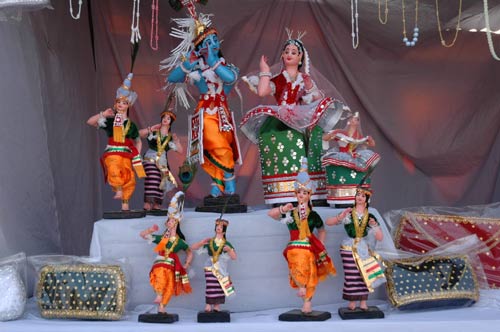 Traditional Manipuri Dolls of Radha-Krishna and Khamba-Thoibi in display :: Pix - Pradip Kumar


With due apologies to Lord Krishna and Khamba, I proceed my writing with a pure mind, soul and a heart that has cease to exist as my own the day I met my 'Krishna' among the mortals. I hope the immortal Lord Krishna, who occupies a venerated status in Hinduism, would forgive the comparison of the divine Lord and the mortal Krishna! It is also my humble believe that the historians, priests and researchers of the Meitei civilization would bear with my sincere views on Khamba, who stands as symbol of love and bravery among the Meiteis.

Looking back at every civilisation that existed in the ancient and the medieval world, we are often reminded of the legends, folklores and of course the immortal love stories such as Radha-Krishna, Heer-Ranjha, Romeo-Juliet, Cleopatra, Anthony and Ceaser triangle and our very own Khamba-Thoibi. It is also said that most of the great wars were fought for women and the Mahabharata, Ramayana, Helen of Troy stands as an example. Draupati and Sita was the 'heroine' of Mahabharata and Ramayana. Both suffered for being born as a 'woman' and for loving Ram and Arjun! Love became their source of doom and it also became a 'weapon' to defeat the heartless human beings. The selfless love Radha had given to Krishna and Thoibi to Khamba were enormous that it remains as a tale to be told to many future generations.

Though their love story is being remembered, has anyone heard Radha questioning the loyalty of Lord Krishna and did princess Thoibi ever question the same to Khamba? I mean Radha had spent years worshipping Lord Krishna; Thoibi was exiled by her own father for loving Khamba too much! But those love stories happened in the ancient world and now we are living in a modern world. So unlike Radha and Thoibi, I ask for a dignified status and question about loyalty to my mortal Krishna that he vanished the moment I finished my sentence! Next few days, he stopped appearing before me with the 'chakra' as he knew that the 'chakra' in his hands could become a weapon of his own destruction. Thereafter, he began to wonder whether I am actually the Radha or Thoibi he had once envisaged.

Lord Krishna had everything ranging from good looks, power, status to thousands of women who loved him while Khamba was a poor fellow who had no one but his sister as his guardian. Krishna had more than a thousand wives but Khamba had only Thoibi, the love of his life. Khamba's devotion towards Thoibi could be seen from different angles as Thoibi was a princess and marrying a princess meant comfort and joy. But, as the story unfolds Khamba's heart became clear enough to be seen by the listeners that one would wish for the kind of love Khamba had for Thoibi towards their respective partners. Nongban, the villain of the Khamba-Thoibi love story can be equated with men and women who flaunt their wealth, status and jobs to woo their partners. Again, men and women who fall for such things can be equally dangerous. On the dark side, who would want to suffer for the sake of love?

With time, I realised that in today's world, love which once stood as a divine feeling have now become a commodity which changes its colour according to its surroundings like a chameleon. Love has been replaced by one night stands, money power and job status! It is not surprising to hear men discussing about the number of women they have dated and the number of women they left behind heartbroken. Also it is not uncommon to hear women ditching their love for money, power and status. Women also have willingly become a commodity in the market of love who equally responds to money power and job status.

As for me, the Krishna whom my heart went out for has ceased to exist as 'Krishna' among the mortals and he is in the process of becoming a 'Khamba' with a pure heart and a soul. This so happened because he met a 'commodity' in the market of love. Presence of mind on his side averted another Mahabharata in his world. But my Krishna, soon-to-be Khamba at last realised where his true love lies. Therefore, My request to all the leishabis not to fall for 'lam-krishnas', a code name I suggest for such pakhangs with a large heart enough to accommodate multiple girls at a time. Save yourself before it is too late! I prefer to chant 'hayum-haya sidaba' instead of 'Hare krishna' rather than suffer the fates of those thousands of women Krishna had married in his lifetime!

To be continued....


---
* Korou-nganbi Naorem wrote this article for e-pao.net
The writer can be contacted at thawanmichak9(at)rediffmail(dot)com
This article was posted on February 01, 2013.
---
* Comments posted by users in this discussion thread and other parts of this site are opinions of the individuals posting them (whose user ID is displayed alongside) and not the views of e-pao.net. We strongly recommend that users exercise responsibility, sensitivity and caution over language while writing your opinions which will be seen and read by other users. Please read a complete Guideline on using comments on this website.