20th Century Fox's "The Day After Tomorrow"
By: Montoo Singh *
'THE DAY AFTER TOMMOROW: Environmentalists approve, President Bush disapproves! Turning the heat on global warming!

'The Day After Tommorow' - a giddy mix of emotion and spectacle from Twentieth Century Fox -centred around the catastrophes resulting from global warming has whipped up sizeable political heat. Though, the studio, Mark Gordon- producer of the $125 million picture and director Roland Emmerich are hoping that the attention translates into commendable collections at the box -office as well when it hits screens worldwide on May 28 th, 2004. The flick begins with the eventuality of increased global warming which triggers off abrupt changes in the climate, pushing the planet over the edge and into a New Ice Age. And all it takes is one global super-storm to end it all: life and creation.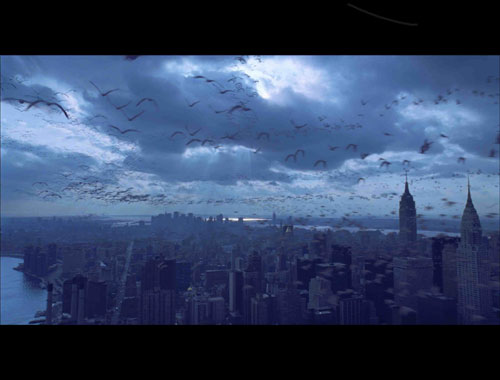 A snapshot from the film

Climatologist Jack Hall (Dennis Quaid) witnesses a piece if ice - the size of Rhode Island - break off the Antartic Ice Shelf. Soon, a succession of disasters are uncoiled around the globe: hail - the size of grapefruit batters Tokyo; record-breaking hurricane winds pound Hawaii; snow falls in New Delhi and a series of devastating tornadoes ravage Los Angeles. Hall had warned officials about the massive global changes: melting polar caps had poured too much water into the oceans and disrupted the currents that stabilize our climate system. But his warning comes too late ......

What's the USP of ' The Day After Tommorow': Director Roland Emmerich who helmed Fox's 1996 super -winner ' Independence Day' which depicted the near destruction of the earth by aliens. Expect to be swept away by Emmerich's visual punches.

Is it just an empty disaster flick? No way. " It's an epic tale of heroism and survival with non-stop action and spectacular effects" says producer Gordon. A strong undercurrent of emotion lends the thrust to this futuristic saga. Even as climatologist Jack Hall warns the White House of the impending climatic changes and ensuing calamities, his 17-year old son Sam (Jake Gyllenhaal ) finds himself trapped in New York City where some of his friends and he have been competing in an academic competition. Having taken refuge inside the Manhattan Public Library, Sam manages to reach his dad by phone. Jack has time only for one sole warning: stay inside at all costs. As massive, full-scale evacuations begin, Jack heads towards New York to save Sam. But he too is unprepared for what lies ahead.... about the threats to his son, his life and to his planet.

Emotional high: " No matter how big the effects are " says director Emmerich, " the heart of the movie is still human drama. The father and son characters in the film are vulnerable, conflicted and loving. That's what makes their struggle against this incredible force of Nature so exciting."

Chilling Facts: Quaid describes the filming of ' The Day... as a " super freeze", as one big cold experience, in which the weather inside and outside the Montreal sound stages was icy, where the production was based for five months during the winter of 2002-2003. " We were all trying to survive filming a movie about surviving. We were filming during one of the coldest winters on record at Montreal. After a while, we learned to recognize people not by their faces, but by the color of their ' parkas'.

Could this really happen? : Gore, whose 1992 best seller ' Earth In The Balance' addressed global warming said, " It will not be as sudden or dramatic as the Hollywood film depicts." Scientists and environmentalists of all political stripes agree that though ' The Day.... is fantasy, the movie does contain a kernel of truth. The ill effects of global warming would be seen over decades, not days.

Supportive factor: Environmentalists have embraced the film wholeheartedly, touting it as a warning about the effects of greenhouse-gas emissions.

Political embarrassment: The Bush administration has been dreading the accusations that will be hurled against its ecological policies. Generating controversy already ' The New York Times' reported that NASA had earlier ordered its scientists not to chatter about 'The Day After Tommorow' for fear of politically injuring the American politico. But, the space agency has since released that ban.

Underlying message: " Fundamentally, this is a drama about ordinary people who find themselves in extraordinary circumstances. It's about mankind's perennial struggle to survive" says co-screenwriter Jeffrey Nachmanoff.

What say Peter Schuman , Executive Director Of MoveOn.Org: " It's the movie that George Bush doesn't want you to see. We hope the film has a teachable moment for audiences and hope that it opens a dialogue about global warming and the threat that it poses." Apart from a rally, MoveOn plans to recruit volunteers to pass out leaflets at theatres playing the movie. The brochure is intended to jolt viewers with a catchy headline that goes: ' COULD THIS REALLY HAPPEN?'. Fodder for thought, eh?

Warning sign: " ' The Day After Tommorow' is a cautionary tale about what can happen if we continue to provoke Mother Nature," declares Nachmanoff.

Pertinent Question: Are you clued in ... President Bush?
---
* Montoo Singh can be contacted at montoo@halberd.net
* Comments posted by users in this discussion thread and other parts of this site are opinions of the individuals posting them (whose user ID is displayed alongside) and not the views of e-pao.net. We strongly recommend that users exercise responsibility, sensitivity and caution over language while writing your opinions which will be seen and read by other users. Please read a complete Guideline on using comments on this website.