Of Manipuri marriages and Swasti Pujas
A contemporary hotchpotch in lighter vein
Biplob Kongkham *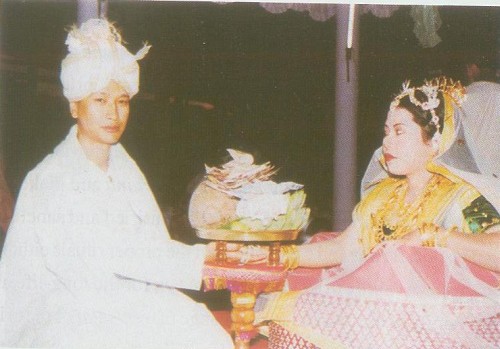 Bride and Bridegroom holding the Kujapot
Pix - N Mangi Devi's book entitled 'Main Ceremonies of Meitei Society'


They trickle in gently on a chilly December day; fair ladies in their silkiest finery decked in plated gold oblivious to the cold, gents of all ages wary of losing their chappals give a quick curt obeisance to the rituals. The women congregate cheerfully in pompous gossip and the men politely jostle for the "Maariba" (read: wine and dine) enclosure, patently arranged by the host. It is a moment of joy and it is a Swasti Puja.

The happy host is a new father whose mind's eye in the joyous flurry, is subtly set on one indispensable aspect of the rite – the potyeng. His enterprising friend meticulously maintains a cash register of the invitees' contributions while he himself makes lightning fast mental notes of Gandhi notes he is offered in hand. The steady trickle is now a merry bustle and for the connoisseur gents inclined to finer tastes in life, the foci of attention is solely on that maariba enclosure.

The gentlemen are many but curt, fully aware of "party manners" in spite of the heavy head-bang of white local wine and Khatkhati-brewed 'Black ki Red'. Endless array of mouthwatering dishes are devoured as the courteous murmurs grow into none-hears-none discussions on issues as diverse as thika, global warming, politics and unrequited love.

The luncheon is set in trips of three based on a scale of sobriety – the first is for the general 'normal' folks, the second for the merrily tipsy and the third for the Brahmin pujaris accompanied by the most obligingly inebriated. The worst skip the meals and stay up for an endless night of poker and flash, without a care for their next morning family clash.

The arrival of newborns are thus blessed and celebrated, with all the rituals and niceties they themselves must replicate, in a lifetime of countless Swastis and Potyengs. More rites await them in similar fashion and pattern including chagumba, chura karan and even the lagun thaangba and eventually marriage.

November to March is the peak time for holy matrimony of all kinds – the formally arranged, the eloped-and-eventually-arranged and even the legendary quick-fix 'Khao-Yei'. The mad rush for auspicious panjika dates are when the brain damaging collisions of ceremonious occasions of all sorts occur. On such days, our dusty potholed roads resemble Chandni Chowk with beelines of marriage parties crisscrossing, bisecting, intersecting and intertwining into a happy chaos and direction loss.

Bridal parties end up in the wrong groom's place while unassuming invitees have to make sure for the third time whether it is the right Mr. Shyamchand of the right yumnak. The placid beauty and serene grace of a Manipuri marriage is never lost. Our countrymen elsewhere admire our egalitarian values and the dignified status of our womenfolk. Dowry in its pejorative undertone is alien and unthinkable here except for the ever-tightening grip a consumerist-materialist fever.

Giant flatscreen and curved TVs, designer furniture and customized cars, go along with Kabok Khoidum and zarda laden kom kwa. Eyes pop in disbelief seeing the non-dowry gifts accompanying the affluent Manipuri bride, and in its enormity and scale, it is the great grandparent of the notoriously celebrated Indian dahej.

Pre-wedding, wedding and post-wedding photo-shoots now rule the roost and the effect is more often of jocoserious relief. Images of real life clarity capture the bemused, romantic couple – holding hands, looking at each other, running to and away from each other, on a scooter, plucking flowers, and jumping up together too.

Drones cover the wedding day drama underneath from an aerial vantage point, trying to focus on the classy tidbits and blur out any stray chicken or pigs or corroded tin-roofs. A Manipuri marriage is a cultural thing replete with things ornate and divine, all at the same time. Grace, courtesy, eye for detail and strict attachment to ritual norms are the keywords and ignorance of these is tantamount to a pure lack of right upbringing and poor socialization.

Conditional exceptions to the rules do however exist and adherence to ritual norms can be respectfully tweaked and fashionably deviated without inviting public scorn and ridicule. This is most evident when cash offerings in Gandhi notes are made to the pala performers and wedding singers with equal abandon and where offence is neither meant nor taken.

Moderate errors in ritualistic niceties aren't frowned upon as paisa thaba is revered upon, even when the act borders on the vulgar. Performers' involvement, quality and duration of performance is often directly proportional to the flow of green, red or blue bucks – offered politely or haughtily strewn around.

A quiet magnanimity prevails where obtuse display of ill-gotten or backbreakingly hard earned money change sides. In fact, the system has a way of balancing itself and isn't altogether flawed or unjust. What goes comes back in equal or higher measure, for in matters such as these, our folks display exemplary numerical memory. Five hundred guests and who offered how much potyeng/potpang at what time wearing which dress in what mood is recalled with an ease that is inexplicable to the mentally deficient.

There is an unmistakable solemnity about Manipuri ceremonies and rituals due to its propinquity with divinity, and fortunately, this isn't likely to change in the foreseeable or distant future. In other aspects however, to the keen observer, there is a subtle and steady societal shift towards a more materialistic and ostentatious dynamic.

A myopic emulation of the consumerist cultures of the West, of Bollywood and the rich mayangs – of consumption without conscience and indulgence without prudence grips us today. For most, affluence doesn't imply appreciation and within weeks, the designer furniture from the awunpot is cobwebbed and smeared with paan lime. Drawing room sofas are buried in baby diapers and unwashed lingerie and modular kitchens soon stink of unwashed crockery.

The smooth synthesis of alien cultures is neither an easy nor a quick one for it requires an assimilative internalization which is presently nascent but apparently obvious. The average Manipuri or Meitei to be more exact, has an inborn doggedness, a resolute adamance in matters especially of the mundane.

The 'keeping up with the Joneses' syndrome is most ubiquitous in deva-karma occasions and their accompanying expenses. Even the indebted escapist with the biggest hole in his pockets will exhibit unsparing extravagance in a vain effort to keep up with the rest.

Modest and unadorned alternatives to the grandiose and illustrious is unimaginable and this often leads to a tragic-comic blend of the absurd and the obvious. Notwithstanding all these, there is no reason for pessimism in the short or long run, for the same society is replete with people who spontaneously become vanguards and saviours of culture and practices and of morals and righteousness.


---
* Biplob Kongkham wrote this article for The Sangai Express
The writer can be reached at kbsingha(AT)gmail(DOT)com
This article was webcasted on January 28 2019.
---
* Comments posted by users in this discussion thread and other parts of this site are opinions of the individuals posting them (whose user ID is displayed alongside) and not the views of e-pao.net. We strongly recommend that users exercise responsibility, sensitivity and caution over language while writing your opinions which will be seen and read by other users. Please read a complete Guideline on using comments on this website.