Being a Rajkumari
Tanya Sana Rajkumari *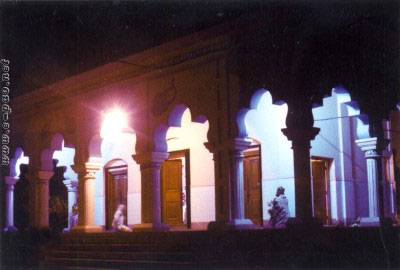 Bijoy Govinda Temple by night :: Pix Credit - Rajkumar Kishor


People often ask me "why is your surname Rajkumari? Are you a real princess?" I was out of words when I was first asked this question ten years back in school. I would often ponder about it to answer as best as I could but it was always a little complicated. Being shy I did not like being confronted with so many questions again and again about my background. It was like people doubting my identity!

I grew up yet the question followed me wherever I went. At first I would get serious and try and explain as best as I could. At some point I felt like dropping Rajkumari from my name. I felt like being mocked at as they would ask "do you have a crown? A throne perhaps?" It's not like I do not belong to the Royal Family but at the same time we do not belong to the direct line of kings. As Bertil Lintner puts it we are "the remote descendants of the old kings of Manipur".

I am told that all the Rajkumars and the Rajkumaris of the Ningthouja Clan of Manipur today are the descendants of King Garibniwaz or Pamheiba. He had many sons and one of them was Ananta Shai the founder of our Mantrimayum sagei. Our ancestor King Ananta Shai gave up the throne to his nephew King Bheigyachandra and became his Prime Minister instead.

In Manipur members of the royal family were all given positions apart from being a prince. He pledged that his family and descendants would never claim the throne. True to his word we remained as just one of the Royal Houses of Manipur (Mantrimayum).Having never participated in the royal feud for the throne our sagei or the Mantrimayum sub clan is said to be the largest in number. The other royal houses being Karta, Narsingh, Urungpurelmayum, Lourungpurelmayum and Senapatimayum.

A couple of years ago I attended a gathering of the Mantrimayum held in Bijoy Govinda temple. The temple is of a significant importance to the Mantrimayum as it was gifted to Edhou Ananta Shai by King Bheigyachandra. The gathering was one of a kind as a book on the genealogy of Mantrimayum sagei (house) was released. Even though it was a small gathering with the book requiring a huge space for improvement, I was still very happy and proud. Having grown up with hearsay information about the Mantrimayum sagei , documentation was a huge leap forward.

I was an inquisitive child and so my family would supply me all the information they knew about it. It is such an irony that our glorious history that we are so proud of is not taught in schools of Manipur. Many people end up hating the Kings who brought Vaishnavism as the State Religion without even considering the beauty it created to our culture. Many of our renowned art forms would have never existed had there been no Vaishnavism.

And who could blame the Kings, it has always been nature's way that small communities embrace a larger and more prosperous communities' way of life. Yet today there are critics everywhere questioning and commenting about the rulers that brought Manipur under the Indian Union.

Today it is a fad to change one's names to something Manipuri and naming newborn kids a traditional name. It is good in a way and I do endorse it but sometimes it gets a little too much. Here is an instance that I faced.

My usage of Rajkumari as my last name while writing stories had drawn criticism in my last post in e-pao.net . Some comments were completely irrelevant to what I wrote. The person was of the opinion that I should drop my 'mayang' sounding surname.

It is one thing to get conscious of one's roots but shoving one's belief down other's throats? Is that necessary?

This incident made me all the more resilient to always use my full name while writing. And to think about dropping Rajkumari at one point I tell myself it was just another whim. Now I know and accept 'once a Rajkumari always a Rajkumari'.


---
* Tanya Sana Rajkumari wrote this article for e-pao.net
The writer can be contacted at tanyasara(at)gmail(dot)com
This article was posted on January 25, 2013
---
* Comments posted by users in this discussion thread and other parts of this site are opinions of the individuals posting them (whose user ID is displayed alongside) and not the views of e-pao.net. We strongly recommend that users exercise responsibility, sensitivity and caution over language while writing your opinions which will be seen and read by other users. Please read a complete Guideline on using comments on this website.