Thabal Heat in Delhi
By: eNigMa.*



It is interesting to note how much Thabal Chongba is loved and enjoyed by Manipuris. I am a true Manipuri in that respect. I simply love thabal chongba. Three reasons why I would go extra miles for a thabal are:
1) Thabal Chongba as a form of dance is exceedingly interesting and gives a lotsa room for improvisation. Itís always a challenge to find new rhythm to the charming but simple beats of " Dong ku ta kum - Dong ku ta kum".
2) So many young people come to either watch or dance. I love young people especially the girls :-)
3) Opportunity to meet friends whom I have lost touch.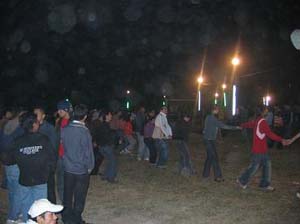 Pretty Boys and Girls enjoying the Thabal.



For a person like me, whose life has been sucked fast into the spiraling whirlpool of corporate workloads, point 2 & 3 are especially important. I feel I need to connect to more Manipuris. To get the feel back. Having a spoonful of eromba and ngari on a monthly basis ainít enough.

Sipping coffee and looking at the vast expanse of beautiful green lawns between office breaks ainít filling my youthful heart enough. I need a dose of Thabal Chongba on monthly basis (if I have my way). But alas, it ainít. So when I heard, while on a break trip to Delhi, there was Thabal, I was overjoyed. I believed tears rolled down my face, when I read my friendís SMS.

So I went to North Campus with my friends. "Police Ground is the venue and pick me up at Ashram", my friend had said. I readily paid 50 rupees for the entry.

"Oh my God, there were so many Manipuris living in Delhi". By my rough estimates, the crowds that were flowing must be an equivalent of Elangbam leikai and Top Leirak combined. I was overjoyed. Point 2 was instantly gratified.

There were so many pretty young things dressed up for the occasion. I immediately fell in love with three girls, all of them friends. Thatís the perennial problem of life. Why do girls I like have to be friends!

And of course, I met up so many friends from school as well.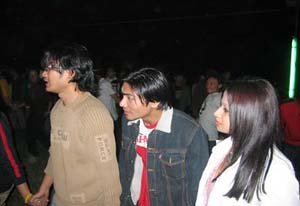 Thabal in full swing

I finished my 4th round and making my moves to one of the three. I even held her delicate hands and wandered if it would not melt if I squeezed it a little harder. I liked her perfume. Even as I was cozying up with smooth talk with lady with beautiful eyes and spirited rhythm, typical Manipuri cowboys spoiled the dance by fighting it out in the middle of Thabal. I wandered if this was a test from God. The timing was so conspicuous. I thought it was but a conspiracy of God to make me a bachelor throughout my life.

Of course, after the cowboys show, the Thabal never lived up especially when she was nowhere to be found. Itís a tantalizing feeling I had for a stranger in a nice way. I even thought for a while I was in love. Long after the thabal dhon had died down, I was still yearning for her. Even wandering what her name was. I thought it was unbecoming at my age.

Of course there was another thabal, some days later. This time it was free entry. Rumors had it that it was organized by those cowboys who spoiled the thabal, the other day. Whatever may it be, I was geared up again. However, another agenda Ė 4th Agenda is added.

4) To look for that girl.

I walked up to the Thabal ground with my face flushed with anticipation and heart pounding like the thabal drum. I went round the ground in search of that girl with my friends but nah, she was nowhere to be found. I danced but not with the same rhythm like I did. The dance was there but the heart was gone. I think I should retire from Thabal. I think the thabal heat is becoming a little too much for an ageing young heart like me.


---
* eNigMa contributes to e-pao.net for the first time.
The writer can be contacted at deeenigma@rediffmail.com
This article was webcasted on November 22nd 2005.
---
* Comments posted by users in this discussion thread and other parts of this site are opinions of the individuals posting them (whose user ID is displayed alongside) and not the views of e-pao.net. We strongly recommend that users exercise responsibility, sensitivity and caution over language while writing your opinions which will be seen and read by other users. Please read a complete Guideline on using comments on this website.