A journey of three sentences
Cecil Thounaojam *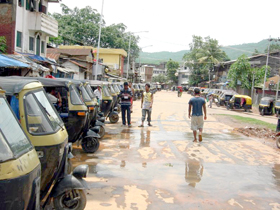 Auto rickshaws lie idle at Moreh sometime in May 2007 :: Pix - TSE


I got down from the local train station and headed towards the auto stand. It's a struggle to reach the auto stand by itself, because of the crowd that was with me and those who were heading towards the station. Somebody's shoulder hitting mine or me stepping on somebody's toes, there were all these stepping, hitting and escaping routines going on.

Somehow I reached the auto stand, but to find the auto that goes to my place is another trouble. Those auto drivers always sit idly and we, the passengers-the customers, who are supposed to be approached by them, have to peep our head inside their auto and ask them if they are going to our designated location. Are we paying them or are they paying us? Whatever it is, we had to compromise because at the end of the day it's we who needs them more than they need us.

After peeping in to some such 3-4 autos, finally I found one that would take me home. There were already three guys inside the auto. As soon as I got inside the auto, one amongst them said, "yeh bhi aa gaya". Suddenly I was… like… "WHAT?!!!" (I didn't say it but I felt so). Before I could think of the reason, the person clarified to his friends that he thought I was one of their friends. Then I was relieved and felt rescued from an uncalled annoyance.

Now, four of us were seated in the auto in the sequence of front-back-front-back across the seat. It was a not-so-convenient arrangement but that is how the auto drivers carry their passengers to earn more.

Then the auto driver waited for a while till another customer would arrive who was then seated in the front to his left on the same seat he was seated. He then started the engine and was ready to proceed towards our destination. There was one more hindrance; another auto that was waiting for its passengers.

Somehow, our driver shouted to the other driver and made him move a little ahead, and then he made a sharp turn towards right taking his auto on the street where he can proceed. With all his skills, he took us on a fun ride amidst the traffic that was annoyingly crumpled. It was Saturday, and the Saturday-traffic is always the busiest.

Whenever we were stuck, I had nothing to do though there was a book in my hand because there wasn't enough light for me to read. But there was some conversations going on amongst the three friends who were with me in the auto. It seemed like they were having some plans to go out and drink alcohol since it was Saturday. One of the friends just received a call, from his father. Just like any teenagers do, he asked his friends to be quiet. May be his father was asking where was he.

He said that he's near station and coming back home. He wasn't lying at all but I wonder and something was fishy. He hung up the phone, and then another friend took his phone to play some games. He insisted not to play because the phone's battery was dying and he would need it later on. But his friend was adamant enough to play the game and he continued to play. I was still wondering 'how is it possible that a guy is with his friends and have plans to party with his friends but still told his dad that he is coming back home'.

I just finished my thought and I heard him talk again. He told his friends about their plans; 2 hours for drinking, an hour to talk to his girlfriend and another hour to reach home. Then I realized, he wasn't lying but he was avoiding any kind of interrogation from his parents. It was such a relief to my puzzled mind.

I had a funny appreciating smile for him, but they didn't see it. Anyways, we were crossing the jammed traffic somehow with the help of our driver's driving skills. In the meantime, one amongst the friends said that girls are bad drivers because they give signal for right but go left and nobody has any problem.

He made this remark may be he just saw some girl do the same amidst that heavy traffic. He was then confirming it with our driver addressing him as "uncle". What followed next made me laugh, silently. It could be a sexist statement but I won't deny the fact that it was hilarious and on the top of that it rhymed. May be it's true as well.

To that guy's query, our driver just said one line "ch**t ko chhoot aur l**d ko dund" Freedom for p*ssy and punishment for d*ck. I actually tried to translate in English on the way itself that would rhyme but couldn't. I had to settle with this. They all laughed and I laughed too but alone. We reached a crossroad and there were some policemen.

Our driver asked the guy who was seating next to him to get down and wait after crossing the junction where there was no police. The man followed the instruction and marched ahead. He was then lost in the crowd, I couldn't find him. Then the auto went ahead after a short while when the traffic cleared.

We had crossed the junction, now our driver was looking for his fifth passenger but couldn't see him anywhere. Then one amongst the friend said that may be he ran away taking another auto. Even the driver agreed and stated that many people do such cheap acts. I wondered. I never did that.

Meanwhile, our driver saw his passenger and he boarded back to his seat next to the driver and the friends were now silent. May be embarrassed. The traffic was clear and now we were having a smooth ride. The three friends continued with their conversation, I didn't bother to hear their conversation anymore and our driver rode his auto with no special efforts.

The passenger next to him was still in his same position. I was just waiting to get back home and relax. I was tired and it's Saturday. Next day I didn't have to go to work and I had plans to read books and watch some movies and all. The auto was almost reaching the place where I was supposed to get down.

Then somehow I heard one of the friends say something and then he quoted "din bhar karo allah allah aur raat ko karo hallah hallah". It's funny and I laughed keeping in mind that I will repeat it to my friends for a good laughter. They were also laughing to his joke. I bent my head a little to see the landmark where I had to get down. The auto was almost 100 metres away that I called our driver and said, "bhai, woh circle mein rok dena ah".

In an instant I heard one of the friends say, "mast hindi bolta hai re" and when the auto stopped, he told his other friend who was sitting to my right to get up a bit so that I can get down easily. Then I got down and paid the auto driver my fare. I couldn't help myself from laughing.

May be they had seen my oriental look and presumed that I might not be able to speak hindi properly but when they heard those proper hindi words flowing out of my mouth they were stunned and more than that they respected me. They loved me and respected me for speaking their language so well despite of the looks that I have which is always presumed to be poor in hindi. I was happy and appreciated them.

I just laughed and walked towards my house with a proud feeling which confirmed that I speak hindi so well. They all were in the auto heading towards their destination.

May be those three friends will talk about me and my hindi-speaking skill that surprised them, during their drinking session and have a good laugh. Three things I enjoyed in the journey are "ch**t ko chhoot aur l**d ko dund", "din bhar karo allah allah, aur raat ko karo hallah hallah" and "mast hindi bolta hai re".


---
* Cecil Thounaojam wrote this article for e-pao.net
The writer can be contacted at ceilthojm(at)gmail(dot)com
This article was posted on June 10, 2013.
---
* Comments posted by users in this discussion thread and other parts of this site are opinions of the individuals posting them (whose user ID is displayed alongside) and not the views of e-pao.net. We strongly recommend that users exercise responsibility, sensitivity and caution over language while writing your opinions which will be seen and read by other users. Please read a complete Guideline on using comments on this website.