Role of Women in Manipur
- Part 1 -
Jayalaxmi Brahmacharimayum *


All over the world Manipuri women have been known for their valor, skill and active involvement in many social, economic, political and cultural activities. She takes care of the family as a mother, wife, daughter, sister and a daughter-in-law.

In the earlier days they had shown their might in bringing about justice in the state. Women's presence is felt in different walks of life. It may be in the field of art & culture, sports, medicine, administration, academics, management etc.

Political Role of Women

During the ancient period women contributed in the administration of the Kingdom. It has been found that in 33 A.D there existed a women's court in Manipur called 'Patcha' where women related cases were taken up, and settled. This court was headed by the chief queen Laisana, who was also a member of the council of ministers.

In the history of Manipur there is some evidence of women's involvement in politics. Maharani Linthoigambi, Gomti and Kumudini had all shown their valor in the administration of the kingdom. Princess Kuranganayani, Princess Jandhabi and Tangja Kombi's contribution in the political sphere is still remembered.

The first Nupilal, 1904 and the second Nupilal 1939 are glaring instances of Manipuri women's collective revolt against the political injustices and inhuman religious dogmas during the colonial rule. The two movements really have redefined the potential of Manipuri women and their contributions to socio-political reformations.

As per the rule of the Indian constitution women are entitled to equal participation in politics. Women have been participating both in the Parliamentary and Legislative Assembly elections.

Kim Gangte is the first woman MP of Manipur. Hangmila Saiza is the first woman to be elected in a Legislative Assembly. Liangjaneng Gangte, W.Leima and K. Apabi Devi were former MLA. Okram ongbi Landhoni Devi is the present MLA from Kangabok constituency.

Due to the 73rd and 74th constitution Amendment passed in 1992 and 1993, a total of 33% reservations of seats for women candidates have been provided at the Panchayati Raj election. Quite a large number of women candidates contested in the Panchayat Election 2007, and at present there are 63 women Pradhans in Manipur.

Women's Role in Society

Women's role in our society can be accredited to the contribution they are making to end alcoholism and drugs abuse in the state. Two women's movement namely Nisha-Bandh & Meira Paibi are examples of women acute participation in curbing social evils in our society.

Advent of Nisha-Bandh

The emergence of Nisha-Bandh movement in 1970s was due to the rise in the sale of liquor and the menace created by the drunkard husbands to their wives. The husbands spend all their income in drinking and when they come home they will start beating, throwing tantrums at their wives for petty reasons.

Women have to manage the household chores and children as usual, and even they have to find ways to earn a livelihood. The women who have been at the receiving end to different forms of violence find it difficult to face such humiliation for long. So the women folk collectively organized a movement called Nisha-Bandh to control the sale, purchase and drinking of liquor in their own locality

Advent of Meira-Paibis.

In 1980, a sudden collective movement called Meira Paibis emerges spontaneously to safeguard the youth from atrocities by the security forces like arrest without issue of any warrant, killing or beating them up for unknown reason.

The prevailing conflict situation in the state has resulted in the killing of many innocent people, the case of rape, molestation, abduction, extortion is so high that women feel the need to bring into an end such a kind of human rights violations.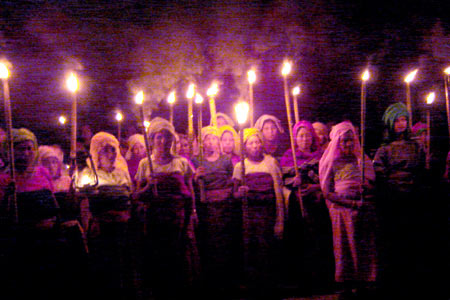 The meira Paibis
They keep a strict vigil at their own locality at night by holding a burning torch in their hands. When any on toward incident happens in the state as for instance bomb blast, killing of innocent civilians they would take strong
condemnation and protest
in the form of sit-in-protest, dharna, mass rally, general strike, social boycott and bandh.
Nowadays we have noticed Meira Paibis intriguing in matters related to family feuds, land-disputes, extra-marital affairs etc.
Other steps taken up by women for the welfare of our society.
In the ethnic clashes between the Naga and Kuki (1992-1996), women have taken many initiatives in order to curb human rights violation between the two communities.
In the
18th June (2001) uprising
case women protested for several days in order to bring about a peaceful atmosphere during the cease fire agreement.
It was due to the spirited attitude and never ending persistence of our women that 24th Assam Rifles finally got shifted from Kangla fort on 20th November, 2004. Even at the individual level
Irom Sharmila
has been protesting the imposition of the inhuman act AFSPA in the state. She has been observing fast unto death to
repeal AFSPA
in the state, and against the atrocities committed by security forces to the innocent civilians.
Religion
Women of Manipur are active participants in many cultural activities. Laiharaouba is one ritual which is performed in praise of
Umang-Lai
.
Maibis
(priestess) are the most spectacular presence in the Lai Haraouba.
Right from the beginning till the end, chief Maibi, along with her other companions, not only conducts ritual performance but also the most energetic performers who run the entire celebration in an intense and convincing manner. In the
Kang-Chingba
(Rath Yatra ) festival,
Ningol Palli
( day for the daughter's turn in the ceremony) and women sing songs in praise of the deities.
Art & Culture
The beautiful
Ras Lila, Leima Jagoi, Maibi Jagoi
are famous all over the world.
Nat Sankritan
is a form of folk song mainly practised during marriage, death, and
Na Hutpa
ceremonies. Women are also seen taking lead role in times of wedding ceremony as
Jatra-Pubi
and even at
Swasti Puja
.
Economic Role of women
The contribution of women in the economic aspect is so large. Whether in the organized or unorganized sector they have been making their presence felt everywhere. There are many women who are holding high ranking posts as IFS, IPS, and judges in civil courts and pilot. A large number of women are working as doctor, professor, architect, film producer, journalist, air-hostess, and teacher, making a difference not in the valley itself but also outside the state and abroad.
The intricately woven
handicrafts and handloom
items is popular even outside the state. In fact women are engaged in various activities as for instance weaving, silk rearing, yarn making, embroidery, pottery, fishing, and in the agricultural sector women's contribution is more than their male counterparts. Women's participation is important, right from sowing the paddy, weeding, husking and winnowing etc.
There are many women who run pan-shops, tea and snack stalls contributing into the financial back-up of the family. One can find many women construction workers, domestic helpers increasing in the state. The number of women entrepreneurs is rising.
And
Nupi Keithel
(Popularly known as
IMA
market outside the state) is the most important place in Manipur for business. Here women from far away districts bring their goods, may be vegetables, clothes, rice, fruits, flowers and many other items essential for daily uses.
They will sell their product to the women vendors in the market. However if we look into the earning of these women vendors, it is far more negligible looking at the amount of labour, time and energy they are putting into it. Most of them are compelled to sell things due to lack of proper source of income in the family.
To be continued ........
References:
General Knowledge of Manipur, Compiled by Indra Kumar Telem
Constraints In Development Of Manipur Regency Publication, New Delhi
The Role of Women In Manipur Politics by Pro Ksh Bimola Devi, Year of Publication 2001
Women in Contemporary Situation by L. Umarani Chanu & M. Jamuna Devi Year of Publication 2001)
History of Modern Manipur (1826-1949) by Lal Dena Year of Publication 1991, Orbit Publishers-Distributors New Delhi -110055
Sovenior (Women Empowerment and Development with Special Reference to Manipur) sponsored by ICSSR (North Eastern Regional Centre, Shillong & Directorate of University & Higher Education, Government of Manipur
Role of Women in Ushering Peace in Manipur by Prof Ksh Bimola Devi
Women & Education by B.M Sharma (2003) Common Wealth Publishers New Delhi
Feminism In a Traditional Society: (Women of Manipur Valley) by Manjushri Chaki Sircar
Manipur Today Year of Publication 15th August 1990
National Family Health Survey (NFHS-3, 2007) report Ministry of Health & Family Welfare, Government of India
www.e-pao.net
www.kanglaonline.com
www.manipuronline.com
The views expressed above are based on the above references and after extensive discussions with eminent scholars and social activists.
To be continued ........
---
* Jayalaxmi Brahmacharimayum contributes to e-pao.net for the first time. The writer can be contacted at jaya(dot)sana(at)gmail(dot)com
This article was webcasted on May 21st, 2009.
---
* Comments posted by users in this discussion thread and other parts of this site are opinions of the individuals posting them (whose user ID is displayed alongside) and not the views of e-pao.net. We strongly recommend that users exercise responsibility, sensitivity and caution over language while writing your opinions which will be seen and read by other users. Please read a complete Guideline on using comments on this website.