Impact of COVID-19 on transgender in Manipur
Rajendra Kshetri / Thingnam Rajshree *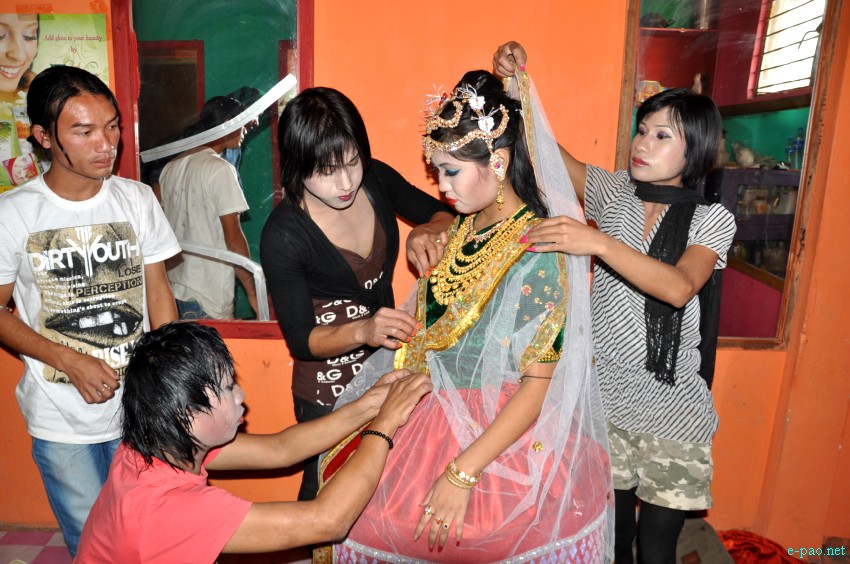 Trans-Gender (Nupi Manbi) Community of Manipur at work in Imphal in March 2013 :: Pix - Lamdamba Oinam


The Corona virus pandemic has left the whole world in a state of dismay. It has left us all unprepared and it would be an understatement to put into words that the ongoing pandemic has driven every individual in a state of crisis.

Life, disease and death has taken a whole new meaning as unprecedented measures are being taken up to ensure the safety of the people at all levels starting from the individual level to the local, the government and so on, which has altered the existing pattern of life that one is acquainted with.

The total population of India as shown by the UN data indicates a total of 1,380,004,385 people and it can be said that the total lockdown imposed on the whole country by the Prime Minister Narendra Modi, on the 24th of March, 2020 was beyond one's wildest dreams.

Although it has been regulated in phases and currently the 'Unlock-1' phase has started in which services shall be resumed in phased manner along with total lockdown being imposed in containment zones, the lockdown which has lasted for almost three months now and counting has acted like a 'tempest' in the lives of all Indians.

From losing jobs and falling into deep financial crisis to loss of mental health and enstrangement from life itself, the pandemic and the consequent lockdown has left everyone in utter chaos. Many have even taken their own lives in fear of getting infected or infecting their near and dear ones and also due to the uncertainty that lies ahead for which no one is equipped to deal with currently.

Needless to say, a fact still persists that in any state of disaster, the magnitude of vulnerability gets intensified in accordance to one's social positioning and status. Drawing examples from the poverty stricken slum dwellers of Maharashtra who are not even equipped with basic needs or proper shelter to ensure total social isolation unlike their fellow countrymen who are better off in comparison, or the numerous migrant workers who had to walk home hundreds of kilometres in which some even succumbed, or other labourers who work from hand to mouth and who have lost their source of income completely due to the lockdown, one cannot refute that the poor, the lower caste, the gendered, the racial, etc., who were always at the receiving end, are still at the receiving end of the spectrum.

It cannot be denied that they have always been subjected to discrimination and even at such times they are not spared. Although the lockdown was imposed with good intentions, many unintended consequences which had not been thought out thoroughly seems to have affected these groups further.

The 'Nupi Maanbi' (trans woman) and 'Nupa Maanba' (trans man) populace of Manipur for instance, seem to be in no different situation as well. Manipur has seen a large populace of transgenders and is still counting.

Santa Khurai a noted transgender activist and writer, has claimed that there are around 4000 transgenders in the state although there has been no official record. It has been shown time and again that this populace, despite of the social acceptance they get, are still stigmatized and are at unequal terms in comparison to the general populace. Their identity has hindered them from achieving proper education and jobs and at times of such crisis they are subject to be one of the worst hit populace.

A newspaper article "Transgenders struggle with unemployment, stigma, depression and lockdown" published in the local daily Imphal Free Press on the 11th of June, 2020 writes that Santa khurai stated that the 4000 transgenders living in the state are all daily wage earners who live from hand to mouth earning from working in beauty parlours, weaving, farming and tailoring and some carry the burden of being the bread earner of their respective families. As such, their plight is 'umcomparable' to others as no work meant no pay. She has also stated that the this has led them into a state of "frustration and mentally affects them". (Shirin, June 11, 2020)

It may be noted that beauty parlour is almost synonymous to/with the trans women or the Nupi Manbi populace of the state. Due to the lockdown, many trans woman working in the sector have lost their jobs. In the same article mentioned above, the noted Jenny Khurai has also been quoted talking about how she is unable to pay the salary of her employees as her parlour has also been shut since the lockdown.(ibid)

Other independent beauticians have also suffered greatly as the peak season for weddings has been affected tremendously due to the current lockdown and as such they hardly get any appointments. Mimi (name changed), an independent beautician talks about how every year she saves her budget for the entire year by depending on this peak season to earn her monetary needs by providing bridal make up to her clients.

However, the current lockdown has put many weddings to a halt and as such she hardly get any clients. Besides bridal make up, she also provides manicure, nail art, eyelash extension and other similar services but due to the nature of the transmission of the virus and the lockdown these services are also not practised anymore currently. This has greatly impacted her and her family as their source of income has been limited now. "I really don't know what to do now. I can only wait for this to end." she said.

Talking to the Youth Coordinator of the NGO Ya_All, Lulu shared her experiences of being halted by the police personnel when he was taking his mother to a private hospital for medical treatment. Lulu belongs to the Nupa Maanba community of the state.

He further added that, "The transgender population of our state has fallen into the typical stereotyping which conforms to the existing gender binary and hence, many trans women get into the beauty industry and many trans men go on to become security guards". He further stated that their NGO has donated cash for some transwomen and also essential commodities and cash for some transmen.

The lockdown has also led to the mass exodus of Manipuris staying outside the state for whom many quarantine centres are being set up by the government. These population also includes Trans men and Trans women who were staying outside the state. When it came to quarantine centres and transgenders, initially there was no separate transgender exclusive facilities.

It is good that we now have two transgenders exclusive quarantine centres. Initially, 'Transgender returnees especially transwomen, who are being quarantined in different centres across the state, have been confronted with the inconveniences and problems of being put up with male section of these centres". (Imphal Free Press, May 19, 2020)

Many transwomen faced similar insecurity and inconvenience in the quarantine centres when they were put in the male section and some even urged for the government to provide for separate quarantine centres for the transgenders. (ibid)

On 20th May, 2020, the Thangmeiband United Club (TUC) set up separate rooms and toilets for transgenders at the Dhana Manjuri College of Teacher's Education Campus which was also designated as a quarantine centre and received the support of organizations Ya_All. The NGO Ya_All also donated medicine kits and a hygiene bank was also set up.

"The first transgender quarantine shelter for Manipur, first of its kind in the entire North East region having at state level, it was a proposal made by All Manipur Nupi Maanbi Association (AMANA) based on Community demand.", stated Santa Khurai.

Following which on the 21st of May, 2020, Ngangom Uttam, Director, Social Welfare Department, Manipur released a statement that two quarantine facilities have been set up for the transgender community one at the Government Blind School, Takyelpat which can accommodate 24 transgenders coming from the green zones and another at Maria Montessori School, Koirengei which accommodates the ones coming from red zones.(The Indian Express, May 21,2020)

'Qcs for Transgenders' an article published on the local daily 'The Sangai Express', further noted that, "the Health Department has also provided masks, sanitzers, gloves, PPE, goggles, sodium hypochlorite solution,etc., for use in the Transgender Quarantine Centre at Takyelpat.

It also added that they may be quarantined at other Community Quarantine Centres which availed separate block for the transgenders to ensure them emotional security.(The Sangai Express, May 22,2020) The step was happily welcomed by the trans community of the state. However, the situation is still dire for those who have not come out openly as trans.

Speaking to a Nupa Manba, who is yet to come out openly to his family members as a trans, he said that, " I came from Delhi and have been quarantined at the Nambol Higher Secondary School. I have not come out openly so I had to stay here in the women's section. The other inmates don't know my identity and I don't mingle with them much but I do face a lot of inconvenience while using the toilet. I have just learnt to compromise and adjust." (Anonymous)

Meanwhile, many organizations like AMANA (All Manipur Nupi Maanbi Association), ATMA (All Trans Man Association), SAATHI (Solidarity and Action against the HIV Infection in India), National Council of Church (NCCI), National Institute of Social Defence (NISD) and Ya_All have been donating essential commodities and monetary help to the transgenders.

The Maruploi Foundation in association with other bodies like Phool Versha Foundation Nam Mayoha Dann and Kineer distributed food items to about 200 transgenders. They also stated that it was the 6th phase of such distribution. (The Sangai Express, July 2, 2020)

However, due to the lockdown, they have been unable to reach all the people who are transgenders. Also, not all transgenders get the subsidies given out by the government as Santa Khurai states that it comes under their parent's names and none of them enrol for ration cards due to their lack of awareness on Ids or ration cards. (Shirin, June 11, 2020)

Thus, the transmen and transwomen community of the state are in a dire situation due to the lockdown and the problems they face also seem to have layers due to their relative habitus. Transgenders from economically unstable families are affected more as it is well known that marginalization is not exclusive of one form but intersectionalities are always involved.

But the common element is that almost all of them have been effected mentally and as such organizations like Ya_All have taken the intiative to start online counselling sessions for such people with trained psychologists.

It cannot be said that the transgenders of the state are marginalized due to lack of education or employment only because they belong to the said populace. But it is also due to the lack of infrastructural inclusivity of the said populace in educational spheres and employment sectors.

Educational spaces are an important part of our socialization process and if such spaces do not welcome them they will always be treated as 'others'. And with lack of such inclusivity in the employment sector as well, they are only bound to be more susceptible economically.

This is not to say that all transgenders are the same. As pointed out earlier, it is invariably dependent on one's relative habitus.


---
* Rajendra Kshetri / Thingnam Rajshree wrote this article for The Sangai Express
Rajendra Kshetri is Professor and Head, Department of Sociology, Manipur University, Imphal
Thingnam Rajshree is Ph.D Scholar at Department of Sociology, Manipur University, Imphal.
This article was webcasted on July 24 2020 .
---
* Comments posted by users in this discussion thread and other parts of this site are opinions of the individuals posting them (whose user ID is displayed alongside) and not the views of e-pao.net. We strongly recommend that users exercise responsibility, sensitivity and caution over language while writing your opinions which will be seen and read by other users. Please read a complete Guideline on using comments on this website.