World leaders' letter to Burma was remarkable


By: Nehginpao Kipgen *


[Written in response to May 15, 2007 Washington Post editorial page headline "Letter to Burma: The world's senior statesmen call for the release of Aung San Suu Kyi"]



***********


The signed letter of 59 former heads of states, including the 3 living ex-presidents of the United States of America, sent to Burma's military supremo General Than Shwe and copied to the United Nations Secretary General Ban Ki-moon on May 14 was a remarkable international response to the political conflicts in Burma.

This, exercised in one accord, may be one of the most popular and collective campaigns in modern world history and it happen on the backdrop of Burma and Russia signing an intergovernmental agreement on building a 10-megawatt nuclear reactor in Burma.

The letter was not only a symbolic one to demand the release of the world's only detained Nobel laureate Aung San Suu Kyi, but it was a catalyst to boosting the morale of hundreds of thousands of democracy activists who have so long wished to see such initiative from the international community.

The hopes of establishing a democratic Burma has been in the ups and downs' trend in recent years. Many believed the 1988 democracy uprising would have transformed the country. Then, there was a high hope with the holding of country-wide general elections in 1990, which was again nullified.

Despite what has transpired, there has been a steady progress in Burma's democratic movement. International community's awareness has also been widening. On September 29, 2006, Burma's democracy movement reached its culmination point at the United Nations Security Council as its permanent agenda. A drafted resolution was vetoed on January 12 this year.

Amidst diverse conceptual political theories and strategies, Aung San Suu Kyi has become a democratic icon and an eye of multi-ethnic democracy campaigners. Her passionate advocacy for instituting a democratic society through dialogue and non-violence has earned admiration from around the world.

It is now almost crystal clear to many erudite political scientists and analysts that any attempt to build a democratic Burma without Suu Kyi's role in one form or another would lack either the backing or recognition of the international community.

Meanwhile, Burma military regime with its basic principles of designed constitution is heading for a constitutional confrontation with the opposition groups. Parliamentary form of democracy in unitary government, with military reservations, is moving toward a head-on collision with proponents of a federal government.

May 14 historic intervention by world leaders is largely a positive and welcome move. However, it could have had more impact if the letter could have been signed and sent by the same leaders when they were in power.


---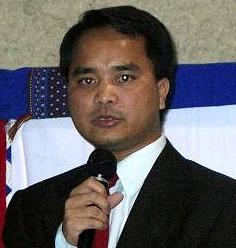 Nehginpao Kipgen



Nehginpao Kipgen is the General Secretary of US based Kuki International Forum and a researcher on the rise of political conflicts in modern Burma (1947-2004). The writer contributes regularly to e-pao.net and can be contacted at nehginpao(at)yahoo(dot)com . This article was webcasted on May 18th, 2007.


* Comments posted by users in this discussion thread and other parts of this site are opinions of the individuals posting them (whose user ID is displayed alongside) and not the views of e-pao.net. We strongly recommend that users exercise responsibility, sensitivity and caution over language while writing your opinions which will be seen and read by other users. Please read a complete Guideline on using comments on this website.