Burma and North Korea
- Desperate Reconciliation -

By: Nehginpao Kipgen *


For many Burma watchers and political analysts, it was not surprising when the visiting North Korean vice foreign minister Kim Yong Il and Burmese deputy foreign minister Kyaw Thu, on 26th April 2007, signed an agreement to normalize over two decades of shattered diplomatic relation between the two countries.

Amidst mounting international pressure, the two world's most reclusive and repressive regimes see the timing necessary and significant. However, to many observers, this agreement emanates out of desperate rather than cordiality.

Simmering political situations on the ground is apparently preponderance to the October 1983 political havoc caused by catastrophic bombing that killed 21 people. South Korean president Chun Doo-hwan escaped the assassination attempt, but the political fallout between the two countries was severely impaired.

Among others, Burma and North Korea share four fundamental similarities: (1) Both are dictatorial regimes governed by military forces (2) Two least developed countries of the world (3) Good friends of communist China (4) Facing varying degrees of diplomatic and economic sanctions from the western world, more stringently by the United States government. Moreover, both countries are substantially - economically and politically - influenced by China and share borders with her.

Largely sidelined at the international arena, State Peace and Development Council and Democratic People's Republic of Korea are on the look out for friends. The former has been criticized for gross human rights violations on its own people and lack of democratic reforms, and the later on its nuclear enrichment program.

Although with different outcomes, the two governments have been scrutinized at the United Nations Security Council: Burma's case was vetoed on January 12, 2007, and a resolution 1718 (2006) on North Korea was unanimously passed at the 5551st Security Council meeting on October 16, 2006.

International community's response to the latest development is mixed. South Korea welcomes the move with its foreign ministry official said, "We hope this restoration will lead to the opening of North Korea and hope it will contribute to peace and stability within your country."

Unsurprisingly, Chinese foreign spokesman Liu Jianchao said, "North Korea and Burma are both friendly neighbors of China. We are happy to see and welcome the improvement of their bilateral ties."

The U.S. state department deputy spokesman Tom Casey said, "I don't think that the establishment of diplomatic relations with either of these two countries has any profound impact on how we view them."

Tom Casey also in his April 26 briefing added, "......the North Koreans are being encouraged to take those steps and do so as soon as possible. We need to get back to the important business at hand, which is the denuclearization of the Korean peninsula."

U.S. secretary of state Condoleezza Rice, in January 2005, branded six countries - Belarus, Cuba, Iran, Burma, North Korea, and Zimbabwe - as "outposts of tyranny." On August 1, 2006, President Bush renewed the Burmese Freedom and Democracy Act of 2003 and extended import restrictions against the regime.

The UN Security Council members have demanded that North Korea abandons its nuclear program and dismantle its nuclear reactor.

Burma and North Korea have chosen the path to heal their past wounds and seek alliances with like-minded countries. Kim Jong Il has claimed he is a leader of nuclear power, and Than Shwe has a desire to develop.

Two significant points can be drawn from this latest development. First, the bombing that severed bilateral ties between the two countries happened in Rangoon and the reconciliation agreement is also reached in the same city. Second, it happens at a time when Nay Pyi Taw and Pyongyang desperately need friends and partners at the international politics.

This landmark peace deal could be a positive development to some observers, but for many, it is a serious concern to regional peace and a symbol of consolidating dictatorial regimes in the poverty-stricken countries. The vast majority of Burmese and North Koreans would be unenthusiastic to welcome such rapprochement at this juncture of history.


---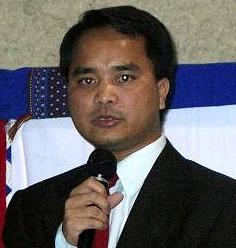 Nehginpao Kipgen



Nehginpao Kipgen is the General Secretary of US based Kuki International Forum and a researcher on the rise of political conflicts in modern Burma (1947-2004). The writer contributes regularly to e-pao.net and can be contacted at nehginpao(at)yahoo(dot)com . This article was webcasted on April 28th, 2007.


* Comments posted by users in this discussion thread and other parts of this site are opinions of the individuals posting them (whose user ID is displayed alongside) and not the views of e-pao.net. We strongly recommend that users exercise responsibility, sensitivity and caution over language while writing your opinions which will be seen and read by other users. Please read a complete Guideline on using comments on this website.