Top 10 Environment-Green Countries
Looking Far Beyond into Future Visions
Prof Jodha C Sanasam *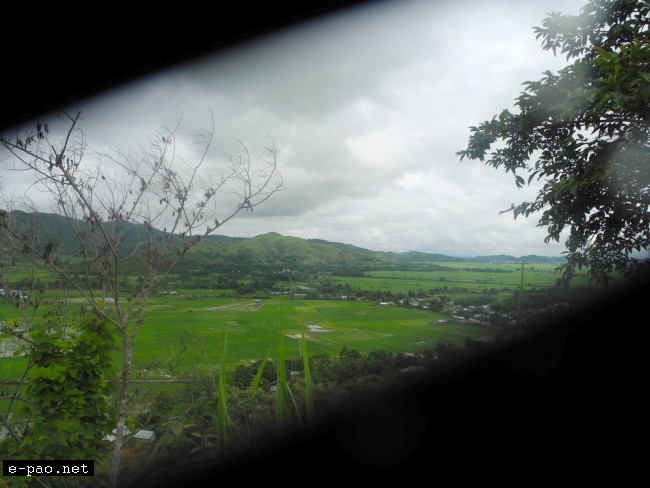 Picturesque Green foothill of Manipur :: Pix - Lunminthang Haokip


Iceland tops in the list of 10 greenest countries in the world. Finland is the country where the sense of civility and regard for human rights are highest. These two countries might not top in the list of the most advanced countries; but peace and hope for future posterity definitely prevails in them in the greatest sense of the term. 'Going Green' has become the new fad of the world in the present century, kudos to the new perception and positive way of thinking.

In eco-friendly or environment-friendly countries people are driving hybrid cars, using solar and wind power for various electrical systems and devices; and are recycling and cleaning with 'green' products. All these countries in some way or another have found ways to reduce their carbon dioxide and sulfur emissions, which leads to cleaner air and water. The top 10 greenest countries were graded according to each country's Environmental Performance Index (EPI) rating, which is provided by the Yale University.

1. Iceland (EPI- 93.5)

Iceland tops the list of being the greenest country. Though a pretty small island, said to be one of the most beautiful countries in the world featuring glaciers, volcanoes and plenty of waterfalls, because of its location, Iceland has focused on making a huge impact on becoming eco-friendly using its geothermal landscape to utilize clean electricity and heat.

Hydrogen is the most commonly used source for heat and electricity; very soon the country is likely to become the first to be entirely reliant upon this energy source. This hydrogen energy is now used by homeowners and building occupants, as well as by those who develop harmless fuel for transportation.

People get to their destinations in an eco-friendly way by hydrogen-powered buses. For now hydrogen and geothermal power constitutes the 82 percent of its energy sources in this country. Ossur Skarphedinsson, the Minister of Industry and Energy is hoping to make Iceland carbon and oil free by 2050.

2. Switzerland (EPI – 89.1)

Switzerland was number 1 in the top list in 2008; but now it has come down to the second place. In 1914 this country created the first Alpine park located in the Alps and planned to build at least 20 more of such parks. In some cities of this country cars are not allowed; people will be found walking or riding bicycles to get to where they need to go. The country imposes a fee of 1 euro for disposing trash.

A very popular hotel in Switzerland, Badrutt's Palace Hotel, offers discounts to those who arrive at the hotel in a hybrid car. The hotel has an entirely new heating system installed and reduces its carbon output by 80 percent each year; this is their effort towards going green. The new heating system of such hotels and other buildings including schools gets all its energy from a nearby lake.

3. Costa Rica (EPI)

Costa Rica, a country that has set very high goals in order to go green and stay that way, is now at third on the list. In its attempts to be carbon neutral by 2021 the country already utilizes plenty of renewable resources, which is very eco-friendly with less polluting air and water. Many decades long, extensive deforestation had already begun to devastate its environment but now it has made plenty of effort to reduce the destruction of greenery. The government put more efforts to encourage banana plantation and enhance its already well-known produce. Vigorous reforestation program has been taken up; in 2008 itself the country planted over 5 million trees.

4. Sweden (EPI – 86)

Changes started in Sweden in the 1980s itself during the oil crisis. Their goal setting was 2020 when the use of fossil fuel should be totally phased out. More than 28 percent of the energy and resources used in Sweden are renewable and eco-friendly. Hydropower, nuclear power, and wind power are the sources of electricity and other necessities throughout Sweden now. Saw dust is used for heating homes. Many citizens power their cars using methane, which is taken from the entrails of cows; disgusting though, it is green and low cost.

5. Norway (EPI – 81.1)

To be carbon neutral by 2030, for Norway, it seems it is a steep goal. Norway is a country heavily reliant on its oil rigs for export as well as for a source of energy. To achieve their goal they got to make big purchases of carbon offsets. Now the country is planning to cut its total emissions to 40 percent. They are heavily leaning on utilizing railroads more or on other alternative source for fuel.

Diesel fuel users, as it emanates more carbon dioxide, have to pay higher fees. The use of oil-powered heating system is getting banned. The country is now focusing on its great landscape, to hope to reduce deforestation. They are working closely with Sweden.

The rest of the countries in this line are Mauritius, France, Austria, Cuba and Columbia.

When countries are in the race to go green, Manipur, of course its eyes still blind to the things far beyond, has not had a power generation unit of its own yet, so almost no electricity in Manipur so far.

When we are dreaming of a great sea-change of things with the impending 'Look East' drive, we still have no drinking water in the tap even; forget drinking water, no water for face-wash or toilet use.

Which tourist or industrialist would love to come to Manipur: God knows.

When the rest of the world is trying to slice down carbon emitting petrol and diesel and the like we are rapidly increasing the use of vehicles powered by this fossil fuel.

In one way it is a boon in disguise; instead of going for the age-old oil-based electricity we, like the modern go-green countries, also can go for the power generated through solar, wind or nuclear energy and attempt to be modern and eco-friendly. It is sad but unavoidable that we in Manipur are still increasing the number of cars and vehicles day by day emitting more and more carbon dioxide and sulfur fumes on the kind of roads we are driving or riding.

Meghalaya supplies potatoes to Russia for brewing Vodka. Why cannot Manipur supply 'U-Morok' to Mexican hotels at least?

Or develop horticulture of oranges of Tamenglong or lemons and other citrous fruits (like Heithum) of Kachai and go marketing and transporting?

More so to generate electricity to maintain fruits and vegetable processing centres? Everything in the modern age will fail without power, water, and roads and communication.

It is time to think of going green with the new trend of solar power or wind power and may be of nuclear power as auxiliary or stand-by techno-science devices.

But Manipur is unable even to take care of the ferment-fish (Ngaaree) which the state consumes about one ton a day. Phabou Ngaa, of which Ngaaree gets fermented, it is said, is from Mori Gaon near Jagir Road of Nowgong, Assam.

It is also said that to rear Phabou Ngaa is the easiest pisciculture. No Manipuri fisherman, it seems, has tried Phabou Ngaa pisciculture. That is what Manipur is. Then when will there be the vision of going green! Sic.


---
* Prof Jodha C Sanasam wrote this article for Hueiyen Lanpao (English Edition) as part of "_JCB Digs_"
This article was posted on June 12, 2013
---
* Comments posted by users in this discussion thread and other parts of this site are opinions of the individuals posting them (whose user ID is displayed alongside) and not the views of e-pao.net. We strongly recommend that users exercise responsibility, sensitivity and caution over language while writing your opinions which will be seen and read by other users. Please read a complete Guideline on using comments on this website.