Powerlooms' entry should not be invasive upon Manipur Handlooms
S. Bhubol *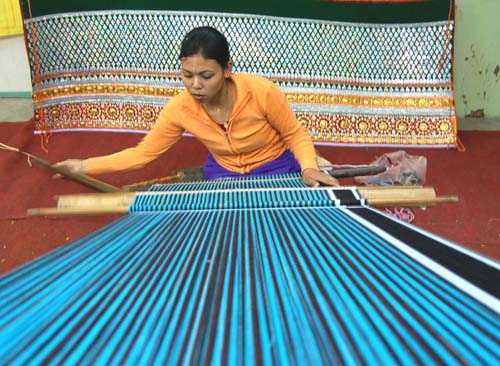 A Manipuri entrepreneur preparing a handloom item at a stall during the inaugural day of the Ecocrafts Exhibition (under AHVY) at NEDFi Haat, Guwahati : Pix - Shyam


A crystal clear definition of Handloom has been given by the Handloom (Reservation of Articles for Production) Act 1985, as "Handloom is any loom other than powerloom" and contrary to it Powerloom is defined by the Factories Act, 1948 as "a loom worked by Power'.

It is true that in this Era of LPG (Liberalization, Privatization and Globalization) there is advantage of powerloom in the larger economic perspectives but it is also equally true that at the advent of powerloom the question of livelihood of weavers, has always been an Issue with the implications factually made of Powerloom Lobby which could succeed in reducing the 22 reserved items of 80s to only in 11 items in the mid 90s. These remaining 11 items are further impacted relentlessly to be loosened for powerloom productions- powerloom's lobbying for removal of Saris and Lungis from reserved items exemplifies it.

See, while weaving occupation provides the second largest employment, next to agriculture, the actual scenario of the weavers are that 87% of the household units (27.83 lakhs) are located in the rural areas; nearly 47% of households are BPL; 29 lakhs weavers constitute 76% of the adult workforce; 9.38 lakhs allied workers are 24% of the adult workforce; 67% weavers are engaged in full time occupation; 75% of handloom workers are women and 60% of adult handloom workers have little or no schooling.

Nowadays, a weaver earns Rs 150 per day from weaving a dhoti taking whole day but one powerloom can produce 200 dhotis per day meaning each puts 20 handloom weavers out of work as a powerloom needs only one worker to operate it and so the livelihood of 20 crore weavers across the country are at stake just to benefit a few businessmen. Cases of looting reserved handloom items and deprivation of the rights of weavers are now a burning question.

North-East in general and Manipur in particular occupying 60% of India's weaver households have already been impacted by powerloom operators. Manipuris living with Handloom as the largest cottage industry will definitely be hunted by negligently introducing powerlooms if not the Act of 85 is strictly enforced and reserved items be clearly proclaimed under a powerful monitoring cell. Separate Handloom Directorate the prolonged demand of the state's weavers is the need of the hour before eloping with powerloom.

The state's 5 lakhs weavers will never allow powerlooms to replicate the rich, culturally linked motifs and patterns of the hill and valley communities. As presently, over 70% of fabrics sold as Khadi and handloom, is powerloom; the intervention the O/o the DC Handlooms, Hon'ble Minister of Industries, Manipur, DIC Govt. of Manipur, WSC-Imphal and the state's CSO's, is unfailingly required before introduction of powerlooms in the state.

Experienced chaotic situations like the Calton Weavers' Massacre (1787 AD) and the Sualkuchi Protest of 2013(Assam), should not unnecessarily be invited by nothing but negligence. It is good to hear tha Hon'ble Minister of Industries, Manipur, has stated that powerlooms' entry will not affect the traditional handlooms and he has advised the concerned department of handlooms and textiles to strictly monitor in it and it is also true that the upcoming state's textiles policy has incorporated enforcement of the handlooms' Act of 1985.

But, it is equally true that many powerloom units in the state and from ouside states, have started illegally producing of reserved items like Phaneks, Mayek naiba, khudei, chadders with moirang phijin motifs etc.and have begun overcoming local handloom products.

It is time that list of state's handloom reserved items be declared in no time that should not produced by powerlooms. Because of the traditional values, the Ashok Mehta Committee constituted by the central government has been keeping sarees exclusively for handloom sector even against strong powerloom's lobbying for legal permission to produce it.

The handloom reservation Act,1985; the handloom marks introduced in 2000; the GI Act in 2003;and the most recent All India Handloom Brand,2015 and the state handloom policy(2013) should be actively enforced in the state to protect handloom from mechanical imitation.

The Prime Minister Narendra Modi has been declaring August 7 as World Handloom Day since 2015 and now the day is observing as National Handloom Day and now it is for us to know why it is made so which is because of the danger is not only to specific product identities but to the handloom sector itself. Manipur is a state which has population of nearly nine lakhs unemployed persons. Handloom sector alone has been facilitating employment opportunities to about four lakhs weavers.

The question is if the introducing few powerloom units are illegally producing the reserved handloom items and thereby abandoning many weavers from their limited weaving occupations to incur the number of unemployment, the rural migration to urban and the anti-social activities etc. that have already happened in other states, who will take the responsibilities and what might be the catastrophe of the possible unrest.

It is again the fact that the only argument to support the decentralized industries can always be the genuine economic logic as in the centralized mechanical production units, one can only be worker, a cog in the wheel and can never aspire to being an owner of a product and here there is beauty in the traditional modes of productions that are organically structured where the process and product are integrally linked to the producer meaning the weavers and artisans.

It is the reason why it is demanded that powerloom marks should be labeled to powerloom products instead of seeking to tag handloom marks only to handloom products at this time there is no fool proof method to certify handloom products. When talk about the quality of handloom, it is yet to be understood that if two fabric pieces of weavers are same and equal, then that is not handloom, which means handloom's being hand-woven not machine made and its being societal values, heritage and identities thereby indicating the truth that large scale productions of handlooms cloths is simply an emotional idea as it is only to be maintained with the available manpower and its sustainability.

We do not oppose incoming of powerlooms into our states but we honestly endeavor to defend the painful experience of powerloom lobby which has enormously affected the lives of millions of weavers and the continuing of its same to our tiny state of handlooms.

Ownership of a few hundred decentralized powerloom units shall definitely devastate the aged old traditional handlooms of Manipur if not it is taken with full proofs. State's well equipped handloom policy as unorganized sector and powerloom policy as organized sector are yet to be enacted but the few already existing powerloom units have begun handloom products that are to be certainly categorized as handloom reserved items.

Hope, anyway, that the state's emerging powerloom units shall be ethically taking up their noble jobs by thinking of the marginalized state's weavers who are still achingly awaiting for grassroots interventions.


---
* S. Bhubol wrote this article for Imphal Times
The writer is with Shintha Handlooms and Handicrafts,Manipur
This article was posted on 30 March , 2018 .
---
* Comments posted by users in this discussion thread and other parts of this site are opinions of the individuals posting them (whose user ID is displayed alongside) and not the views of e-pao.net. We strongly recommend that users exercise responsibility, sensitivity and caution over language while writing your opinions which will be seen and read by other users. Please read a complete Guideline on using comments on this website.