HIV/AIDS Scenario in JN Hospital, Manipur - A perspective
- Part 2 -
Dr K Priyokumar Singh *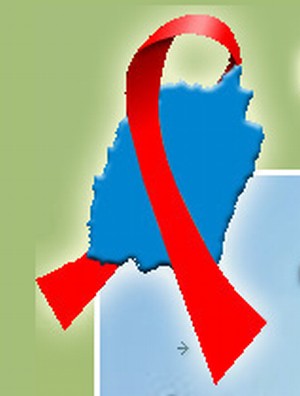 The main reason for this trend may be due to the timely initiation of ART before the patients CD4 count falls much below 200 cells/cumm.

The cerebral toxoplamosis found in PLHA as an 0.1. is not that urtcommon. Cases with headache or seizure disorder in the young must be looked for this disease and treated properly so that no residual neurological deficiets which can handicap them occur. The primary prophylaxis of co-trimoxazole has prevented cerebral toxoplamosis to a great extent.

Other O.I's like cytomegalorium retinitis (CMV-retinitis), Kaposis Sarcoma and progressive multifocalleucoeucephalopathy(PMLE), have become much rarer after the advent of ART.

HIV/HCV & HIV/HBV

These co-infections are now a major negative prognosis factor in the management of HIV/AIDS. They have the same route of transmission - IDU and transfusion of infected blood. Transmission by heterosexual and mother to child in rare, but also seen' in MSM. The latest figure of these co-infection in J.N. Hospital as on the 12th July, 2011 is as follows. (3983 ART Patients)




Sex wise Distribution




The figures shows that HCV co-infection comprises 18.52%, HBV co-infection of 3.33% and both HCV/HBV co-infection is 0.62% indicating the HCV co-infection is far more than others. Amongst the sex factors, male comprises much more than females having 89.83% in HCV, 77.44% in HBV and 76% both viruses.

Risk Wise Distribution
(From personal series from 2005 - 2008)




The figure show the main route of HCV infection both with or without HIV is IDU- having a figure of 94.02% is co-infection and 62.5% is mono-infection. B.T. incidence is present but is getting decreased nowadays.

In J.N. Hospital the total death from HIV/AIDS patients as on 31/08/2011 is as follows:




The figure shows that HIV/HCV and HIV/HBV co-infection comprises 22.31% amongst the total deaths in our ART centre. The figure indicates the importance of having HCV & HBV treatment in order to bring down the deaths from the co-infection.

As on today, there is no Govt or NGO/CBOs programme to diagnose & treat these co-infections. The treatment of HIV is too costly to be affordable. This is leading to increased deaths in PLHA's. Nowadays, people are no longer dying from HIV become of ART. Hence need for HCV treatment.

The latest figure of PLHA admission in Pre-ART and On ART as on 31-08-2011 is shown as follows:­




The figures indicate the increasing number of female PLHA as compared to male PLHA's though males are still more infected. The pediatric figure is not mentioned here because of having a separate paediatric ART centre. But the increasing trend of paediatric HIV/AIDS is a matter of great concern which needs a better effective and preventive strategies.

A very significant issue in ART programme is about the increasing number of clients who are LFU (Lost to Follow-up). The figure in our centre is about 248 clients on ART since the beginning of ART ie from Dec 2004. This may lead to increased number of first line ART failure as well as the increased transmission of resistant viruses in the community. The main back bone of ART success is the adherence factor. Once this is not kept, a lot of unwanted complications may come up which may hamper ART success. Every effort should be done to make minimurn number of LFU in any ART centre.

Conclusion and challenges

ART is now a success story in India and elsewhere. Nowadays, people are not dying from HIV/AIDS. It is seen that the number of deaths from HIV co-infection in our ART centre is increasing day by day because of the simple reason of not having HCY treatment. More people are dying from these co-infections. As on today there has been no commitment either from the Govt or the NGOs for HCV/HIV & HBV/HIV as regard to its diagnosis & treatment.

Management of HIV/AIDS must be a holistic approach. The ART drugs are to be available all the time. The CD4 testing and Hb% & ALT are also necessary for a proper follow up of this disease. The CD4 testing is far from satisfactory in the two ART centres of Imphal E & W. The CD4 testing at Urkhrul, Chandel, CCpur & Thoubal are also having a lot of difficulties—it is either not done because of lack of infrastructure or lack of manpower. PLHA's are suffering a lot in these centers.

The MTCT (Mother to Child transmission) needs to be geared up. There is lack of awareness about ART initiation in pregnant women in-respective of CD4 count. The prescription of Nevirapine both to the mother and infant is not properly followed. Moreover the institutional delivery of pregnancy is very low. It is known that mother to child infection is mostly during the birth of the baby less so during the pregnancy and at breast feeding. Thus the increasing number of MTCT should be brought down to a minimum.

The management of side effects of ART drugs has to be improved. The early detection of side effects of drugs and its timely replacement by the alternative drug has to be properly implemented. So also for the management of first line ART failure patients need proper functioning without any inconvenience to the client.

Now time has come for the treatment necessity for HCV/HIV co-infection. The treatment is too costly to be done by the majority of PLHA's. This is giving an increased number of deaths from the co-infection, rather than HIV alone. For HCV/HBV, there is need for HBsAg screening for all risk persons as well as the general population because HBV vaccination of 3(three) doses in the HBsAg negative person will prevent future infection. The programme is not yet fully practiced but stress is necessary for proper vaccination.

To conclude, all the treating doctors, nurses, the public health workers and the NGO/CBOs are to be fully aware of the various factors and co-factors regarding HIV/AIDS so that the people remain free of any HIV or Hepatitis viruses in our population

Concluded ....


---
* Dr K Priyokumar Singh wrote this article for The Sangai Express
This article was webcasted on November 02, 2011.
---
* Comments posted by users in this discussion thread and other parts of this site are opinions of the individuals posting them (whose user ID is displayed alongside) and not the views of e-pao.net. We strongly recommend that users exercise responsibility, sensitivity and caution over language while writing your opinions which will be seen and read by other users. Please read a complete Guideline on using comments on this website.