To the Students/Enthusiasts
Free Seminar/Installation/Demo at Imphal by Linux Manipur


By: Ringo Pebam *



There will be Free Seminar/Installation/Demo etc at Imphal by Linux Manipur. There will be NO entry fee. Anybody from far and near corners of Manipur, who has interest in computers and want to know its scope can avail this chance.

About Linux Manipur

Linux Manipur is a virtual organisation, where primary interaction is done via the internet. There is no physical office or staff. There are about 100 members, all scattered here and there across the country and abroad; most of us have not even seen each other. We got together as a group voluntarily about a year ago, and there are some very active members with lots of initiatives.

We share knowledge, we help each other technically, we exchange information, we give CDs (free software), conduct workshops... etc

It's a non-profit group, and by non-profit it does not mean we are an NGO or something of its kind, we get no funds. Whatever we do, giving in our time and energy, we do it not for money or business.

In the computing world 'Free Software' is a viable solution - technically, economically and culturally. Linux Manipur strives to spread technical knowledge, raising awareness about the need to spread knowledge.

We are trying to reach out to the newer generation of Manipur who are still sleeping inside their 'cocoons' and show them what Linux is all about and guide them.

What is Linux?

The awareness of Linux in Manipur is discouragingly low.

To make it simple, let's put it this way. Whenever we put on the computer in our offices or homes, we see the screen displaying 'Windows'". That's what is called as the "operating system", it is a bunch of programs, that are needed to run the computer (i.e. the hardware). Windows and other operating systems like Mac OS, AIX, HP-UX etc are examples of what is called as 'proprietary software'. In proprietary software, the product knowledge or the source code (program instructions in their original form) is not given to the user, and the user should also pay license fees to use them.

The licenses for proprietary software are designed to take away our freedom to share and change it, the license fees are also very costly, and to use without license is a criminal offence. The user is at the hands of proprietary software vendors. By contrast, the licenses of Free and Open Source Software (FOSS) are intended to guarantee our freedom to share and change free software - to make sure the software is free for all its users.

The hurdle we have to cross is 'ignorance', a lot of people don't know about Free and Open Source Software. 'GNU/Linux' or popularly known as just 'Linux' is a prominent example of FOSS.

Linux is a product of the Internet era. In contrast to proprietary operating systems, like Windows which have been developed by highly paid programmers employed at corporations, Linux has been developed virtually by an informal, world-wide network of unpaid (but highly skilled and motivated) volunteers who communicate via the internet, for the love of sharing, for the love of technical excellence.

Some few things that everybody should know about Linux are:

1. It is free software; anybody can download it from the internet. Or buy the CD for some hundred rupees, or borrow it from friends and make copies of it, and install it on any number of computers without any limitation. For Microsoft's Windows you have to pay about Rs 4000/- as license fees to install it in one single computer.

2. The source code (the programs) is available and anybody can modify it to suit their needs. This serves the most important ethics of programming - sharing of the source code, rather than hiding it.

3. It is more powerful, more secured, more reliable, more stable.

4. Non Quantitative Issues:
Freedom from control by another
Protection from licensing litigations
Flexibility
Social/Moral/Ethical Issues
Innovation
To the Schools/Colleges

School/College is where people come to learn. They should opt for Linux, which is economical and superior in many ways. Most of all, the open access to the source code gives the students the opportunity to study how computers really work rather than to just learn how to use them.

Students should:

1. at least, be given the opportunity to see how their new tools work.
2. be given the opportunity to examine the inner workings of software.
3. be given the opportunity to extend the functions of their tools, where they see or imagine possibilities.
4. not be held back by locking the toolbox of the Information Age
5. not be told that they must:

not peer inside,
not try to discover how it works,
not share their tools with others,
not use their tools without paying proper tribute to the software overlords, under penalty and punishment of law.
To the University/Boards/Authorities

Many educators are convinced that it is far more important for students to study computer science fundamentals than to practice specific applications (such as Microsoft Word or Microsoft PowerPoint). One reason is that computer science fundamentals will still be valid many years from now, whereas the specific application programs, especially the proprietary ones that do not conform to industry-wide standards, are constantly changing and those currently in use will likely become obsolete in a few years time. *It is high time that GNU/Linux be included in the syllabus of schools and colleges.*

Upcoming events of Linux Manipur at Imphal

Since January 2006, we have been trying to conduct some seminars/workshops at Imphal. The members who go home, coordinates with the members who are based in Manipur, and have been trying hard to make things move at the home front.

In January, Hidangmayum Rajesh Sharma, who is based in New Delhi, went home with plans of conducting some seminar sessions in the engineering college of Manipur, but unfortunately due to frequent bandhs, and the exams that followed made it not possible to conduct the same. He did his best, and successfully established a network with the members based at Imphal.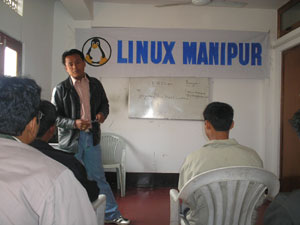 Vimol Kshetrimayum giving a seminar on Linux at Imphal, in Feb 2006
In February, Vimol Kshetrimayum, who is based in Pune, went home. He visited some premier colleges of Manipur and spoke at length to the teachers and students about Linux. He also conducted a workshop at ITCTC, Rims Road, Imphal. Our members who are based in Imphal, Thoudam Bindeswar (of Koubru Cyber Cafe) and Lairenjam Beda (of ITCTC), helped in organising the event and generously let their premises be used. Linux Manipur, likes to thank to Angom Buboo (of Doecc Akampat), for his valuable time and interesting discussions.

This month, Sushil Mayengbam, who is based in New Delhi, will be at Imphal for some weeks. He has lots of plans and wants to give as much as he can. He will be joined by Premchandra Thiyam, who is based in Durgapur.

We need your audience, we want to help, we want to share.... From far away hills to the valleys, students to teachers, kids to retired persons, anybody who has the passion for computers, please attend the classes, seminars, installation demo etc that are in the plan of Sushil Mayengbam. There will be no fees, these will be done for free.

Sushil will need a class room or a hall to conduct seminars. We hope some educational institutes will be generous enough to provide him one.

This article is to create general awareness before hand. The exact schedule will be made known by mid-march. Please check our home page for latest information:
http://groups.yahoo.com/group/linux-manipur/

Sushil can be reached at the following address from 13th March.

Mayengbam Sushil Kumar,
Keishamthong Elangbam Leikai,Leirak Achouba, Lai Maning.
C/o: M. Sanjeev Singh [JTO, Mobile section]
Phone : (0385)2224665 or (0385)2220444
Email : sinuxs@yahoo.com

Please inquire about Linux (or GNU/Linux) and feel free to ask for help/support/guidance by joining our mailing list.
To Join : linux-manipur-subscribe@yahoogroups.com
To Post message : linux-manipur@yahoogroups.com

Note:

To the students at Manipur: Don't do drugs/tablets, don't go for CBZ bikes; instead get yourself a cheap computer, even if it's a used and outdated one. Install Linux, do lots of self teaching, slog the night, make your feet wet, and shoot us mails if any problem arises . Don't be scared, think that your computer is just a toy and you are playing it. If your school/college is shut down, if the bandhs are frequent, don't loose your spirit, you can learn lots without sitting in the classroom. The source code is with you, you can do wonders with it. Wel Come to the world of Free and Open Source Software.


---
Ringo Pebam, based in Bangalore & GNU/LINUX enthusiast, writes regularly to e-pao.net. He can be contacted at ringo_pebam@yahoo.com
This article was webcasted on March 13, 2006.

* Comments posted by users in this discussion thread and other parts of this site are opinions of the individuals posting them (whose user ID is displayed alongside) and not the views of e-pao.net. We strongly recommend that users exercise responsibility, sensitivity and caution over language while writing your opinions which will be seen and read by other users. Please read a complete Guideline on using comments on this website.