Can Manipur become medical value travel destination of South East Asia?

Dr Kh Palin *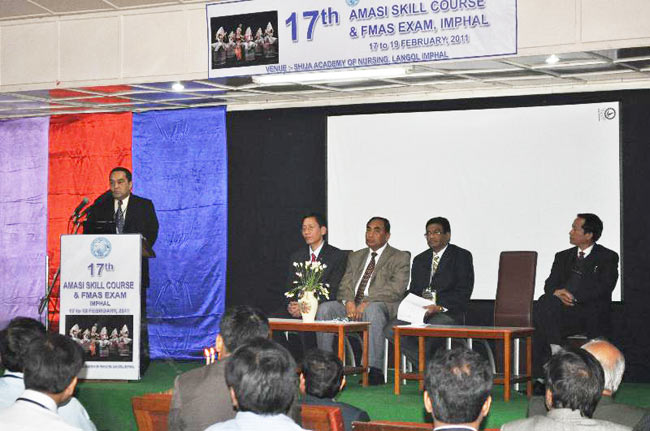 17th AMASI Skill Course and FMAS Exam at Shija Hospitals, Langol


'Future belongs to those who believe in the beauties of their dreams'.

I am a passionate believer of human potential and so also of Manipur. We have abundance of opportunities because of our location, hospitality nature of our region, comfortable weather, land, lake, hills, short surface connectivity with Myanmar, Trans Asia Highway, possible International Airport at Imphal, India's "Look East" policy etc. We can very well visualize Manipur becoming the healthcare hub of South East Asia. We can solve most of our problems by addressing the advantages rather than the disadvantages.

'If you really understand the problem, the answer will come out of it, because the answer is not separate from the problem'.
- Jiddu Krishnamurti

Healthcare is one of the fastest growing industries in India. Manipur is not an exception. A recent CII-McKinsey study on healthcare says medical tourism alone can contribute Rs 5,000- Rs 10,000 crore (Rs 50-100 billion) additional revenue for upmarket tertiary hospitals by 2012, and will account for 3-5 per cent of the total healthcare delivery market and only 10% of the opportunity has been tapped in India.

India's medical tourism is through Non-Residential Indians, Patients from countries with underdeveloped facilities and Patients from developed countries because of long waiting list. India has adopted NABH (National Accreditation Board for Hospitals & Healthcare Providers) program to improve the quality to international standard for attracting more foreigner medical tourists.

Healthcare is a major service Manipur can sell to neighboring states and countries. Myanmar is our advantage. First we need to have good hospitals. Till now there is no NABH hospital in NE India. Myanmar patients are going to Bangkok and Singapore for their advanced medical treatment which is costlier than India. Health Visa is not issued to Myanmar nationals to visit Manipur as it is issued to Bangladeshi at the border to visit India for medical reasons.

Bus service between Mandalay and Imphal is yet to be materialized for different reasons. India's Look East Policy is delayed in implementation. The situation is now difficult but not impossible to go ahead because of Chinese speed and dominance in Myanmar. After all nobody wants to go to a war zone for treatment. Good relationship with Myanmar cannot be established so long as they are arrested for illegal entry to Manipur in spite of PAP removal. We need a leader who will take 100 percent responsibility for successful implementation of the policy.

New trend of diseases and our focus areas.

Infectious diseases, caused by invading microorganisms, were the leading causes of death a century ago. Chronic diseases, caused by a variety of lifestyle and other factors, are the leading causes of death today. Leading causes of death overall are heart disease, cancer, stroke, chronic lower respiratory diseases (emphysema, chronic bronchitis), diabetes, accident and emergency.

And the main objectives of Tourism are in the specialities of Cardiac Care, plastic and Cosmetic surgery, organ transplantation, reproductive IVF and ICSI procedures, Joint replacement. The medical care can be combined with related tourism activities such as spiritual and eco-tourism. Flow of Myanmar medical tourists depends upon our pricing, branding, hospital accreditation, quality control, categorization of hospitals etc.

Healthcare is investment intensive for technological advancement and nothing is free. In May 2008, McKinsey and Company reported that primary considerations in medical tourism are:
40% seek advanced technology,
32% seek better healthcare,
15% seek faster medical services
while only 9% of travellers seek lower costs.
We need to update the facilities to attract medical tourists. Organ transplantation act needs to be passed in our state. Government alone cannot handle healthcare of 1.2 billion populations in India. Private sector participation is the need of the hour. Public Private Partnership is now the new 'Mantra' to provide affordable quality healthcare to the masses. Categorisation of healthcare institutes and quality control may be undertaken.
We need to rethink our healthcare planning and develop Infrastructure and HR, Quality and Accreditation, Law and Order, Accessibility, Affordability according to our opportunity.
In 2006 more than 2 million medical tourists availed services in South-east Asia from all corners of the world. Revenues close to US$ 450 million generated. But India had only 2% share. In 2007 India had 0.2 million medical tourists only. Singapore and Bangkok are healthcare destination in South East Asia. A single hospital in Bangkok, Brumugrade, first to get JCI (Joint Commission International ) accreditation in Asia is treating 0.45 million foreigners per year.
'India is home for 16% of total world population and 21% of total global diseases. In India the Health Care spending is 3.4% and Military 18.6% of its total spending. Developed National spends 12-17% in Health. India needs a holistic massive USD 80 Billion investment to bring up the quality of healthcare matching to developed nations.
Every new bed creates employment for 5 personnel directly and about 25 personnel indirectly. There is a huge requirement for health care workforce estimated to be 70 to 80 million jobs in the next 10 yrs, adding 2 to 3 % p.a. to GDP.'
India currently has 0.6 beds per 1,000 and the global average - 4.7 beds per 1000. India needs 1.7 million beds to meet 2 beds per 1000 only. There is a shortfall of 1.4 million doctors and 2.8 Nurses million.
North Eastern India needs 52000 nurses immediately. MCI (Medical Council of India) has recommended the centre to establish 500 medical colleges in 5 years to meet the gap.
Till now Eastern India has the lowest number of medical colleges compare to rest of the country. Manipur needs more beds and medical colleges to increase state exchequer. More than 300 students who are going privately outside the state per year for medical studies.
In Manipur, a task force constituted by Ministries of Health and Family Welfare and Tourism may assess the opportunities for promoting our state as one of the health destination and formulate policy to promote and control the quality of healthcare of the state. Only quality service will attract more medical value tourists and generate nearly 2 lacs of employment in turbulent Manipur.
Can Manipur become healthcare destination of South East Asia? The choice is ours. Grow or die.
---
* Dr Kh Palin wrote this article for Hueiyen Lanpao (English Edition)
The writer is CMD and Consultant Plastic Surgeon, Shija Hospitals, Langol and Vice President, Manipur Chamber of Commerce and Industries and President, Indian Medical Association, Manipur State Branch. And he can be reached at drpalin(at)shijahospitals(dot)com
This article was posted on December 16, 2011.
---
* Comments posted by users in this discussion thread and other parts of this site are opinions of the individuals posting them (whose user ID is displayed alongside) and not the views of e-pao.net. We strongly recommend that users exercise responsibility, sensitivity and caution over language while writing your opinions which will be seen and read by other users. Please read a complete Guideline on using comments on this website.