A Special Update on Mr. Jupiter Yambem
Mr. Jupiter Yambem is one of the Manipuris living in the US. He also happened to be the only Manipuri working at the WTC on that fateful 11th sept morning. He left for work as usual early that day too and the last communication made with him was the call to his cell by his wife Nancy. After the incident, when phone lines got cleared, his cell phone rings when called at, but is not picked up. Nancy, Shanti (his son) and his family at Imphal are worried. So are all the Manipuris in the US, who are trying to locate him. Worried are the near and dear ones too elsewhere.

16th September 2001, 5 days since the WTC collapsed, the worst fears of Manipuris worldwide came to a reality. The mortal remains of Mr. Jupiter Yambem was found from the rubble and was identified by his wife.

This page will continue to document updates/informations leading to his last rites as a tribute to him and the Manipuri community in the US as we continue to pray for the departed soul and the family.
---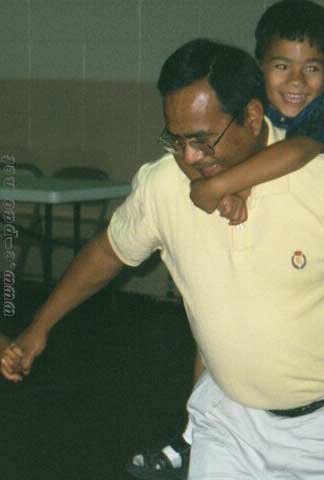 Jupiter at the NAMA meet recently with son Shanti
---
Nancy & Santi writes

I would like to thank all of you who have shown so much love and support throughout this horrific time. I know that Jupiter was loved by so many and I will never forget all that was done to try to find him. Santi and I will get through this with your continued love and prayers. We must always keep Jupiter in our hearts and keep his memory alive.

Please know that we love you.

Nancy & Santi
---
An emotional farewell to Jupiter Yambem
Rita Thokchom
North American Manipur Association (NAMA)


Tuesday, September 18, 2001: Jupiter Yembam, the younger brother of Manipur Human Rights commission member Laba Yambem was missing since the terrorist attack on the September 11. His body was identified later by New York Police and was cremated on September 18 at the Cedar Hill Crematorium in New York. In the presence of his family and friends, last rites were performed as per American and Manipuri traditions.

The serene atmosphere and the mountains in the vicinity of the crematorium, reminding the beauty of the Manipur gave an emotional farewell to Jupiter, who was a great lover of Manipur, Manipuri Art and Culture. He was gentle yet a powerful unifying force holding Manipuris together in North America. Jupiter had many dreams. He wanted all Manipuris, who are far away from their homeland to maintain their cultural links with Manipur. He was particularly interested in teaching the second generation Manipuris about their rich culture and heritage.

In the last three NAMA conventions that I personally attended, Jupiter was the first one to arrive and the last one to leave. He was the one, who brought and cooked fish in Manipuri style in all our meetings. Jupiter would bring traditional Manipuri items and put it on display. At the end, he would always play the pung for our traditional Thanbal Chongba. In the last NAMA convention he volunteered to organize a Sumang Lila and a childrens' cultural camp. He never accepted excuses for not attending Manipuri cultural activities. Jupiter was a very busy man yet he found time to get involved in various activities.

Jupiter always wanted to do something for Manipur. He considered that as a duty of every Manipuri. One of his ideas that he shared with my husband was to promote software development work in Manipur that would create job opportunities in Imphal. He was also very interested in a project to collect computers from different institutions in the US and send it to schools in Manipur so that children can benefit.

Jupiter Yambem was married to Nancy. His son Shanti is five-years old. Jupiter was a perfect gentleman and friend to everyone. He always believed that there would be peace in Manipur some day and Manipuris will prosper. He would calmly resolve even the most disputed issues yet his life was taken away violently and abruptly.

There are over 5,000 people missing from the World Trade Center. Their families are still waiting. Several fire fighters and rescue workers perished in their attempt to save life. Even in this great time distress, we are thankful that the rescue workers found him, and now he can rest in peace. On behalf of NAMA, I want to express our deepest condolences to his wife Nancy, Shanthi and all his family members.

Tears roll down on everyone's' cheeks when the last rites were performed. Even the men cried. As I watch Shanti looking in bewilderment without exactly realizing that his loving father is gone, I cried uncontrollably. I never had brothers. I called Jupiter, Tamo.

Tamo, we all will miss you very much.

Rita Thokchom
North American Manipur Association (NAMA)

---
A week after the collapse of the World Trade Centre
Source: NDTV.com

Wednesday, September 19, 2001 (New York): A week after the collapse of the World Trade Centre, 200 Indians are still missing. The Indian consulate has now positively certified that 38 Indians were definitely in the twin towers at the time of the attack. For Nancy Yambem the agonizing wait and uncertainty is over. Her husband Jupiter Yambem is the only Indian who has been confirmed dead.

It is now believed that the explosions that melted steel and reduced two of the world's greatest towers to rubble may have also simply vaporized hundreds of human beings. Their bodies may never be found.

After a week of scanning though records, Indian officials say that they know of 38 Indians who are missing.

But till now the body of only one Indian has been identified. Manipur-born Jupiter Yambem who worked as a manager for a restaurant on top of the World Trade Centre.

Jupiter lived with his family about 60 km from New York in the town of Beakon. He had a five-year-old son Shanti and an American wife Nancy.

Jupiter and Nancy were just a month away from celebrating their tenth wedding anniversary. "Our anniversary is October 12 and we had a lot of plans. Many many plans for our future. That's what is hardest. The whole thing, it's over," says a distraught Nancy Yambem.

Jupiter came to the United States 21 years ago. But he never gave up his Indian citizenship. Today his brother arrived in New York to take back his ashes to India.

"He had decided to settle down in America. That's the place he wanted to work and lived so the cremation should be done there and that's where Nancy and Shanti desire and after that is over I will take the ashes back to Manipur," Jupiter's brother Angamba Yambem said.

But as Nancy and Shanti begin to put their life back together they have only one consolation. "Of course I want my husband with me and I want him for the rest of my life and my son. But at least we know now and have proof that he has gone and we could do the cremation but some people never have that," says Nancy.
---
A. Surjalal Sharma writes
Jupiter Yambem

We now have definitive news about Jupiter. His body have been found by the rescue people and brought to Bellevue Hospital in NYC. The Manipuri community and friends and relatives have been dreading such a news since 11 September. Further deatils of the last rites, etc. are being worked out.

I have known Jupiter since his college days personally and also as a brother of my friend Sanamani. He was among the few who worked hard to form an organization of people from Manipur in North America, leading to the founding of North American Manipur Association (NAMA). He was a president of NAMA and a leader whose cordiality and friendliness always brought people together.

No words can express our sense of loss and we will cherish our memory of Jupiter.
---
Rita writes
Tamo Jupiter is no longer with us

Dear E-Pao Team and all the brothers and sisters of Manipur:

I am very sorry to inform that our fears have come true. Tamo Jupiter is no longer with us. I spoke to Nancy's father and he told the most hearthbreaking news that the police have identified Tamo Jupiter's body. Please pray to god to give the strength that his family now needs.

Rita
[Sun, 16 Sep 2001 14:28:18 -0400]
---
Manjoo writes
Tamo Jupiter

I cannot believe that Tamo Jupiter has passed away. I met him last Oct when our whole family went to NY City for my brother's wedding. The reception which was held where Tamo Jupiter worked" Windows on the World " at the World Trade Centre and all of us along with Tamo Jupiter and Nancy had a wonderful time dancing and we even did Thabal Chongba and who knew he will be gone so soon.

My heart goes out to Nancy and Shanti and his family in Imphal.

I pray that God gives them the strength to bear the pain.

May his soul rest in peace

Manjoo
---
Jupiter Yambem among missing in terror attack in US
Source:The Imphal Free Press/Kanglaonline

IMPHAL, Sept 12: Jupiter Yambem, president of the North American Manipuri Association, NAMA, and younger brother of Manipur Human Rights Commission, member, Yambem Laba, is reported to be among those missing after yesterday's terrorist attacks that destroyed the World Trade Centre twin towers in New York.

Jupiter works as the manager of the Window restaurant situated on the 107th floor of the north tower of the WTC, and was reported to be in office when the attack happened.

His American wife, Nancy McCardle Yambem, informed Jupiter's relatives in Manipur that she spoke to her husband on the phone at 7 am on the fateful day.

Jupiter's mobile telephone still rings when dialed, but is not picked up, increasing the anxiety of his family.

Yambem Laba on behalf of their father, Yambem Tombi Singh, Jupiter's wife Nancy, and only son Chinglai Lakpa, and other family member appealed to all friends and well wishers to pray for Jupiter's well being.

The current chairperson of the NAMA, Rita Thokchom, said her association is doing all in its power to locate Jupiter.

The NAMA has also informed the New York police, the Red Cross, hospitals of Jupiter's missing status.
---
Manipuri missing in US terror strikes
Source: The Sangai Express/E-Pao

Imphal, September 12: Jupiter Yambem, the younger brother of Manipur Human Rights commission member Yambem Laba and founder president of the North American Manipuri Association has been reported missing following the attack and devastation on the World Trade Centre (WTC) in New York yesterday morning.

Jupiter is working as the senior manager of the world's restaurant called the "Windows on the World" located on the 107th floor of the Northern Tower of the WTC, which was first slammed by an aircraft which was hijacked earlier at 8.42 am New York time.

According to Jupiter's wife, Nancy McCardle Yambem, he was at work when the attack took place and had spoken to him on the phone at 7 am.

Altogether about 1200 people are said to have been evacuated before the building collapsed.

The police, Red Cross and all the hospitals have been informed abut Jupiter's missing status.

His mobile phone bearing number 001-917-270-2034 is still ringing but without any response.

According to Rita Thokchom, the current chairperson of the North American Manipuri Association, all Manipuris located in New York are assisting in trying to locate Jupiter.

At the moment no outsiders are allowed to enter New York City, which has been sealed.

Laba, the elder brother of the missing persons, on behalf of their father Yambem Tombi including Jupiter's wife Nancy, son Chinglai Lakpa would like to appeal to all friends and well wishers to join them in their prayer for his safety and well being.
---
Yambem Sylvia writes
Safety for uncle Jupiter Yambem

to all those manipuris in new york, please can u keep me updated on the whereabouts of my uncle Mr.Jupiter yambem who works in the WTC at the top floor. my family members are all very anxious for any information on my uncle. those having any information, please mail me at this e-mail address...sylvia_yambem@yahoo.com.
my sincere regards to aunty Nancy and santi yambem.

thanking u all,
the yambem family.
---
Poirei Yambem writes
Please give Kaka Jupiter enough strengh

I on behalf of all the yambem families in India thank e-pao group for praying for kaka's safety. we all are very worried about our kaka. but i feel from the bottom of my heart that he is safe and sound. please let me know the lastest news about our kakajupiter.we all are praying for his safety at our homes and i request others to please do the same .please mail me the information to poirei_yambem@yahoo.co.in

poirei yambem
s/o yambem tejendra singh the yambem family.
---
Sonney writes
Prayer

To
EIGI NUNGSHIRABA INAO,
Y. JUPITER

It is said, "Being a mortal, never pray for an untroubled life; But ask the gods to give you an enduring heart".........

Sonney
---
Rita writes[Thu, 13 Sep 2001 11:35:15 -0400]
Tamo Jupiter

Dear E-Pao team:

There is still no news about Tamo Jupiter. Indian embassy has published the list of Indians who are being treated in the hospitals but Tamo's name is not there. Here is the site (click): List of NRIs/PIOs admitted in the hospitals of New York in the aftermath attack at the World Trade Center. Nationality not necessarily be Indian.

Let us keep praying. I know Tamo is there somewhere.

Rita
---
Karuna writes
A message to my beloved younger brother "Jupiter Yambem"

Jupiter, wherever u are, i know, u must be fine. praying for u.Don't lose hope. no matter what happens we all are always with u.
Remember GOD is with u.
with love n' prayers

ur loving sister
karuna.
---
Leichin writes
We pray to God

From our bottom of heart we pray to God for the safety of our Nungshiraba Inao, Yambem Jupiter who happened to be at the World Trade Center on that fateful day of 11 Sepember. We also express our sorrowful solidarity with his family, specially Nancy & Shanti.

Manihar, Shanti, Likla, Leichin, Lan, the Thokchoms
---
Cell phone numbers

The Federal Emergency Management Administration is seeking cell phone numbers of the missing at the World Trade Center. Special technology may track the phones, which may aid in finding remains.
[www.cnn.com]
---
R.M writes
We pray for his safety

The Manipuri community in Australia would like to extend our deepest concern & best wishes to Tamo Laba and his extended family regarding the fate of his missing brother in NY.

We pray for his safety. We also pray for the fate of the other missing manipuri, Laishram Prabin.

R.M.
Sydney
---
Brojo writes
I pray to Ishwar

I am extremely sorry to learn that Mr. Jupiter yumbem a Manipuri living in USA is missing with other victims of attack on World Trade Center,N.Y. I pray to Ishwar for his safety so that rescuers can find him alive. His family and we the Manipuris as well can't afford to miss him.

Brojo,
Montreal, Canada
---
Indira writes
We pray for Nancy and for lil Shanti

Indira
Toronto, Canada

We are shocked to hear the terrible tragedy and we pray for Nancy and for lil Shanti and all their near and dear ones in this hard times.

Indira, Gaur, Rhea and Rishi
---
Melbourne Manipuri Community writes

To,
Jupiter Yambem and Prabin Laishram familes

Our deepest thoughts are with you.

MELBOURNE MANIPURI COMMUNITY
---
Prasanna Kumar writes

I extend my heartfelt condolence to Nancy for the loss of her huaband Y. Jupiter, victim of terrorist attack on World Trade Center and her son Shanti and to their nearest and dearest relatives. I pray to God to give them strenght to bear this unthinkable sorrow and the soul of the deceased be peacefully rest in heaven.

Prasanna Kumar Thokchom (Tombi)
New York
---
Leichin writes

We pray to God, his soul (Y. Jupiter)rest in heaven in peace, and give his family strenght to bear his lost.

Manihar, Shanti, Likla, Leichin, Lan
Canada
---
Christel, Noopur, and Nabeen writes

To Nancy, Santi, Laba, Angomba, Yambem Tombi, Sanamani, and all who mourne Jupiter, I never stopped thinking about Jupiter from the moment of the first news flashes about the attacks. I know that whatever happened, he would have taken care of the guests and employees in the restaurant before trying to save himself. He was such a loving, caring, gentle, and strong person. Jupiter was a great lover of Manipuri arts and culture. he always asked Guruji to sing some old songs from childhood while playing the pung. Noopur still remembers being invited to perform Krishna Avishar at Nancy and Jupiter's wedding in New York. In recognition of his contributions to the Manipuri community abroad, our upcoming performances at the IDEA Indian Dance Festival, on November 16th, 2001, will be dedicated to his memory. The entire "Jhankaar" festival has been declared a fundraiser for victims of terrorism and their families. May the immortals shower blessings on Jupiter's soul as he makes his next steps on the path of enlightenment. Blessed are those who mourne, for they shall be comforted.

Respectfully,
Christel, Noopur, and Nabeen
---
Gyaneshwor writes

Dear E-PAO TEAM,

It is with deep sense of sorrow to note that one of our fellow Manipuris, Mr. JUPITER YAMBEM was killed in the recent terrorist attack on the WORLD TRADE CENTRE , NEW YORK. My deepest condolence to his wife Nancy, his son Shanti and his other family members . Words have failed me to express as to how much iam sorry and anguished at this tragic loss of our fellow human being that too one from our state MANIPUR,INDIA. MAY HIS SOUL REST IN PEACE. I would also like to add here... THIS COWARDLY AND HEINOUS ACT OF ATTACKING AND KILLING INNOCENT AND UNSUSPECTING PEOPLE BY A GROUP OF FANATICS JUST TO ACHIEVE THEIR FANATIC AIM AND OBJECTIVE SHOULD BE CONDEMNED IN THE STRONGEST POSSIBLE TERMS BY ALL THE RIGHT THINKING AND FREEDOM LOVING PEOPLE OF THE WORLD IRRESPECTIVE OF THEIR FAITHS AND BELIEFS .

Gyaneshwor S Nongmaithem
---
* Comments posted by users in this discussion thread and other parts of this site are opinions of the individuals posting them (whose user ID is displayed alongside) and not the views of e-pao.net. We strongly recommend that users exercise responsibility, sensitivity and caution over language while writing your opinions which will be seen and read by other users. Please read a complete Guideline on using comments on this website.