Surendranath's Pedal Operated Rice Mill
It is a matter of great pride for all Manipuris that a young but gifted scientist of the state Mr. Thingujam Surendranath who is currently working as the Senior Scientific Officer at the Manipur Science and Technology Council (MASTEC) has not only been conferred the covetous National Invention Award in 1999 by the Union Ministry of Science and Technology, but has also been incorporated in the Limca Book of World Records 2001 in recognition of his invention 'Pedal Operated Rice Mill'. The young scientist, in an exclusive interview told the Yakairol that the pedal-based rice mill was a bye product of our socio-economic conditions. The excerpts of the interview: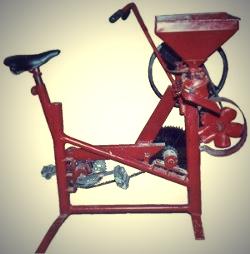 Yakairol: what do you feel when you found yourself awarded with the 'National Invention Award' as well as your name entered in the 'Limca Book of World Records'?
Surendra: I was really very happy. My endeavors have been rewarded with the recognition of my simple machine at the national level and its entry in the Limca Book of World Records, 2001. I think I have done something for my fellow countrymen.

Yakairol: Have you tried to produce or ever produced any other item prior to this invention?
Surendra: No, this is my first invention after becoming an employee of the MASTEC and it was sponsored by the central ministry of science and technology under a scheme called 'Science and Technology for Women.' This is the first invention in my life.

Yakairol: With what objectives and inspirations did you embark on your endeavors for this invention?
Surendra: My objective in inventing this mill was to try to revive the age-old tradition of rice pounding by our womenfolk, which seems to have totally disappeared nowadays in Manipur. Moreover, unfortunate instances of consuming rice bought from shops by people who have failed to dehusk their paddy in the rice mills due to the prevailing load shedding scenario or unavailability of high speed diesel to run the mills has inspired me to produce a substitute technology to solve the problem.

Yakairol: Do you think that this invention could be used by the consumers economically on a large scale?
Surendra: Yes, since there is no need for electricity and oil to run it, I think this should be an economic machine.

Yakairol: In this age of market economy, there is an essential need for patenting even consumer item. Is there any plan to patent this manual rice mill too?
Surendra: Yes, the patent facilitating Cell (PFC) of the Union Minister of Science and Technology has taken up the matter since April 1998. I was told that it would take about three years in finalizing it. Since the invention was sponsored by the Government of India, it would become a property of it once the patenting process was over. However, some percentage of amount would come as a royalty to me as the inventor.

Yakairol: Did you receive any help from the state government - particularly of the MASTEC?
Surendra: Though I got some administrative support from the MASTEC, no incentives were ever given to me by the government till today.

Yakairol: Why was it that the news of the machine which had received national award in 1999 has been almost unheard of till 2001?
Surendra: It is not that the news was not publicized at all. It was announced on the Doordarshan and in the print media to some extent. On top of this, personally I did not want to indulge in popularizing my own product. This was also one of the main reasons of the lack of wide publicity on the machine.

Yakairol: Is there any plan afoot to produce the mill in mass scale?
Surendra: Yes, the MASTEC has requested the Government of India regarding the matter. And the Science and the Society Division, National Research Development Corporation and the Patenting cell of the central ministry of Science and Technology -these three divisions are preparing to produce it in a mass scale both at national and international level.

Yakairol: In this age of restless lifestyle, people have been facing many fatal diseases like high blood pressure, stroke and diabatics, etc. Young married women now give birth through caesarian operation once they reach the age of thirty due to lack of physical exercises. Could the rice mill solve this problem to some extent?
Surendra: Though, personally I am not a medical expert, I presume that thirty minutes daily exercise on this machine would not only keep us fit but also would provide us our daily quota of rice for meal.

Yakairol: How much would it cost as a finished product?
Surendra: In producing the prototype, it cost roughly Rs 6,000 per machine. But as a final product, it might cost only Rs 4,000.


Courtesy : P Hakim Khaba (Matamgi Yakairol)