Year-end Jottings 2007


By: Arshad Shah *



What's so new about New Year's Day? Nothing, as far as we know!

Call us cynical, but please let us NOT be enlightened with such rubbish as "hope", "love", "peace" and other "flowery" nonsense! Let us convince you, there's nothing new about New Year, except for some empty resolutions perhaps! Only thinking makes it new.

Which brings us to this Existentialist approach: Reality is absurd. The world is in itself meaningless. Human beings attached meanings from experience. Meaning is a matter of pure choice. Truth is contextual—there is nothing as an Absolute Truth.

See what attaching meaning means. Just because some hippie-looking forefathers said that the 1st of January is new, the rest of the world swallows it like it were some gospel truth? What if the same folks had said 2nd, 3rd or 4th of January was also New Year's Day?

I'll give another example of meaning making—in case you have not got the message home. There is an institute in Pune where (personal experience) professional AIDS-HIV activists distribute free contraceptives to students on the occasion of the 31st night.

Why? What does it mean? What is the assumption that prompted these pros to distribute contraceptives?



* * *



2007 began with, notably, the elections in February. Election is one of many areas where India is seen as an underdeveloped country. In India, except for the Communist party, no other party was defined by ideology, and political choices are defined by anything but modern ideals. A political analyst recently pointed out that 90% of the Indian electorate at present could be made to swing their votes anyway!


An electioneering scene at 9th Manipur State Assembly Election 2007



Back home in February, there were many hassles about who deserved to be Congress candidates in the polls. CM O.Ibobi in his wisdom defied party conventions, ignored the protest, pleas and threats of a party stalwart in favor of a man who hitherto had nothing to do with politics, for the Kakching candidature.

Ibobi was vindicated when his man won the election, and would have almost spat in the face of those critics who doubted his political acumen had it not been for a little twist in the tale.

His man, Y.Surchandra, is the one most vocal about replacing him.



* * *



Around the same time, tiny Manipur with a population of just about 2.5m people once again topped the medals tally in the National Games held at Guwahati. Many of the other states were represented by sportspersons from the state.


An impromptu 'Thabal Chongba' by Manipur team members at the 33rd National Games in Guwahati
Photo Courtesy: Shyam Singh



The state's excellence in sports is legendary and needs no introduction. But what is the rest of the country doing in the field? Well, every time I look at Indian sports, I am reminded of a passage in Joseph Heller's groundbreaking masterpiece, Catch-22. It goes like this:
"Some men are born mediocre,
Some men achieve mediocrity,
And some men have mediocrity thrust upon them."

I think with Indian sportsmen it has been all three. Doesn't the country of 1 billion people celebrate a single bronze medal at the Olympics?



* * *



2007 bred a brand new problem called Meitei vs Kuki or vice versa which threatened to further compartmentalize a mindset that is already grappling with an equation called Manipur vs Nagalim.

An incident in Moreh involving armed cadres of both sides left 11 people dead, while another near Keithelmanbi tolled some gunmen. In the latter there was this incident of dragging down civilians from a school excursion bus, which invited the wrath of one and all.

Allegations that the Armed Forces, being in a suspension of operation with certain groups, have been inciting such clashes, is also being talked about widely.

It should be noted here that in both cases the two sides took pains at the earliest for a sanely cessation of fire, thereby doing away with any of the initial Might is Right-ish approach.

Indeed, had it not been for such willing restraint, the crisis could have snowballed into raw bloodbaths, because there were powerful groups involved in the tussle.

Conflict solution is about this willingness to budge from one's extreme pole position toward a middle path—the basis for accommodative solution. How willing we are shows the democratic ethos in our psyche, and this is vital in our quest of the common good.

As somebody rightly said about marriage, "Many a marriage could be saved if both spouses realized they were on the same side." Similarly warring groups in the state ought to realize they are one the same side.



* * *



According to the National Family Health Survey III brought out by the Union Ministry of Health and Family Welfare, the rate of employment among married women in Manipur is the second highest in the country with 65%, after Arunachal Pradesh (76%). Does this mean women in Manipur are an empowered lot? Don't be misled.

Empowerment is a multi-dimensional process that occurs within sociological, psychological, economic and political spheres and at various levels. Economic independence is only a fraction of this process.

The same statistics say that the rate of domestic violence among married women in Manipur is the fourth highest with 43.7%, after Bihar (59%), Rajasthan (46%), and Madhya Pradesh (45%), as against the national average of 35%.

Rise of consumerism is cited as one of the major factors behind this type of violence, as are alcoholism, illiteracy, and poverty. Protection of Women from Domestic Violence Act, 2005, is yet to be made aware of, let alone practical implementation.

Also, women's participation in the decision making process is almost negligible in Manipur.



* * *



Twice in the year, the Press in Imphal was forced to go off the stands. It was a sorry episode, especially when many of the other states were enacting laws to ensure unfettered enjoyment of the Right to Information.

In a conflict-ridden state like Manipur, militants no doubt are a big threat to Press freedom. Funnily, militants themselves say the same thing and they occasionally take vows not to meddle with the Press.

The bigger threat, however, remains the government.



* * *



"Is there anything called students' loans in Manipur?" somebody asked in a letter to the editor of a local English newspaper.
The answer is, students' loans do exist but with a catch.

According to sources, bank officials in Manipur make it really tough for students who wish to avail of loans, because in Manipur only 15-20% of all loan-takers repay their debts, and so it has been assumed that students are a dead-investment. The officials' tools of toughness include a series of conditions and criteria that a student has to pass through before he or she gets anything.

In case anyone feels it is high time many of our bright students were propped-up with financial backing in their efforts to acquire cutting-edge touches, dismantling bank barriers would entail the active services of such students' organizations as AMSU, DESAM, MSF, et al.



* * *



Roger Waters' psychedelic treat at the Bandra-Kurla Complex in Mumbai was the city's most delicious offering in 2007. Waters rendered a memorable number, Leaving Beirut, in which he explained with visible sentiment how an Arab family once rescued him from a road breakdown in Beirut. He wanted to convey the message that those kind and hospitable people were not really the type who would mean harm to others.

The icing on the cake—the one real foot-stomping moment in the song—came when the maverick virtuoso yelled,
" George, Texas education must have ****** you!"

By George! That's true! Three cheers to Rogers!

The ex-Floydian is considered one of the 3 greatest songwriters of all time, the others being Bob Dylan and Neil Young. Bob Dylan has been compared with W.B.Yeats, while Neil Young is widely regarded as the unsung godfather of what they call "Alternative Rock"(which emerged as an anti-thesis to institutionalized rock but which today is an institution itself).

In Roger Waters' case, his songwriting capacity is more or less induced by the mind-expanding drug called LSD, and this in turn has spawned an entire breed of grass-loving Pink Floyd fans who, after a whiff of grass, claim they are on the same "plane" with Waters.

Well, I guess we have had one reason why parents don't like their kids to be rock aficionados!



* * *



Master filmmaker Ingmar Bergman died (so did Antonioni). They say Bergman, Fellini, Kurosawa and Satyajit Ray make up the Big 4 of cinema.
Fine.

Now, take a little of each of these four. Mix and stir it. Sprinkle a liberal dose of literary expressions and imageries. Serve with a light flavored jazz music. What do you get?

A film called Hiroshima Mon Amour (Hiroshima My Love) by Alain Resnais. The epitome of poetic depth in motion picture, the ultimate in art filmmaking, it has been the subject of endless discussions among intellectual circles, ranging from literary circles to psychologists to historians to filmmakers.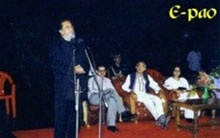 Ratan Thiyam speaking at the opening of 'The Shrine'.


Ratan Thiyam has a similarly titled stage production, Hey Prithibi Nungshiba, though the similarities might end there. The world-renowned maestro is going from strength to strength in his glittering career, having been chosen for the Asian Cultural Council's Rockefeller Award 2007. He is to theatre what a Satyajit Ray or an Ingmar Bergman was to cinema.



* * *



Whilst these notes are being written, news just comes by that Benazir Bhutto, the charismatic leader of Pakistan, has been killed.

Shocking, but not surprising. This, dear friends, is the kind of sacrifices made in the clash of ideologies. For once, we would love madman George Bush to engage those equally mad scums in one final dual, because we are yet to get a clearer picture of who is madder.

Too late though, as no American can be President for more than two terms.
Adieu, Daughter of the East.



* * *



There are two things that I culled and have carried in my heart for a few years now, and I wish to share it with readers on the occasion of this New Year.

Briefly,
Gabriel Garcia Marquez in his immortal Love In The Time Of Cholera:
"He allowed himself to be swayed by the conviction that human beings are not born once and for all the day their mothers give birth to them. But life obliges them to give birth to themselves over and over again."
Abraham Herscel:
"On the surface I am an average person, but to my heart I am not an average person. To my heart I am a great moment. The challenge I face is, how to dedicate everything I have inside me to fulfilling this moment."


Dear readers, wish you what you call a HAPPY NEW YEAR!

Articles from the same author:


---
* Arshad Shah, a young Mumbai-based journalist, contributes to e-pao.net regularly. The writer can be contacted at arshadshah247(at)gmail(dot)com . This article was webcasted on December 31st 2007.


* Comments posted by users in this discussion thread and other parts of this site are opinions of the individuals posting them (whose user ID is displayed alongside) and not the views of e-pao.net. We strongly recommend that users exercise responsibility, sensitivity and caution over language while writing your opinions which will be seen and read by other users. Please read a complete Guideline on using comments on this website.