The Leimakhong-Koubru Mountain Range
Yenning *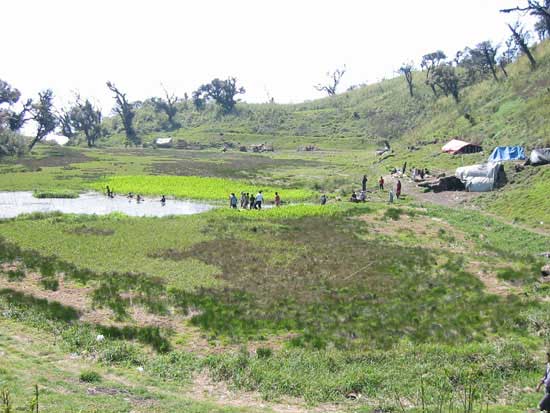 Beautiful scenic view from top Mount Koubru. :: David Mayum


The Leimakhong-Koubru Mountain Range

"Awang Koubru Asuppa,

Leima-Lai Khunda Ahanba,

Nongthrei Ma-u Lingliba,

Irik Mapan Thariba,

..... Lainingthou!"

"Oh! Almighty Koubru the Guardian of the North,

Where the First Settlement evolved,

Nongthrei seeds be sown

I pray to Thee......."

In the cosmogony of the Meiteis, it is believed that the evolution of human settlement in the state of Manipur originated from Koubru peak and later descended downward gradually to the foothills and the Valley of Manipur. Till today, the people of Manipur regard the Koubru Mountain as one of the most sacred mountains in the State. Every year, a week after Cheiraoba (Manipur New Year), on the first Friday, the native people go on pilgrimages to the Koubru Peak, which is around 2,802 metres high.

The peak is a misty landscape; one can walk along with the clouds and talk to the howling wind. Lord Koubru's abode is on the highest point atop caverns. Another special attraction at the peak is the Lai Pukhree (Pond of the Lord), a massive rectangular boulder and the cliff of the Koubru.Situated in northern boundary of the Manipur Valley (Imphal), the Koubru mountain range including the Leimakhong foothill plateau is a complex array of physical and geo-ecological environment as well as known for geo-hydrological, biological, aesthetic and cultural values of the inhabitant of Manipur.

In other words, the Range is the platform for epicenter of all mythology, tradition and belief of human creation on the Earth within the Manipuri world. As a result of this, the Mountain holds an important spiritual significance of the people of Manipur.

There are many similarities in the physiographic and ecology of the Leimakhong-Koubru Mountain Range, but the Koubru differ inherently in terms of aesthetic evolution of the mountain ranges of Manipur. Owing to a unique bio-geographic location i.e. altitudinal range, topographic variation, the mountain range harbours numerous habitats and a rich array of flora and fauna. The abrupt rise of the mountains from less than 500 metres to over 8,000 metres results in a diversity of ecosystems that range from sub-tropical to alpine and arid types.

The complexity of topography, geology and relief features, coupled with intensive biotic influence, has given rise to a variety of ecosystems. The combined effects of geological processes and total flow of ecosystem services and goods from the Koubru Range have not yet been fully ascertained.

The Leimakhong- Koubru range covers an area of 750 Sq Kms approximately. The area will include the legendary and historical site of Leimakhong, part of the Sekmai village, Khurkhul, Feidinga. The Leimakhong River and the Leimakhong foothill plateau which begin from the eastern side of the Koubru Mountain represent an enchanting landscape. Leimakhong literally means "Spring of the Princes".

During the reign of Maharaja Churachand of Manipur, Leimakhong was identified as the royal spot for scenic leisure and resting. Some of the significant landmarks of the area include Ingourok Temple and the presence of Ichum Lairenbee (Ichum Goddes) and the Sanahal Lokchao.

The Vaisnavite Meiteis consider the Ingourok Temple as a sacred site of Lord Mahadeva. Others believe it to be the lying position of Lord Gautama Bhudha. The Sanahal Lokchao hill stream is the landmark where the first micro-hydel dam was constructed, which generated 100 KW and 56 KW in the year 1930. The power generated from this hydel-electricity station electrified the Royal Palace and the main Imphal Town.

In addition to the annual pilgrimages paid by the inhabitants of Manipur, there are efforts to convert both the Koubru and Leimakhong into tourist spots. A negative impact on the mountain ranges on account of the annual pilgrimage is the disturbance to its natural ecology. It is a common knowledge that pilgrims return home with bamboo, plantain and wild orchids, etc. which are plucked/cut indiscriminately. Carbon footprints left by the pilgrims have never been discussed, perhaps, on account of sacredness linked to the pilgrimages.

Today, when preservation of our surrounding and environment has taken centre-stage throughout the world, one should realize that Koubru and Leimakhong are situated in extremely fragile mountain ecosystems. Moreover, these places are highly vulnerable to adverse effects of climate. Increasing anthropogenic pressures and natural perturbations on the mountain ecosystems result in the depletion of natural resources, increase the recurrence of natural hazards and adversely affect the livelihoods of the local people, with far reaching implications at the local, regional and global level.

With the nearly-done policy on Look East Policy, tourism has been identified s one of the sectors that can bring revenue to the state. But such an inception is without any plan or strategy, as is the usual case in Manipur. Within this understanding, Koubru-Leimakhong has been identified as suitable tourist sites. However, given the fragility of the landscape, mass tourism in the Koubru is likely to cause irreparable damage.

Instead of bringing about welfare and prosperity, it is bound to affect the livelihood of the local people. However, nature and local culture based tourism otherwise known as ecotourism can be promoted. This can immensely contribute to local development.

However, little efforts have been made to promote community based eco-tourism in the Leimakhon-Koubru Range. For example, there has been no plan on the part of the Government to develop a nature Park. Moreover, without any due consideration, efforts have been made to promote ecotourism only around Reserved Forests or in the middle of a waterbody, say for example, which we see in the Loktak Lake today.

This seems to be the logical unfolding of governance which is akin to solving problems in the state in a fire-fighting manner. A good example of joint management of tourism for the benefit of local communities can be in the shape of creating a "Valley of Flowers" around the buffer zone of the proposed Nature's Park of the Koubru Range. Creating revenue or wealth should not be at the cost of nature or the community.

(Guest writer of the week, Oja Ranjan)


---
* Yenning wrote this article for The Sangai Express as part of "Hoipolloi and Mundanity"
The writer can be contacted at yenning05(at)rocketmail(dot)com or visit www.hoipolloiandmundanity.blogspot.com
This article was posted on December 22, 2013.
---
* Comments posted by users in this discussion thread and other parts of this site are opinions of the individuals posting them (whose user ID is displayed alongside) and not the views of e-pao.net. We strongly recommend that users exercise responsibility, sensitivity and caution over language while writing your opinions which will be seen and read by other users. Please read a complete Guideline on using comments on this website.