Silent echoes from Manipur


By:- Ringo Pebam (with great inputs from Mr Vivek Sharma) *

Have you been a great admirer of Ramanujan or Linus Torvalds? Have you been a great fan of Stephen Hawkins or Carl Sagan? Have you ever wondered at the genius of Albert Einstein or Dr. Christian Barnard? Have you been a great follower of Al Pacino or Ratan Thiyam? Have you been enthralled by the words of William Shakespeare or Tagore? Have you ever appreciated the musical notes of Beethoven or Kishore Kumar or Pahari or Lakhpati or say - Iron Maiden? Iron Maiden - one of the greatest heavy metal bands on the planet performed in Bangalore on March 17th. Words aren't just enough to the express. Aaahh... was it a dream or for real??

1980's and 1990's - Oh, those were the days!
Those days, every available space on the walls of our musicians' rooms were filled with Maiden Poster, paintings of Eddie (Maiden's mascot), make believe tattoos, every tune they played were from The Beast.... Those years were spent playing only numbers from the Maiden, those years which could have been well spent on books and career. Those faiths they had in their lords... It also was a sad thing that there was nothing that anyone could do to actually make the world hear some tale of woes spent on pursuing music. Vivek Sharma remembers some of his old friends from Hell's Angels like Max (Drummer) who used to say he would cut off his thumb for a show of IRON MAIDEN, like Eddie (Deepak, vocalist) who passed away in his early twenties with thoughts of Iron Maiden. Maiden did come, but why so late?

Those dreams, those fantasies, those agonies ... they could have never imagined that Maidens would come here. Drugs and guns have taken over Manipur. Rock music could have saved many of them who died because of the gap that was too much. The love for Rock music was too much and the facilities were too little. There were very little things that mainland India could do. It has been only few years since western music could actually captivate the Indian audience and where did that leave us - the North Easterners?

Will you, the educated readers of E-Pao, ever understand the pain in the hearts of those who brought Rock 'N Roll to the region and to some extent to the whole of the nation? It was agony. It was double agony when bands like Parikrama could do the opening act and Phynyx/Cannibals could not.

Far away in those seven sister states called North East, far away in that place called Manipur, there are many who adore Iron Maiden. For those lovers of rock music, it really was a matter of life and death. Everybody was desperate to see their God 'live'. Their Lords came to Bangalore, but only the luckiest of the lucky were here.

Put yourself in their shoes and imagine how you would actually feel when Maidens came to India you could actually see them playing live right in front of you?

Better late than never, as the saying goes... Yes, it was actually tears from Phynyx guitarist Vivek Sharma's eyes that were strolling down when Maiden started playing "The Trooper". Bruce, Steve, Murray, Janick, Smith and Nicko... were playing just 15-feet away from him that night at Palace Grounds. Vivek was perhaps the only top gun from the whole lot of geniuses from Manipur who witnessed the Gods 'live' in B'lore.

Yeah, hats off to Parikrama, for they could actually be there and perform, it's all because they were born among the lucky lots in big cities. Guitarists like Vivek Sharma, Ritchie Ramshanga, Eddie(of Dark Krusaders), Raju RK, Jessy Ralte and many others stalwarts could have made their mark if Manipur was Bangalore. Let's change the map, let's give some wide roads and few opportunities to North Easterners.

To Maiden fans like Vivek Sharma, it was what Mecca was to the Muslims. Believe it or not, many waited for his return to Imphal, just to hear what it was like to be actually there, and tears were also in Bobby's (Ex-Drummer Phynyx) eyes just on hearing the anecdotes of the show. Nicko McBrains, please listen, it's true.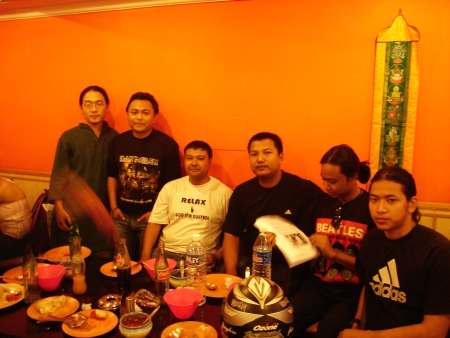 Vivek Sharma (third from left) at Bangalore with a group of Manipuris (based in Ahmedabad, B'lore and Mumbai) who know his genius and who grew up seeing/listening Phoenix/Phynyx.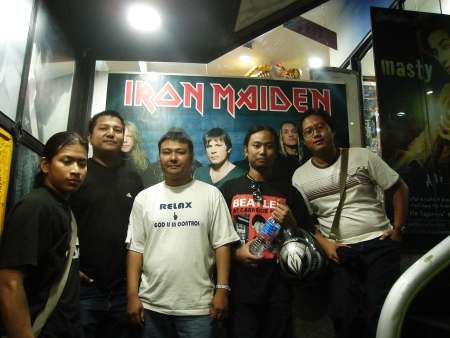 "Relax - God is in control", the words seen on the T-Shirt of Vivek Sharma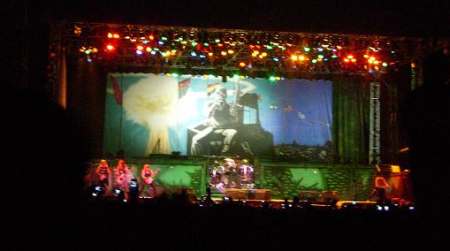 Iron Maiden performing live at Palace Grounds, B'lore on 17th March.
Photo Courtesy: Sandeep Kelvadi
Dear Like-Minded-Fellow-Rockers,

We have dwelled in the same world in one way or the other; we have struggled at some point of our lives trying hard to do 'the thing' - arranged instruments, hired amplifiers, practised so hard, without much support from anyone except nungdums on the roof from neighbors. But don't forget, we did get a pat on the shoulder at the end of our shows - "Well done, sons".

If you are in Ahmedabad or Pune or Delhi or Mumbai or Chennai or anywhere.. and if there comes up any concert or festival or anything which can be a platform for our musicians back home, lets try our best to promote them.

You can mail me, we don't have a mailing list and we are not big, we are just 10-15 of us who are in constant touch, join us. Let's add some magic to the echoes of the beautiful melodies from Manipur.

Know something? On the day of Iron Maiden's concert we were standing in the queue in the hot sun, for hours at Palace Grounds, before the gates were opened. There was a group of guys who came all the way from Delhi, in the queue standing with us. As we stood for long and having nothing to talk about, I asked what all North East bands they know. Know what, they said? They said, "We know Pnynyx, their original 'woman' in GIR(Great India Rock)-2 is awesome". There and then, I introduced them Tamo Vivek, and man, you should have seen the expression on their faces, they were overwhelmed, stunned, when I said, "He is the lead guitarist of Phynyx". They shook hands and they repeatedly kept saying "Oh Phynyx, You guys are great!!"

- Ringo
---
* Phurailatpam Vivek Sharma (or more commonly known as just Vivek Sharma) is a former guitarist of Hell's Angel, Phoenix, Phynyx, who have even released a solo album called "Rock N Roll Dreams" in 2001. He has a Masters Degree in Mathematics. He is presently working as Data Analyst in Environment and Ecology Wing, Department of Environment and Forests, Government of Manipur. He still plays the guitar, still keeps the Rock 'N' Roll dreams alive..... He can be reached at vivekph2003(AT)yahoo(DOT)com
---
* Ringo Pebam, a Software Engineer in Bangalore, and a Free and Open Source Software activist, contributes regularly to e-pao.net. The writer can be contacted at ringo_pebam(AT)yahoo(DOT)com.
This article was webcasted on March 30th, 2007


* Comments posted by users in this discussion thread and other parts of this site are opinions of the individuals posting them (whose user ID is displayed alongside) and not the views of e-pao.net. We strongly recommend that users exercise responsibility, sensitivity and caution over language while writing your opinions which will be seen and read by other users. Please read a complete Guideline on using comments on this website.