Revisiting CM's New York Darshan


By: Various Contributors *





O Captain! My Captain! Rise up and hear the bells;
Rise up—for you the flag is flung—for you the bugle trills;
- Walt Whitman



We have heard and read about Manipur Chief Minister Okram Ibobi's New York and Bangkok trips. Prominent English and vernacular newspapers in Imphal too had covered the Chief Minister's business sojourn in their best possible way. Despite the information that has trickled down, we found something amiss in all the 'talks' about Mr. Okram's visits.

We request all to revisit the event by reading the texts of speeches delivered by our own Chief Minister and the Chief Ministers of Sikkim, Assam and Arunachal Pradesh in addition to the video clippings of the Chief Ministers. The deep concern we have as citizens of the state has prompted us to place the following for a meaningful and fruitful public dialogue.



Wearing the inside out -
Removing the limited ways people read and see.





1. Chief Minister, Government of Manipur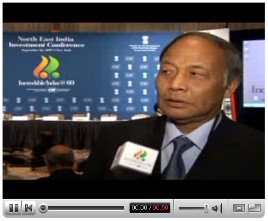 http://www.youtube.com/watch?v=z6LvduslfmE

2. Deputy Chief Minister, Government of Meghalaya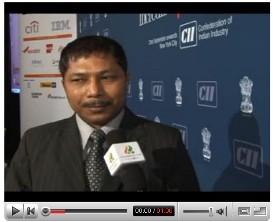 http://www.youtube.com/watch?v=FEXPQ8XYB0E

3. Chief Minister, Government of Assam.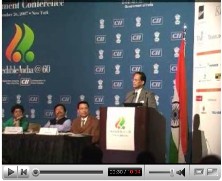 http://www.youtube.com/watch?v=WbznNIuTGb8

4. India @60, NY.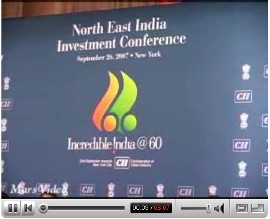 http://www.youtube.com/watch?v=9nmck_CVgeQ




Things that we have seen, read and heard above are not the only reactions to Mr. Okram Ibobi's. Read the following editorials published in two major English newspapers in the state.

HARDSELLING MANIPUR
Editorial - The Sangai Express, 27th September, 2007


Simply put, the State Government does not have any agenda for developing tourism or attracting investments and for all practical purposes the trips to other parts of the country or to any foreign country end up being a paid holiday, at the expense of the tax payers.
Nothing wrong in undertaking a foreign jaunt to woo investors, but as the past has taught us, the bureaucracy and the political leaders of the State have not learned any lesson and such trips have always been reduced to a paid holiday.
The question that merits some answer is whether the State Government roped in the services of experts in different fields, whether their inputs were sought to portray Manipur in such a way as to invoke the interest of potential investors or whether the plans were drawn up by the Babudom known as the bureaucracy which have been trained not to think outside the box!
As we understand it, the State Commerce and Industries Department has been entrusted with the task of preparing the profile of Manipur which will then be presented during the Bangkok meet. While officials of the State Commerce and Industries Department may be entrusted with the task of working out a map to present Manipur in the right light, we wonder whether the State Government has sought the advice, suggestions and inputs from experts who can think outside the box.
Just as preparing the resume' of a job seeker or making the profile of an aspiring model is the first step to be taken; we are also of the opinion that presenting the State in the correct light is the first necessary step. For instance, can the State Government promise any of the investors, that there will not be any red tapism, if they decide to set up shop here?
To a certain extent the License Raj has been done away with, but what assurance can the Government give that the Babudom has come out from the mindset of such a Raj? For tourism, the less said the better. As one of our columnists, Amar Yumnam, pointed out in his column some days back, the Government should stop lying to the people whenever the topic of tourism comes up for the fact stands that the administration restricts the entry of foreigners to the State and tourist homes are occupied by security personnel. To put it bluntly, instead of going on a foreign tour, our Ministers and officials concerned should visit Sikkim and learn a lesson or two from this tiny State.

BIG APPLE BIG LAUGH
Editorial - The Imphal Free Press, 18th October 2007


True to popular predictions, leave aside American businessmen, even neighbouring Thailand showed little tangible interest in partnering with the state or any of its enterprises. During a recent seminar in Guwahati on India's "Look East Policy" organised by the ministry of external affairs, MEA, the Indian Ambassador to Thailand, Vijaya Latha Reddy, read out a list of 21 memorandum of understanding, MoUs, signed between various enterprises in Thailand with their counterparts in the different states of the northeast, and *there was not a single one* where Manipur figured.
Indicating their forward looking images, Sikkim, Assam and Meghalaya hogged the biggest shares.
For back home, in the press conference that Ibobi gave after his homecoming, he had nothing very much to announce in the regard.
The thinly disguised tone of mock in the reportage in some national dailies of the chief minister's new found energy after his foreign jaunt may have been meant to amuse readers, but to somebody from the state whose skin is not too thick, the snide digs at the expense of the chief minister, hurt more than amused.
Nothing is working in the state, not even the distribution of piped drinking water in the Imphal municipal area and yet the government seems unperturbed.
It remains unperturbed that daylight murders and kidnaps are happening routinely under its very nose. It remains unperturbed that militants were using the ministerial colony of Babupara as their hideout.
Most of all, it remains unperturbed that the people have entirely lost faith in the capability of the government to achieve anything towards bettering the quality of life in the state.
Nobody has shown interest in putting their money in Manipur. Maybe there is a qualification to be made here. Maybe arms dealers and drug cartels would be interested. Jokes aside, it has to be only the armour of a thick skin that makes the government still capable of pretending everything is as it normally should have been. Meanwhile, Manipur remains a killing field.


Here are some important points we would like to add and share:

On US Venture Capitalists (VC) and Angels

In the Current state of business affairs, investments by Venture Capitalist in the US or prominent Western Countries are based on the following:

1. Either we have a running business that is making some profit and have some market share, or we are looking for more investment to expand it further. We need a solid long-short term business plan and most of the time we can negotiate to maximum- 30% VC equity in our business.

2. Or we have a fantastic business plan and a prototype product that is ready to hit the market. This is our worst case scenario because Venture Capitalist will want 60% - 70% equity in our business.

The above scenarios are true for Angels too except that Angels are not as profit oriented or as greedy as the VCs. The times have gone when VC fund poured in for brilliant ideas or by simply stating that there are lots of potentials for such and such projects.

What the Business is all about?

Business is all about Returns on Investments (ROI). Manipur has been living on charities (Central Govt. and NGOs) and loans that may never be paid back. The stark reality is that whatever we have done with the above two sources will not work when it comes to private investments. We always have to remember that for Investors, it is money making money theory, therefore their investments has to make sense and must fetch certain amount of returns going forward.

Frankly, it is frustrating to hear/read our Chief Ministers short speech. We hoped that the Honourable CM would be talking about valid plans even if he had nothing solid to offer at the current scenario, possibly to envisage interest and his talks about 'potentials' made one feel that he has not even scratched the surface on the plans.

Now let's look at some of the industries he mentioned. Tourism - What are some of the important aspects of tourism in the state? Better connectivity (via Air, road etc.,) livable law & order situation, better facilities regarding accommodations, hotels, places to eat etc.

If you name 10, 9 of them will not be fulfilled in Manipur. Revenue generation of tourism depends much on the spending and purchasing power of the tourists. And also Manipur Tourism's selling power.

For this Manipur has to be free and safe and have all the standard facilities available at most tourist spots around the world. Else, the state will only attract few people with interest in research in flora and fauna and geo-political conflict resolution without bringing much to the table to fill up to up a wider revenue generation in the nascent stage.

We, however don't deny the importance of the rich flora and fauna of the state, which can help the state fetch their share with the advent of eco and adventure tourism later.

Another area is the IT industry. It is an industry which can have a good future given the geo-politcal location of Manipur. Modern IT industry businesses are conducted easing the obstacles of surface transport/communication industries without underestimating their values.

But where are the infrastructure and manpower? Do we have any short term - long term concrete plans to develop it?

We were informed that our neighbouring state Assam has cable internet access upto to 5Mbps burst speed. We want our Chief Minister to beat that at least. Assam office of CII is arranging a NRI summit in December in Guwahati to attract NRI, VCs and Angels.

http://www.guwahati.com/images/nri-convention.pdf

Roads, railways and airfields are of vital importance for a modern society. The value of this infrastructure is tremendous and careful management and maintenance is essential to maintain and develop business.

The national highway no. 53 is just 220 Km long, a distance far smaller than the distance most people in develop nation would drive to go to the beaches for leisurely activities on weekends. If our leaders had the will, a brand new expressway that stretches such short distance should be no more than a year's work. Manipur is not land lock state. We lock ourselves in.

No modern society can exist without access to cheap and reliable energy. Energy consumption is by far one of the most accurate measures of quality of life. Let's look at the per capita energy consumption of the G8 countries, which represents about 65% of the world economy. According to International Energy Agency publication, Key word Energy Statistics, 2007 below:


| | |
| --- | --- |
| Name of the Country | Per Capita Consumption (kWh) |
| USA | 13640 |
| France | 7707 |
| Japan | 8233 |
| England | 6254 |
| Canada | 17307 |
| Italy | 5676 |
| Russia | 5786 |
| Germany | 7111 |
Source: International Energy Agency

Compare these with the per capita consumption of Manipur listed below:

| | |
| --- | --- |
| State | Per Capita Consumption (kWh) |
| Delhi | 1766.94 |
| Maharashtra | 934.43 |
| Meghalaya | 517.54 |
| Manipur | 215.21 |

Source: Indian Real Estate & Property News

From the data presented above, it is fairly evident that we have to do something to increase our energy consumption to better our lives. We definitely need to do something to feed our energy needs. A look at the power requirements of Manipur reveals a shocking reality.

The NIC website lists the current electricity requirements of Manipur at only 120MW during peak hours. This is too meager and inadequate considering a population of 2 millions. However considering our experts have done their homework and the assessment is accurate lets look as other alternate energy sources.

These days a single wind turbine can generate 5MW1 under ideal conditions. These means 24 wind turbines (at least theoretically) is all that we need to create clean renewable energy that can light up the whole of Manipur.

Solar Energy is fast catching up too. These days develop worlds are looking towards clean and renewable energy with Europe at the forefront, however Manipur seems hell bent on destroying its environments with mindless half built dams all over the place.

In short, if the CM is / was looking forward to attract investors, be it from individuals, NRI, VCs, or Angels, he needs to do his homework and be aware that he is not only competing with his counterparts in the North East but also with the rest of the world.

Please, remember this is the age of globalization and to succeed in this venture certain analysis regarding the problem and possible solutions must be presented. It is not enough to just understand a problem but it is equally important to understand the problems, and the solution can only be achieved by de-structuring the problems.

Learning from the lapses and loopholes of the past, we believe and hope that our government will perform better in future.

We believe our State Government will also seek for better suggestions and inputs from different sources to help them do better in the affair of the state in the future.

Reference:
---
* Duran Thiyam ,
Rajesh Khumanthem ,
Ringo Pebam ,
Sam Khumanthem ,
Vimol Khetrimayum ,
contributes for this article to e-pao.net . This article was webcasted on October 24th 2007.
---
Read related story on CM's visit to NYC:
* Comments posted by users in this discussion thread and other parts of this site are opinions of the individuals posting them (whose user ID is displayed alongside) and not the views of e-pao.net. We strongly recommend that users exercise responsibility, sensitivity and caution over language while writing your opinions which will be seen and read by other users. Please read a complete Guideline on using comments on this website.