MANDALAY EXPEDITION
Courtesy:

Mayanglambam Ibohal Singh - Poknapham


(Adapted and translated from an article that appeared in "Poknapham" )

In commemoration of the World Tourist Day, Indo Myanmar Friendship Tourist Center, Moreh, Manipur organized the first ever Mandalay expedition from 12th October to 18th October this year with a tourist group comprising 68 men and 4 women. Under an agreement between the Indian government and the Myanmar government, tourists from India can go to Myanmar by paying Rs 5000 and the same amount is to be paid by the Myanmar tourists while coming to India. The said amount covers the travel expenses including the hotel stay at Myanmar but the expense for food is to be borne by the tourists. The tour is a historic one in the sense that it was the first ever such tours to Myanmar by Manipuris after India gained independence.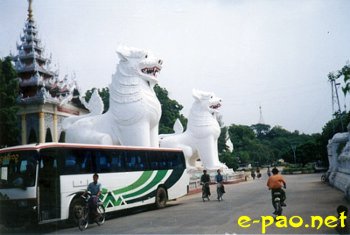 SUTUANG PYAI PAGODA Entrance Gate Situated at the heart of City.
Photo Courtesy: RK SHIVA.
The journey was previously slated to start on 15th September, but had to be postponed due to many difficulties and finally set out for Mandalay on the morning of October 12 from Keishampat on two tourist buses with banners "Imphal (India) - Mandalay (Myanmar) Special Tourist Package".
After having lunch at Moreh at 11:00 am, we exchanged the money deposited for expenses at the prevailing rate of Rs 100 to 1300 Kyats and crossed the Moreh gate. On reaching Myanmar, two air conditioned buses No 5355 and No 8384 were parked for us in front of the Immigration Office. Major Mao-Mao-Yee, Peace and Development Council Secretary, Immigration Officer Hin-Mao-Yee and Lt Col Hin-Mao-Tu received us just at the crossing of the India Myanmar Bridge. We deposited our documents, Indian currencies etc. at the Myanmar Immigration office to be taken again after the tour. After a second check-in at Tamu, we set out for Kalewa at 4 pm. We were accompanied by Mr. Harpal Singh Mit Wye (English Interpreter), U-Tun-Myn (Myanmarese Interpreter) U-Ngu-Chu (Asst Immigration Officer) during the journey. The distance from Tamu to Mandalay is 435 miles.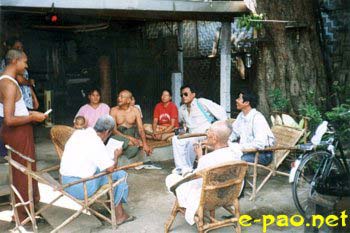 An interaction moment with the Manipuris at PYI KAW BAZAR, Mandalay.
Photo Courtesy: RK SHIVA.
With motor cycle pilot blasting siren and a security vehicle in front, we proceeded on the clean and beautiful Kalewa Road. The roads were beautifully maintained. After passing through lines of wooden electric poles and Molcham Ranges of Manipur, we approached Khampat. The houses in that Myanmar village looked just like the bamboo houses in our Manipur hills. The Immigration officer told us that the people residing in that area are Thadou. We proceeded for the next lap of our journey after security change at Khampat. At 6 pm we reached 'Shikhanji' and got a 15-minutes tea break. By then, it was already dark and we proceeded for Kalewa in the darkness. After snaking through Yid-Da-Nipo Lake, To-Ji-Nao hills and Swui-Meh-Dao hill ranges, and traveling a distance of 94 miles from Tamu, we reached Kalewa at 7:45 pm. On the way, we crossed numerous small bridges that were constructed during the Second World War. At Kalewa, we stayed at two hotels for the night.
Kalewa is a small town in Saigang division. In the morning we met Taw-Thi-Thi, a school teacher in Kalewa. He pointed out the Manipur River and the Chin Win (Ningthi) river to us. Kalewa is the place where the Manipur River and the Chin Win River meets. On the way, we visited the Swe-mokeh-taw monastry. We could not visit Taw-Thi's place, as we had to go to Monywa at 8 am. Taw-Thi was very polite and even insisted on paying for our breakfast, which we promptly refused.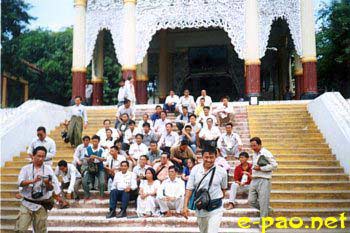 The Manipuri Tourist Contingent at the bottom of the SATUAG PYAI PAGODA HILL, Mandalay.
Photo Courtesy: RK SHIVA.
Morning of 13 October 2001.Time was 8 am: We reached the port at Kalewa and started for Monywa, an 11 hours' journey covering a distance of 147 nautical miles towards south east, on Myanmar Golden River Group's ship 77 MGRG. The Chin Win (Ningthi) is a big river. It is the lifeline of the Myanmarese, connecting the upper and the lower Myanmar. Transportation of essential commodities like rice, oil, clothes etc. are done on this route extending up to Yangon. Bigger towns like Myng-Yin, Kyn, Kaney etc. lie on the right bank of the river, along with numerous smaller villages in between. Meities inhabit in these villages. Thatched houses in these villages are just like the one found in the hills of Manipur. After a break of thirty minutes for lunch at "Ten-dow", we started our journey at 11:30 am. We saw numerous Pagodas on both sides of the river along route and passed many ships laden with goods. We did not see any bridge along the route but saw some pillars of bridge under construction, which will be completed within next 5/6 months. After passing Kaney, the place of copper mines, no more hills could be seen. At around 4 in the evening we reached Monywa.
Tan-Lai-Lee, the Assistant Director of the general administrative department and other army personnel received us at Monywa port. We were allowed to go first before others at the port and set off straight for Mandalay. Monywa has the look of a big city, its clean streets lined with big trees at appropriate locations. We passed Chang-Wu, Myn-Mu, Wa-Mit-Ye, Inwa, Chegain, Amarpura and crossed the bridge at Irawadi River. Mandalay Division starts just after crossing the bridge. At 8 pm we reached Mandalay city and stayed at Sabaiphyo Hotel for the night.
Just before starting our Mandalay tour on the 14 October morning, we visited Paona Zoo where the Meiteis settled. There we met 93 years old Shri Prabhu Dayanand Sharma, Superintendent Electricity Board (retd.) and had a few minutes chat. He got very emotional and wept with joy on seeing us. According to him, Meities settled in four areas in Mandalay with a total population of around six thousand. A few of them have turned Burmese (Myanmarese). Most of them speak Manipuri but with slight accent. There, Meitie lon is known as Bamon lon. There are 16 Krishna Mandirs. At home, they converse in Manipuri. Quickly we went to another Bamon Leikai and met Shri Madan Gopal Sharma, an astrologist. At around 8:15 am, we left Bamon Leikai (Paona Zoo) for sightseeing of Mandalay city.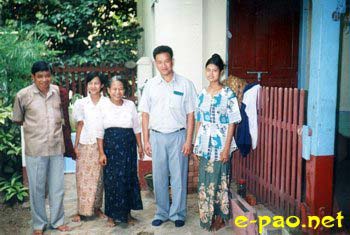 With a Myanmar Manipuri family.
Photo Courtesy: RK SHIVA.
Deputy Commissioner of Mandalay escorted us for the day's Mandalay city tour. First of all, we visited the famous Mahamuni Pagoda, which was built around 2500 years back. Next we visited the Mandalay Hills. The hill is about 950 feet high. There are four huge golden idols of Lord Buddha at the end of the steps leading to the top of the hill. After that, we visited the Mandalay Palace. In the afternoon, we were given the time for shopping. Mandalay streets are straight and clean, the buildings are multi-storied not less than four storeys. In Mandalay women tend shops and have similar foods.
Next day on the 15 October, few of the tourists went to Irawadi River on a vehicle provided by a Meitie resident and offered "Tarpan" in remembrance of the "Seven Years Devastation" (Chahi Taret Khun-takpa) and to those unknown heroes of the Khongjom War.
We visited Paona Zoo again and had an interaction with the Meities settled there at "Jaganath Mandir" of Shri Ramnaran Sharma. Shri Dwijamani Sharma, a lawyer showed us Sanskrit books which no one there could read except for Shri Dwarikanath Sharma, who performed the "Tarpan" at the Irawadi River earlier that day. They offered us breakfast at the end of the interaction.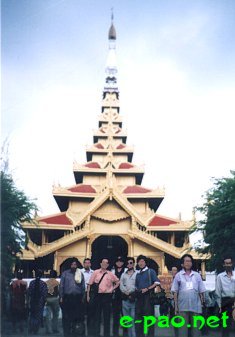 Manipuri Tourists in front of the Myanmar Royal Palace.
Photo Courtesy: RK SHIVA.
Residents of different "Leikais" wanted us to visit them and we managed to visit two "Leikais" at the most. Many of them even came to the Hotel where we stayed and invited us to have lunch with them but we could not make it in the limited time we had. According to Dwijamani, many meiteis of varied professions like doctors, engineers, lawyers, teachers' etc. are working in Mandalay, while others run business. On the way back, we were shown the Koumudo Pagoda where Maharaj Gambhir Singh left his sword marks, by another meitei resident at Chegai Bridge. At 1:15 pm, we left the Pagoda and proceeded for Monywa. We reached Monywa at 6:30 pm and lodged at Happy Guest House for the night.
In the early morning of 16 October, we set off for the port of Monywa. We started our 11 hours' journey (against the stream) in the Chindwin River with the administrative officer of the Monywa town escorting us and reached Kalewa in the evening at 5 pm. With the security personnel already waiting at Kalewa, we set off for Kalemeyo as darkness crept in. Kalemeyo is about 24 miles from Kalewa. We stayed at Kennedy Hotel in Kalemeyo


Morning of 17 October, we traveled around Kalemeyo for sightseeing. Literally, Kalemeyo means the place surrounded by hills on four sides. Along the road, we saw the big statue of general Mahabdullah. First, we visited Kale College, Kalemeyo and then 'Tahan' where the meiteis settled, hoping to enquire about them, but all of them have turned Burmese. We then visited the railway station and the airport. Kalemeyo is the biggest and the nearest town in Myanmar from Manipur. So, most of the people there know some Manipuri. After having lunch, we left Kalemeyo for Tamu at 1 pm. We reached Tamu at 5 pm and stayed at Kao Hotel for the night.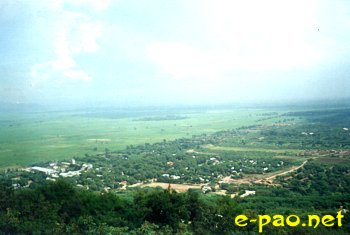 Birdís Eye View from the Hill Top of the SUTUANG PYAI PAGODA .
Photo Courtesy: RK SHIVA.
Next day, the morning of 18 October at 8 am, we went to the Immigration office at Tamu to retrieve the documents and other belongings that we left and started for Moreh. At 12 am we left Moreh for Imphal that day.
The Mandalay expedition was a very pleasant one. We feel at home while traveling in the South East Asian countries considering their familiar habitat, warm and cordial reception to guests, and more over the similar physique. Their way of simple thinking, natural beauties and their honesty impel us to revisit the place again.
To view all the images of the tour, captured through the lens of R.K Shiva, one of the person who was in the Tour, click here
---
Footnote: All Myanmarese(Burmese) name are translated from Manipuri, so the English characters may not be correct; E-Pao.net regrets any such mis-spelling of names.
* Comments posted by users in this discussion thread and other parts of this site are opinions of the individuals posting them (whose user ID is displayed alongside) and not the views of e-pao.net. We strongly recommend that users exercise responsibility, sensitivity and caution over language while writing your opinions which will be seen and read by other users. Please read a complete Guideline on using comments on this website.