Home! Sweet Home!


By: Ringo Pebam *



Saw the world in green and blue, saw the bird with a leaf in her mouth…

Home ward bound - rush of blood in your veins as you know you are nearing home. You take a round trip journey in your head - the smell of the earth and the green trees as the bus slowly climbs the hills of Nagaland. The taste of eromba in hotels at Mao. Speedy bus speeding up with green fields on both sides of the highway, and blue hills on the backdrop, as you cross Sekmai.

Eager wait to look out of the window of the airplane as you know you are flying above Manipur. View of the roof of the houses and the soft green carpet like fields below.





10th May, I touched down Imphal with suitcase full of hopes and dreams of - many who are far away from home and many non-Manipuris who have never seen Manipur.

It was a beautiful day, beautiful day.

Mid pleasures and palaces though we may roam,
Be it ever so humble, there's no place like home;
- John Howard Payne, 1852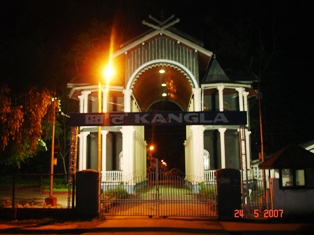 Scene 1:

As the last date of form submission approaches for the "IT Talent Search", a guy walks up to our counter dressed in tatters and a cap with his face covered just so that his eyes are revealed. He was so different from the students who came along to pick up the registration forms and he definitely didn't look like those who rode CBZ (possibly high on tablet). We were pleasantly surprised to discover that he is one of state's unemployed graduate who has taken up rickshaw driving for his livelihood. He is one amongst the thousands who toils the heat and the rain in Imphal, despite better qualifications with their faces covered, to avoid recognition by friends and relatives.





Scene 2:

Mastec - Khuman Lampak. High school girls in phanek, a thing that wasn't there during our days. A stall by students from St Joshep's School stood out. Mere students of class X, were making Logic Gates to make a 4-bit RAM.





Scene 3:

A slow drive down Paona Bazar, taking glances at the familiar shops and movie theaters. As I neared Students' Store, like King Kong descended down to Imphal, there stood the much talked about flyover - the Bir Tikendrajit Flyover. The locals seem to be enjoying the new landmark using it as a hang out as vehicles are still not allowed to ply on it. The bridge is still not opened to public pending an inauguration.





Scene 4:

Nostalgic scene it was to see Kangjeibung, Kangla Gate, GM Hall, Imphal Talkies, Asha/Jina Cinema Halls… Sadly the Asha/Jina Cinema where we got introduced to Star Wars, Aliens, Operation Daybreak, Platoon, Police Story, Die Hard ver 1.0 does not run movies anymore.





Scene 5:

A Meeting with a practicing Lawyer and a Director at the Assembly Secretariat - Sando Laishram and Tiken Akoijam respectively.

Known as "Runway Tracks" (Sando, Tiken, Subuu, Sumo) they pioneered "hard rock" music in Manipur from mid 70's to early 80's playing Grand Funk Railroad, Santana, Deep Purple, Davis Crosby, CCR.. at GM Hall, JN Dance Academy, 1st MR Club, Circuit House, MDU, Assam Rifles's Winter Ball… They still remember CCpur's Humming Bird, Blue Star and Family Dog and Imphal's Magnetos who were much senior to them, but were into Rock N Roll and Pop.





Scene 6:

20th May, about 500 students from almost all the districts of Manipur turned up for Linux Manipur's "IT Talent Search". Technical Quiz, Seminars, Video Clips, Prize Distribution in the packed DBS Hall had the students yearning for more. As I stood there in that very hall, my own memories of the first computer classes in 1987 in that same hall (class IV it was) came rushing into my mind. What a great feeling it was to have flames of hopes and dreams ignited in the budding minds of those who gathered there on that day.





Scene 7:

Got a chance to witness a concert in Imphal after 6 long years. It was "Candle Rock" on 22nd May at Boat. Glory days of Cannibals, Dark Crusaders, Post Mark, Phoenix/Phynyx etc are gone, but the die-hards are still reviving it. Positive Brothers Band, X-Cannibals, Recycle and Uttam played that night. The spirit of the legendary drummer Momocha to keep the flame alive is something to be reckoned.







My Homeland


I was eight years old and running with a rupee in my hand,
Into the bus stop to pick up a paper for my old man,
I'd stand on his scooter driving down Imphal and steer as we drove,
He'd tousle my hair and say son take a good look around this is your homeland,
This is your homeland
This is your homeland
This is your homeland

20 years have gone by and things haven't improved but deteriorated to the core.
Less electricity, no pay of Govt employees for months... were things unheard of,
Poor habitants of distant hills still live with hardship.
People still live in the cross fire of bullets from Kalashnikov, in my homeland
My homeland
My homeland
My homeland

Last night Sanjeev Thingnam and me were on the phone talking about,
People longing to leave home, and people not willing to return back.
"Have we betrayed the place that made us what we are today?", we asked.
Many think of returning to make a change but the system there is all rotten they say
Our homeland
Our homeland
Our homeland

Last month, I went home, I sat my daddy up behind the wheel and as we drove,
He still said, son take a good look around, this is your homeland
He still said, son take a good look around, you gotta come back here
He still said, son take a good look around, she needs your help
This is your homeland
This is your homeland
This is your homeland

"My Homeland" was inspired by childhood memories, Tamo Swasti's "Echel" , many late night talks with my high school chum Sanjeev Thingnam(Delhi) and Bruce Springsteen's "My Hometown".



---
Ringo Pebam, a software Engineer in Bangalore and GNU/LINUX enthusiast, writes regularly to e-pao.net . He can be contacted at ringo_pebam(at)yahoo(dot)com . This article was webcasted on July 03, 2007.

* Comments posted by users in this discussion thread and other parts of this site are opinions of the individuals posting them (whose user ID is displayed alongside) and not the views of e-pao.net. We strongly recommend that users exercise responsibility, sensitivity and caution over language while writing your opinions which will be seen and read by other users. Please read a complete Guideline on using comments on this website.