History as crime
Seram Rojesh *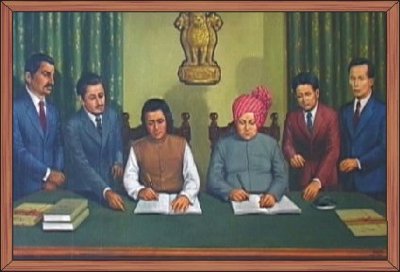 The Shillong Accord 1949.
Warning: These images CANNOT be reproduced in any form or size without written permission from the RKCS Gallery


Politically, speaking history became a crime in Western South East Asia (WSEA). It seems like - you don't speak history, learn history and teach history. You learn only south Asian history and are forced to teach history of south Asia in WSEA. A South Asian conceives that people in WSEA are "historyless people" and considers the region as "geo politics" purposes.

Interestingly, some established historians and academicians in WSEA speak history according to the face of the audience. Some historians and many scholars speak 1949, an important historical landmark of taking over a country by a country created by a an administration - India, of a WSEA- Manipur according to the political and economic interest and time and space.

How Manipur became part of "Union of India"? It was a historical fact that with an act of 'annexation', Manipur was became a part of Indian administration. What should be called a historical event whether it was a "merger" or "annexation" should not be a subject of the prerogative of the willingness and opposition of the historian/scholars or an individual's imagination to the country - the center of historical controversy- India ? History should be kept as a fact and should not be decided on the basis of the interest of the writers. Yes, history writing is a political act and equally deconstructing history is also not free from politics.

A prominent historian, E.H. Carr once said, to know the text of the history, it was more important to know who writes history. A history is an interpretation of a historian.

History becoming a crime

You enjoy history and celebrate it by counting 500, 1000, and 2000 and so on. History counting starts when India claims 5000 years of history, for Chinese - 10000 years for humanity 100 million years ago etc. The politics of counting years started since a country tries to define and starts scaling the civilization of the people. In Manipur also, it claims more than 2000 years of written history. It enjoys history. It tried to recollect nearly 400 years of war between the eastern neighboring countries- Burma. One of the Princess, Herachandra and his guerrilla rebel forces and their heroic insurgency against the Burmese became a landmark historical event. 65 years later, Manipur became part of the British Paramountcy.

Now, Indian State - government of Manipur celebrates 13th August as " Bir Tikendrajit day" and 23rd May as Khongjom War and even declared them as State holidays. Even though, it has failed to celebrate the collective struggle of the people and it has been mostly concentrating on one or two leaders, as it sounds quite problematic, till 1949, people and State enjoyed history, celebrated history. After 1949, 'annexation' of Manipur, history became a crime when someone interpreted 1949 as "annexation" with all historical accounts.

Parry Anderson mentions in his latest book - The Indian Ideology (2012), " the king of Manipur was kidnapped" and forced to sign the paper drafted by the Indian officials. The Iron Man of India - the Home Minister of India (1949) - Mr. Sardar Vallabhbhai Patel set the tone with only a sentence - " Is there no brigadier in Shillong ?" He was lying on a bed in a hospital, did not lose his sense of responsibility of State expansion by bringing most of the British colonial subjects of the princely States under Dominion of India (DOI).

DOI felt that the Instrument of Accession and the Stand Still Agreement was not enough to impose Indian State sovereign power into those countries that had treaty alliance with India like Manipur. Hyderabad, Junagadh, Manipur and Kashmir were in very typical conditions. Military action were carried out in Hyderabad and Junagadh and forced to be part of India. In the case of Junagadh, the King was a Muslim and the majority of the people were Hindus. Junagadh King already signed his State to be a part of Pakistan. Indian State attacked Junagarh and kept it under Indian control. Later a referendum was conducted on 21st February 1948 and in the referendum, out of 201457 registered voters, 190870 voted for India only 91 voted in favor of accession to Pakistan. Hence Junagadh became a part of Gujarat now in India. In the case of Manipur, the constituent head of the State was put for three days under 'detention' and Manipur was taken over by Indian State. VP Menon in his book - Integration of Indian States mentioned that for " strategic region" Manipur was "taken over".

In case of Kashmir, recent literatures indicated the suspicion on the actuality of the agreement between the King and DOI in 1947. The promise to conduct plebiscite to resolve Kashmir was never done. In Nagaland, Naga People stood for an independent Naga State, boycotted Indian election in 1952 and subsequently military action was conducted under the orders of Nehru. Military commanders always do not essentially to be a military commander of the armed forces. Gramsci says that civilian face can also be a military actors and it does not mean the military personnel only.

The first Indian military battalion was stationed at Kangla to execute the annexation of Manipur some days before 15 October 1949. The Manipur Assembly (may be read as Manipur Parliament) and the Manipur Government was dissolved.

Hijam Irabot led armed rebellion continued; it was started during the 1948 till his death. He did not give up the armed struggle and continued for an independent Manipur. If he did not wish to continue, he would have come back from Burma and would have lived and joined politics in Manipur. But he chose to continue revolution against the Indian State and he passed away in 1951 in Burma in the Jungle. Rajendra Kshetri clearly mentioned that Hijam Irabot stood Manipur for an "independent, socialist, republic country" in his book The Meetei Nationalism (2006).

Some political organizations came up in late 1950s, early 1960s and subsequently some insurgents' organizations in 1980s onwards started questioning the "1949 Merger agreement" and subsequently it became a public discourse in 1990s. In 1993 - The National Convention held at GM Hall participated and presented papers by many prominent lawyers, scholars concluded that it was " null and void" and it had no any " legal validity". How 1949 became an act of annexation ? One can answer -

Even though, the Manipur Congress Party, which was not a unit of Indian National Congress at that time, demanded Manipur be part of Indian domination after they could not form a Congress led Government, they were in the Opposition in the Government. The ruling party in the Government did not pass any resolution that Manipur had to be part of India.

The king of the Manipur was the constitutional head even he had hegemonic power over politic in Manipur. In many kingdoms around the world, most kings did not surrender his power by will but only by force of the people. In China it was because of the bloodshed it could happen. Recently, the monarchy of Nepal was forced by Nepalese Maoist to end monarchy in the country. In the case of Manipur, by history, the monarchy had agreed that his power of governance be handed over to the "people". He had no sovereign power even though he had signed 1949 paper by his will by considering his economic interest of " private purse".

There has been no referendum by relevant Government to decide what people wanted as it was done in Junagadh now in Gujarat. After Germany annexed Austria, a referendum was conducted and majority of the people in Austria finally gave their consent to be part of Germany and it became part of Germany. It is a normal procedure of how two countries joined hands and formed a country by the will of the two separate countries not by one powerful country deciding to take over the one for her strategic interest. The thirteen colonies in American sub continent, declared independence and formed United States of America (USA) by will of the States. Even in a union of two individuals -husband and wife, one cannot be raped first and get married. It is considered a crime.

Manipur was a country before British administration and after is a historical fact. There was Bharat and British colonial administration made India through colonization in the subcontinent and became a country by forming Dominion of India (DOI). If the British colonial administration was a final point than there would not have been September 21st 1949 and 15th October 1949. The historical fact here is, no formal accepted procedures were undertaken between DOI and Manipur similarly in Hyderabad and Nagaland as it was done in Junagadh.

The statement made by Sadar Vallabhai Patel, the Home Minister of DOI which was not elected but appointed stated that, " Is there no any brigadier in Shillong ? ", clearly indicated that the King Budhachandra Singh should be forced and attacked by the Indian Army to sign the paper. It was not simply a statement but an order to use army to execute the order and implement the policy of the DOI of a party - Indian National Congress to his subordinate officers stationed at Shillong.

Mr. Anandamohan, Personal Assistant (PA) of Budhachandra Singh, the constitutional monarch of Manipur narrated in his book about how they were kept under military control and forced to sign after three days of house arrest from 18th September to 21st September 1949. No Indian historians/scholars negated these testimonies so far till date.

Thus, one can explain many reasons that 1949 was an act of annexation by the historical evidence. Interestingly, the discourse of " annexation" or " Merger" has been a discourse beyond academics but have been a conflicting political discourses, "India and Manipur". The history of 1949 became a little in the public discourse with the initiatives by the political actors of Manipur after 1990s. Many public debates and discussions, symposiums on the topic were organized in many clubs, schools, colleges, in University and areas in the State. Since, the question of whether 1949 was a ' Merger" or "annexation" came from the radical political discourse of Manipur, it seems like anyone who classified 1949 as annexation are generally considered or called " anti -India" or "people against India" and those people who classified it as "merger" as " Pro- India".

It was quite natural for those scholars and historians who survived on government salary or projects are classifying it as merger because of the political economy of their sustenance and existence and also for those confused scholars/ historians who had little knowledge of the literatures around the world. The interesting here is history is defined by the political and economic interest of the scholars/historians not by the historical facts and evidence of the historical events. Here, history is not only about the interpretation of the historian as E.H.Carr understood, rather history is the political and economic interest of the historian/scholars.

One argues here, by identifying a historical event, as an annexation does not amount to say that they wanted certain political aspirations of the people rather by saying a merger as they accepted everything the everyday life they are going through. It is simply trying to say that one should be able to say what is what on the basis of the historical evidence. A scholar, a police, a doctor, a minister, an activists or anyone who respect history or understand history may say it was an annexation, not merger. History should not be interpreted on the basis of the economic interest and social status of a person, which is now happening in Manipur and also in Indian sub continent by subjugating historical facts.

Interestingly, it has not been only on the events of 1949 but history has been treated as non-existence. A very well known literate in Manipur and toppers in history does not know her own history. They don't concern and even know what is kangla, who built it, what is Ukhrul but the same person will know who made Tajmahal , Tanseen in Gwalior the story of Akbar The Great. In Manipur, people are not taught her history, economy, geography and it destroys the self-confidence of the people and in the process, it has produced a human species with full of inferior to the others. Here, self is lost and others are iconized and made great. After 1949, you became a history less people and history is treated as a big crime that is why you are not taught history and people have fear to speak history.

Since history has been treated as a "crime", one wants to avoid from the crime that is history. That is why who speaks 1949 as an annexation are amounts to be charged as a criminal who can be arrested in the name of protecting nationalism. Now, in the 21st century, one should not scare and hide from these politics of history. The time has come to break the kind of culture that treats history as crime.


---
* Seram Rojesh wrote this article for e-pao.net
The writer is a PhD Candidate Delhi School of Economics, Department of Sociology, University of Delhi and can be contacted at 2020manipur(at)gmail(dot)com
This article was posted on February 01 , 2014.
---
* Comments posted by users in this discussion thread and other parts of this site are opinions of the individuals posting them (whose user ID is displayed alongside) and not the views of e-pao.net. We strongly recommend that users exercise responsibility, sensitivity and caution over language while writing your opinions which will be seen and read by other users. Please read a complete Guideline on using comments on this website.