'Hallyu', the Korean Wave and its Manipur Scene
Thoinu Naorem & Dr AK Singh *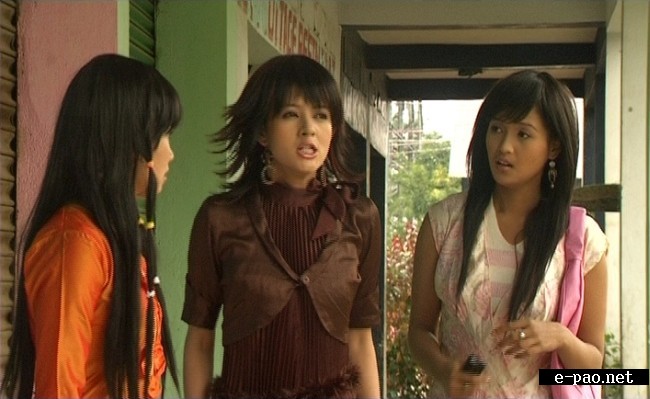 A Scene from Manipuri Film "Loibatare ta Raju"


There was a story about Charlie Chaplin. Once, he took part in a competition of Charlie Chaplin-look-alikes imitating him and he himself came out third in position. Charlie Chaplin is no more. May his soul rest in peace. But, that story of his reminds of a new world phenomenon. What would be the outcome if we put a real Korean among Korean-style loving young Manipuris vying for top spot in a Korean aping competition? I am not sure which place that fellow will come out at. But, that surely would be a real tough competition keeping in mind how, these days, many young Manipuris are adopting Korean style big time. This is not confined to Manipuris alone though.

On a bigger perspective, throughout the world, recent past stands witness to some interesting cultural movements. One among them was the hippie culture in the west that led to significant musical influences in the 60's and the 70's. Another interesting movement was the one Bruce Lee single handedly commandeered into the United States and beyond. His portrayals of an Asiatic look with masculine violent superiority over the soft western-looking villains were more than just movie celluloid hits. It was a catalyst to the introduction of Kung Fu and Asian culture and their growth in Hollywood, the US and the world over. Now, some decades down the line, many more interactions were set to follow suit. 'Hallyu', or the Korean wave is one of them.

'Hallyu' is a term coined by Chinese journalists for the Korean wave, South Korea to be specific. 'Hallyu' started towards the end of last millennium while the world was taken by unstoppable storm of rising China with cheaper Chinese goods in the global markets and flavour of Indian curry and Patel motels in the west. It was an unexpected yet formidable wave of another Asian cultural impact that was silently brewing in the most unexpected of places of living rooms with TV sets to grow strong, strong enough to make its presence felt and strong enough to make many powerful world leaders literally dance to its tunes. It has farther reaching economic and politico-social significance than many could anticipate.

'Hallyu' began through the export of South Korean TV dramas, movies, popular music and Korean games to China and South East Asian countries. It first spread to China, Japan, Hong Kong and South East Asian countries. Later, it spread to many other parts of the world including the Americas, Middle-East countries and India. In the case of Manipur, I believe, it arrived around the time it reached China and South-East Asian countries thanks to their proximity.

A little more than a decade down the line, adoption of many things Korean is en vogue in many parts of the world; be it their fashion statement, cosmetics, body language, made in Korea products like motor cars, mobile phones and other electronic products, K-pop music, Korean dramas and movies or few popular common phrases of Korean language that many youths exchange in playful glee or the Korean language itself as a whole. Many people in different parts of the world are already happily dancing to the newfound K-pop tunes most fittingly exemplified by PSY with his Gangnam style song and horse-riding dance moves.

While many in host societies readily embrace 'Hallyu', some sections of those societies stand strongly against it leading to controversies. For instance, in Japan it led to 'anti-Hallyu' demonstrations and campaigns. Nevertheless, the Korean wave still occupies a special place among the Japanese people. In the US, 'Hallyu' was once described as a cultural tsunami. But, Hollywood stands testimony to the persisting Korean influence. In China, it is said that in the earlier period the state-controlled media tried to control 'Hallyu' but later strategised instead to incorporate Korean style of dramas and movie-making techniques into their existing set-up to improve their own revenue instead. A strong sense of nationalism is said to have played its role in those 'anti-Hallyu' campaigns.

South Korea gains out of 'Hallyu' economically and in political and social standing. South Korean government has utilised this wave to sell their Korean movies, dramas and other cultural products. This stands as a well taken huge multinational-multibillion-dollars business opportunity. The Korean movie DVD's on sale in Moreh market, the streaming Arirang dramas on TV, Korean fashion statements in the streets and Korean made refrigerators in a house air conditioned with Korean AC's are clear manifestations of 'Hallyu'.

The latest breakthrough of 'Hallyu' was when many world leaders happily did the horse riding dance moves of 'Opa Gangnam Style' song which was praised by many as pro world peace. That projected South Korea as pro world peace nation. President Barack Obama did it. The British prime Minister also did it. Many followed suit. This particular Korean song and dance move by PSY went on to break one record after another to become the first album in the history of the internet to be viewed more than a billion times and is still counting. This is not a usual feat but tells of coming of age of the Korean wave and the Koreans stand to gain economically, in global social standing and in political bargaining at least.

Quite understandably, the South Korean government is playing an active role in promoting 'Hallyu'. The Ministry of Culture and Tourism established 'Korean Language and National Culture Division' in January 2005 and developed the 'Han Brand' strategy for international promotion of Korean language, Korean studies, Korean clothes, Korean foods, Korean Housing and Korean paper.

From a Manipuri perspective, the South Korean government has extended its hand of friendship to the Manipuris too. In a significant move, the South Korean Government presented our well-deserving Iche Irom Chanu Sharmila (the 'Iron Lady' of Manipur), a highly prestigious human rights award called 'Gwangju' in recognition of her more-than-a-decade long non-violent struggle against the inhumane act called AFSPA (Armed Forces Special Powers Act, 1958) and human rights violations in Manipur. This recognition should be considered an important landmark in the relationship between South Korea and India at large and Manipur in particular. The often-mentioned Korean language learning centre in Manipur University is another aspect which should help the bond strengthen and further the 'Hallyu' wave in Manipur.

Interestingly, in Manipur, some decades ago, before armed groups banned Bollywood and everything Hindi in the state, Bollywood culture was a trend. There was a strong Hollywood and Kung-Fu influence too. It was a common sight to see young girls dressed in colourful saris doing some Madhuri Dixit dance moves at social dos. Perhaps, at a height of absurdity, when a Hindi movie called 'Saajan' became a huge hit, a young man got himself dressed up exactly like Sanjay Dutt in the movie, got his hairline shaved off to make it look like the star's receding hairline and walked the street with a stick just like the star did in the movie. This absurdity could only be matched by the other young man who wore a red headband over a long wick complete with torn jeans and aviator glasses mimicking Axl Rose when 'Guns and Roses' was a craze in Manipur. All through, there was a huge Bruce Lee fans following too. With black Lee shoes with super-hard white soles, many young boys and girls took up martial arts of their choice - Kung Fu, Karate, Judo or Taekwondo. Perhaps, the present generation is reaping the fruits of such sporting indulgence.

Then there came the ban on Bollywood and Hindi and 'Hallyu' took its place. The timing was more than a mere coincidence. One look at how Manipuri youths, these days, dress themselves up - be it the type of clothes they wear or the way they style or colour their hairs or choose rather to leave them deliberately unkempt or spiked in a very fashionable way or their taste of 'Kimchi' tells a lot about how deeply rooted the Korean wave has already been.

Another striking feature is the way some Manipuri youths greet each other in popular common Korean phrases. Or how else can we explain the famous scene in the Manipuri film called 'Mami Sami' in which Binita, the actress, looked strikingly Korean. Perhaps, the physical similarities between the Koreans and the Manipuris make the mimicking game a lot easier and playful. There can, nonetheless, be more reasons than the mere physical similarities for why 'Hallyu' has been so strong in Manipur.

There are multiple reasons why 'Hallyu' is such a big hit in Manipur. First of all, it is the border town called Moreh providing all the basic necessities of 'Hallyu' - complete with Korean movie DVD's, cosmetics, clothes and electronic items. Secondly, it is the physical and cultural similarities between the two peoples - the Koreans and the Manipuris. Their movie stars usually look cute and clean. Thirdly, it is the themes of Korean dramas and movies often based on Confucian values of love, brotherhood and friendship instead of violence and sci fi. Fourthly, culture itself is a dynamic entity and Korean cultural advancement and development provide Manipuri youths something to emulate. Lastly, it is the easy availability of Korean channels broadcasting one after another of their popular shows helping 'Hallyu' take its roots in Manipur.

Some of the Korean male actors look quite feminine. Though they go well with female viewers, they find some hiccups with male audience. Then, there sprung up a breed of Manipuri youths who dress and style themselves as feminine as their stars in the idiot's box. The result is a class of young Manipuris who dress up like Koreans, talk like Koreans, eat like Koreans and look like Koreans but just not Koreans. There, of course, is still a persisting class of people in Manipur who do not like being so metrosexual and feminine like those stars though.

Many in different parts of the world question whether 'Hallyu' is a planned cultural invasion of South Korea. There have been varying opinions on this. In Manipur, 'Hallyu' has been embraced by the different ethnic groups equally. This makes it a unifier of sort. With Hallyu, the ethnic differences get evened out. 'Hallyu' is a meeting point of all ethnic groups with its dramas, movies, fashion statements and common phrases for instance. All sections of the people of different ethnic groups can well relate to 'Hallyu'. Again, till date, 'Hallyu' often is more of a youthful adventure rather than a mature firm cultural adoption threatening the foundation of our culture.

Finally, it may well deserve reiteration that with time, waves of cultural impacts are bound to come and go time and again. This time around, it happens to be 'Hallyu'. 'Hallyu' was not the first time and will not be the last time of such an interaction. It is not possible to avoid them as culture itself is a dynamic entity. Even the Korean culture itself as perceived in 'Hallyu' is a hybridised culture of west and Korean modern culture. Therefore, it lies to a great extent upon us what comes out of such an interaction. It depends on how we handle them and how we respond to them.


---
* Thoinu Naorem & Dr AK Singh wrote this article for The Sangai Express
This article was webcasted on January 03 2013.
---
* Comments posted by users in this discussion thread and other parts of this site are opinions of the individuals posting them (whose user ID is displayed alongside) and not the views of e-pao.net. We strongly recommend that users exercise responsibility, sensitivity and caution over language while writing your opinions which will be seen and read by other users. Please read a complete Guideline on using comments on this website.