E-Pao! Science Quiz 2002


Science Meet 2002
Atom Samarendra
E-Pao Imphal Special Representative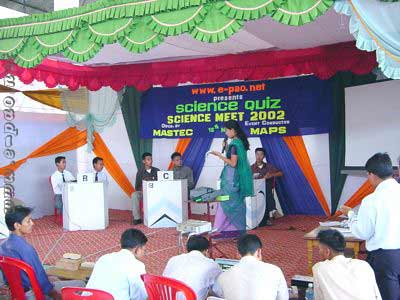 It was evident that scientific temperament persists among the school and college students who thronged the Kangshang, Khuman Lampak during the recently concluded five days Science Meet-2002. The meet held during May 11-15, was organized by Manipur Science and Technology Council (MASTEC) in connection with the National Technology Day and National Science day 2002. Four leading science NGOs of Manipur namely Manipur Association for Science and Society (MASS), Manipur Promotion of Science (MAPS) and Science Teachers' Forum (STF) and Manipur Science Communicators' Association (MASCA) in coordination with several firms (www.e-pao.net was among the sponsors) as sponsors contributed their efforts for the successful holding of the meet. Chief Minister O Ibobi lighted the inaugural lamp of the five day meet on May 11.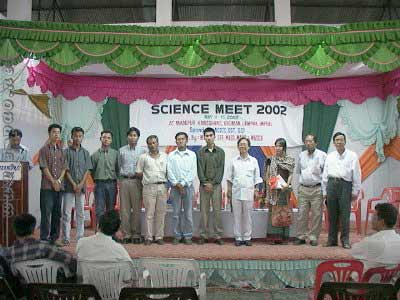 During the five-day meet competitions - Science Quiz, Declamation contest, Painting Competition, Science Model contest besides from organizing various science activities like Popular Science Gallery & Model exhibition, Science behind miracle show, puppet show, book exhibition, scientific poster exhibition, IT shows, face to face talk with distinguished scientist, scientific film shows etc… were held. Hundreds of students from different school and colleges witnessed the programmes and participated in the competitions.

www.e-pao.net-sponsored Science Quiz held on the concluding day of the meet, was the one of the event which drew the attention of students and visitors most. Four teams out of fifteen were singled out for the final through a written preliminary. Altogether, there were ten rounds including audio and visual. As the name suggests, all questions centered on science and technology with two rounds on Information Technology (IT). The teams, which participated in the final, were DM College of Science (A&B), Imphal College, and Harvard School. Audience were also given chance to participate in the event by throwing questions among themselves and awarded small gift who answer correctly. All the four teams did well during the whole contest but two of them had a bad luck during the rapid fire round. After the completion of ten rounds the scorer announced the final results in which Kenish Ninghthoujam and Ph Surchandra representing DM College of Science (B) becomes the proud winner of www.e-pao.net Science Quiz 2002. The winning team had gone richer by Rs 3000. A sum of Rs 2000 and 1,500 respectively were given to the second and third position holders. A consolation prize of Rs 500 was also given. The cash prizes were earlier handed over to the organizers by Ms. Ranjana Manoharmayum, member of Imphal E-Pao team.

Prize distribution function for the five day science meet was held on the concluding day with Science and Technology Minister, S Natum, Dr T Meinya, MLA, and Prof H Tombi gracing as chief guest, president and guest of honor respectively.
A letter of Appreciation from MASTEC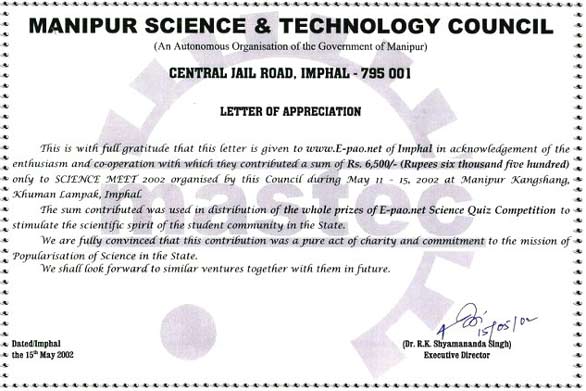 Related Links
MASTEC Science Meet 2002
State science meet ends
Pictures from Science Meet 2002
* Comments posted by users in this discussion thread and other parts of this site are opinions of the individuals posting them (whose user ID is displayed alongside) and not the views of e-pao.net. We strongly recommend that users exercise responsibility, sensitivity and caution over language while writing your opinions which will be seen and read by other users. Please read a complete Guideline on using comments on this website.