The plight of education in Manipur
Reimeingam Marchang *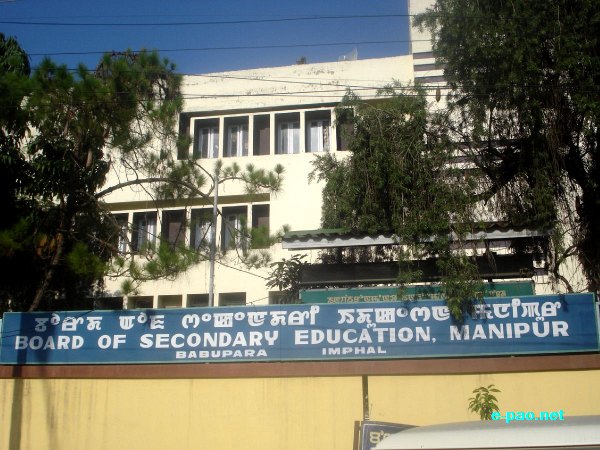 Board of Secondary Education, Manipur (BSEM) building in 2011


Education is a means for knowledge and skill development, job, prosperity and welfare of the people. Investment on and development of it enhances economic growth, income and living standards. In the brighter side, the educational status of Manipur, despite of the various odds of poverty, social conflicts, economic underdevelopment, political issues and differences has remarkably developed.

As per Census of India 2011, Manipur is ahead in terms of literacy rate (7+ years of age) with 80 percent than the country with 74 percent. Females are still behind the males in terms of educational attainment in the state as in the country. A same situation is prevalent in both rural and urban areas. As expected literacy rates are higher in urban areas than rural areas due to better educational infrastructure and higher aspiration in urban areas.

In Manipur, majority of the literates (7+ years of age) with 59 percent have studied up to below secondary and the rest 41 percent are educated who have completed secondary and above education. Only 12 percent of the literates were graduates and above in the state that means there is one person in every ten persons (7+ years) who have studied graduation and above level of education.

Improvement of literacy rates are determined by increase of motivation and expectation of parents, reduction of poverty, improved of income, increase of government educational schemes and increase of school enrolment among other reasons. According to Ministry of Human Resource Development (MHRD) the gross enrolment ratio of school education (class I-XII) was 102 percent during 2004-05 which has marginally decline to 95 percent during 2011-12 in Manipur.

However, it remains higher for the state for example by 10 percentage points than the country's ratio during the latter period. The ratio for higher education has substantially increased from 13 percent during 2004-05 to 30 percent during 2012-13 for Manipur. Higher educational enrolment ratio continues to be higher for the state for example by nine percentage points when compared to the national level during the latter period.

It is important to note that about 87 percent of the educational enrolments are contributed by school (class I-XII) and 13 percent by higher education in the state against 90 and 10 percent respectively for the country during 2012-13. Despite of the constitutional guarantee of right to education and various government programmes and schemes (like Sarva Shiksha Abhiyan for elementary education, Rashtriya Madhyamik Shiksha Abhiyan for secondary education and Rashtriya Uchchatar Shiksha Abhiyan for higher education) for educational development the drop-out rate has increased in the state.

For example the school (class I-X) dropout rate has increased from 54 percent during 2001-02 to 71 percent during 2011-12 in the state against the substantial declined for the country from 66 to 50 percent during the same period.

The increase of school dropout and decline of school enrolment ratio in the state are due to the lack of interest of students to pursue for education; heavy syllabus burden; teaching a knowledge that does not address students' needs; inaccessibility issues concerning distance and mode of transportation and its associating costs (time and money) particularly for lower income households; inadequate and ineffective implementation of educational rights and government schemes to promote education by the government; and slackness of the government.

In Manipur, based on MHRD and Census of India data, the rapid population growth has led to the growth of number of school (up to senior secondary) educational institutions by 0.57 percent from 4028 during 2001-02 to 4051 during 2010-11. However, increase of number of schools does not improve its availability for the people as each school was serving 538 people during 2001-02 but during the latter period each school has served 635 people. For India, it was 570 and 564 during the respective periods.

Further, the number of higher educational institutions has also increased by 62 percent from 53 during 2001-02 to 86 during 2012-13 which has improved the coverage of its for the people as each higher educational institution attends to 41000 people during 2001-02 but serves to 30000 during 2012-13 in the state. For the country, it was 93000 and 33000 during the respective periods. It shows that availability of school educational institutions is slightly poorer in the state than the country. It has resulted to slow down the school enrolment rate and raise the dropout rate in the state.

Moreover, an availability of higher educational institutions for the people is slightly better in the state when compared with the national average. Hence, the enrolment ratio in higher education appears higher for the state as compared to the country's figure. Data derived from MHRD and Reserve Bank of India shows that the share of expenditure on education from the state revenue budget has declined from about 19 percent during 2004-05 to 11 percent during 2012-13 in the state.

It has increased from 10 and 12 percent during the same period for India. Similarly, the proportion of educational expenditure to Gross State Domestic Product has also declined from 6.2 to 5.6 percent during the same period in the state. For the country, it has increased from 2.7 to 3.5 percent during the same period. It shows that, interestingly, Manipur expended more on education than the country. It has resulted to a higher enrolment in school and higher education and higher literacy rates in the state than the country.

In Manipur, despite of such educational development the plight of education remains detrimental as many educational institutions especially schools have inadequate infrastructures ranging from class rooms, staff office to teachers. Absenteeism and adoption of proxy (who usually are untrained and unqualified) teachers in many schools particularly in rural areas is widespread. It is usually accorded by the corrupt school headmasters on commission basis. This has adversely affected the performance of the students and the school.

Public have consistently appealed to develop educational infrastructure to the Government of Manipur. Also those who fought for 2017 Manipur state assembly election made headlines in various media by visiting the miserable conditions of schools at different locations. They promised to develop such schools if they win the election. The innocent people who wanted to develop schools in their proximity believe the candidate's false promises; consequently voted for such person and won the election but, ironically, never reappeared to develop the school.

Hence, today many schools particularly in rural areas remain no better than byre with few regular teachers teaching almost every subject by compulsion irrespective of their subject specialisation due to the dearth of teachers particularly in high schools. Government has not recruited high school teachers for decades and some of the existing teachers are also absentees or deputed or transferred to other state government offices. It is a self destructing, rather than building, mechanism for school educational system.

Higher educational institutions are insufficient to accommodate the growing demands in the state. It is partially addressed by the phenomenon of significant size of out-migration for education in which billions of rupees are remitted every month from the state. Thus, by developing higher educational institutions, if government has zeal, to meet the growing demands of it the state of Manipur can attract thousands of students and retain billions of rupees.


---
* Reimeingam Marchang wrote this article for The Sangai Express
This article was webcasted on May 12 , 2018.
---
* Comments posted by users in this discussion thread and other parts of this site are opinions of the individuals posting them (whose user ID is displayed alongside) and not the views of e-pao.net. We strongly recommend that users exercise responsibility, sensitivity and caution over language while writing your opinions which will be seen and read by other users. Please read a complete Guideline on using comments on this website.