Standard Robarth Educational Trust Scholarship Award 2009
For Class VI - VIII



The Standard Robarth Higher Secondary School, located 7 kms from the heart of the Imphal city in a peaceful and pollution-free environment near Manipur University campus is a co-educational, English medium school.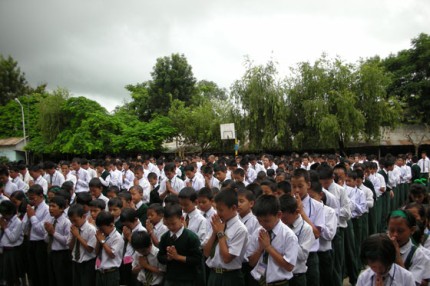 Picture Courtesy :: www.standardrobarth.com



Established in 1994, it has grown from a nascent primary school the Baby Robarth English School into what is now a vibrant full-fledged institution offering higher studies up to Higher Secondary Level.

Having established itself a bench-mark in all spheres of educational endeavour, today it stands as a prominent landmark in the educational map of Manipur.

As part of Standard Robarth Educational Trust social responsibility programme, it is pleased to announce "Standard Robarth Educational Trust Scholarship Award" with its motto Free Education for the Needy; the scheme shall provide up to 10 + 2
FREE ADMISSION FEE
FREE TUITION FEES
FREE MONTHLY MESS FEES
FREE BOARDING FEE
FREE BOOKS
FREE SCHOOL UNIFORM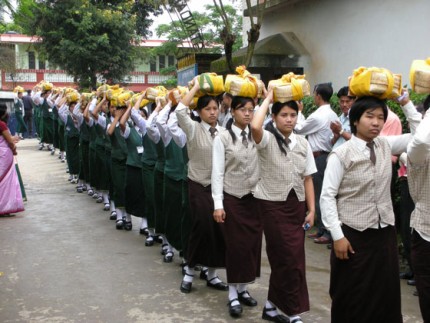 Picture Courtesy :: www.standardrobarth.com



The scholarship shall be offered to bright students selected on 'merit-cum-means' basis. Two students in each class VII, VIII & IX shall be offered the scholarship award starting from the academic session 2009.

Eligibility:
To be eligible for the Standard Robarth Educational Trust Scholarship Award , the student must have secured at least 60% in the promotional examination conducted by his / her present school.
Students currently reading in Class VI – VIII in the academic year 2008 can apply.
The student should be a residence of Manipur passed out from a recognised school located in Manipur.
Preference shall be given to Child of Widow and Orphans.
Terms and Conditions:
The Application Form completed in all aspect must reach the school on or before 21th of December 2008.(Extented till 24th December 2008) .
Date of examination is 28th December, 2008 (Sunday).
Application form can be downloaded (PDF 24 KB) from the school website free of cost


** This is a scholarships programme aimed at providing Full scholarship from CLASS VII TO 10 + 2 ( From pencil to Boarding, anything that a parent would provide to his her son/daughter ) to child of widow and or Orphans.

Regards,

Pheiroijam Romikanta Singh
Co-ordinator
Standard Robarth Higher Secondary School
Canchipur - 03
Imphal manipur
www.standardrobarth.com

In Pheiroijam Romikanta's own words - Appreciation for all
Dear e-pao team,
I would like to thank the team of e-pao for their support in our scholarship programme last year, we had received more than 500 students appearing the exam last year and we are very gladfull that e-pao.net team have enable us to choose the most appropriate students for the scholarships.

Now there are over 100 students enjoying various scholarships, some of them of them are offered by our Trust beside we approach other foreign and national agency for our student now there are many students who are getting direct scholarship from UNITED STATES and few are also the receiver of IOC ( Indian oil corporation), SBI scholarships , Manipur State Scholarship etc...

This year also we are organising the scholarship examination.
---
The above information is provided by Pheiroijam Romikanta - romikanta(at)gmail(dot)com . This announcement was webcasted on December 18th , 2008


* Comments posted by users in this discussion thread and other parts of this site are opinions of the individuals posting them (whose user ID is displayed alongside) and not the views of e-pao.net. We strongly recommend that users exercise responsibility, sensitivity and caution over language while writing your opinions which will be seen and read by other users. Please read a complete Guideline on using comments on this website.