SCHOLL Research Challenge 2010 Event Report
February 11, 2011 at Guwahati, Assam
SCHOLL Research *


Post Event Report
SCHOLL Research Challenge 2010
Conclave & Award Evening 2010
[Promoting action based research excellence in development & governance in North East India]

February 11, 2011
Hotel Brahmaputra Ashok, Guwahati
[Organisers: North East Development Foundation, National Foundation for India, International Development Research Centre, Digital Empowerment Foundation & Commonwealth Educational Media Centre for Asia]

I. Introduction

The SCHOLL Research Challenge is a platform to recognize, felicitate and encourage action based social science research in the twin areas of development and governance in the North East that has had or have potential for demonstrated impact on policy or society at large, has contributed or contribute to the efforts in scaling up development and governance practices in policy settings, or programme implementation.

The Research Awards are given to the submission that best demonstrates the impact of research on decision-making within – and understanding of the issues relating to – the public policy and/or development arena and research impact on programme implementation. The jury looks for sound case studies which show a strong connection between the research and the outcomes.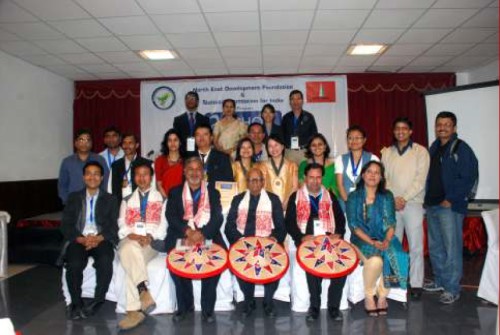 Conclave Session Proceedings
The SCHOLL RESEARCH Conclave Session began with a welcome and introductory note by Syed S. Kazi, Lead Partner, North East Development Foundation. The introductory note was followed by a panel discussion on 'Promoting Research Excellence in Development & Governance in North East'. The session deliberated on areas of scope and challenges in promoting development and governance research in the region. The session was chaired by Shri P. P. Shrivastav, Honourable Member, North Eastern Council.
The session focused on key important issues on the capacity development of researchers. Dr. Kalyan Das, Omeo Kumar Das Institute of Social Change, Guwahati, raised important issues on the capacity development of participators in the research sector, non reliability, in recent times, of researchers to complete their project in a proper manner.
The issue of young researchers not getting exposure after their master's degree needs to be addressed. Many universities outside the region provide master degree holders additional courses which help them gain more knowledge and confidence to cope up with research work challenges. This is lagging in the North East.
Dr. Pema Eden Samdup, Commonwealth Educational Media Centre for Asia, New Delhi, highlighted the point that the current quality of research by North East India researchers in many cases lacks coherence and focus. There is a lack of innovativeness in their research projects. It is time to investigate and think why the research focus in the region is not proper and innovative and why the region is not producing adequate amount of quality research.
Dr. Ananya Guha, IGNOU Institute of Vocational Education and Training, shillong, talked on radicalisation of education. He expressed the need of introducing technologies to uplift Education. He mentioned examples of people who are running schools with the help of the SKYPE. Such innovative work is truly the example of proper use of technologies in the education system and the technological competences of education. This will contribute immensely on promoting research works in the region.
Ms. Binota Loitongbam, Centre for Micro Finance & Livelihood, Guwahati, raised the issue of nurturing of local human resources in research. There is an ardent need of an institute or association to develop and train the local researchers by warehousing and implementing their research data.
Dr. Tage Kanno, Future Generations Arunachal, Itanagar, stressed the need for more of action based research in the region. Current research focus is more of academic in nature. Action based research in key areas like education and health will provide enough inputs in programme focus and implementation in the region, provided the research works finds way to policy stakeholders in right time and right place.
Prof. S. K. Kakoty, RuTAG-NE, IIT Guwahati, highlighted the fact that there are innovations going on in the region. These needs proper research and documentation for further usage and replication. Case studies on such innovations will through meaningful insight of the type and nature of solutions the region needs to address local development and governance challenges.
The session summary was made by the chair, Shri P.P. Shrivastav, North Eastern Council. The highlights of the concluding comments are these. One, development of human resource is a major challenge in the region. Developing research skills among young researchers can be one of the viable solutions to this. Secondly, there is tremendous capacity in the young minds in the region to acquire skills for better living.
Only required is proper guidance and hand holding. Thirdly, social science research in the region has to delve on areas which impacts more on development and governance issues. Fourthly, efforts must be continuously made by stakeholders to connect research outcomes with development programmes and policy implementation. There is a huge gap in this direction. Fifthly, whatever efforts are being made to promote human resources in the region, the focus has to shift to quality rather on quantifiable targets. This is important keeping in mind the rest of India is moving head. Quality efforts would capacitate youths in the region to move at par with other youths in the country.
Contact Info:
SCHOLL Research Challenge 2010
C/O - North East Development Foundation
House 10, First Floor, Nijom Path,
Sixmile, Khanapara, Guwahati - 781022
Tel: 0361 - 2363204
Fax: 0361 -2363204
Email: schollresearch@gmail.com
Web:
www.schollresearch.in
New Delhi Office:
North East Development Foundation
44, Fourth Floor, Kalu Sarai, New Delhi - 110016
Download the
whole report in PDF - 450 KB here
---
* "SCHOLL Research" contributes to e-pao.net regularly
Fahmida Tasneem For SCHOLL Research Challenge sent this information e-pao.net and can be contacted at schollresearch(at)gmail(dot)com
This article was webcasted on April 21 2011.
---
* Comments posted by users in this discussion thread and other parts of this site are opinions of the individuals posting them (whose user ID is displayed alongside) and not the views of e-pao.net. We strongly recommend that users exercise responsibility, sensitivity and caution over language while writing your opinions which will be seen and read by other users. Please read a complete Guideline on using comments on this website.