New Dawn For School Education
- Part 2 -
H. Deleep / Ranjan Yumnam / W. Chandrakumar *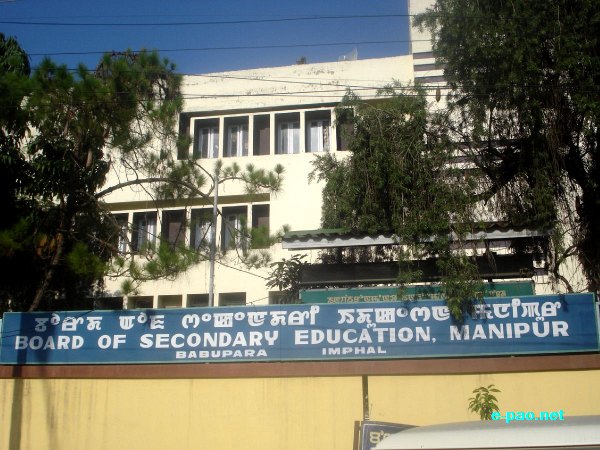 Board of Secondary Education, Manipur Building


In Education Department, nothing is easy. In other Departments with few employees, preparing seniority list is a breeze; in education, it is a hurricane of messy knots. We had to make sense of the different types of appointment orders, regularization orders and multitude of creative designations. Preparing seniority has become an exercise in deductions and assumptions and hoping for the best.

Despite such difficulties, someone has to do the thankless work, and by some cosmic force, that responsibility fell on us under the threat of contempt cases. We followed the most reasonable and humane principles to arrive at tentative seniority lists. So far, we have been able to publish the tentative seniority lists of various categories of posts.

Further, the Department is processing for filling up of the following posts through direct recruitment as well as promotion.
i. MES Grade -III (50% promotion & 50% DR) : 82
ii. Zonal Education Officer (promotion) : 9
iii. Vice Principal of the Hr. Sec. Schools : 10
iv. (a) Lecturers of Hr. Sec. School. (by direct recruitment) : 138
(b) -do- (by promotion) : 67
v. Graduate Teachers (by promotion) : 802
vi. Head Master/Primary Schools(by promotion) : 80
vii. Head Clerks/Sr. Accountants (by promotion) : 10

We however caution that the actual figures could slightly change when concrete steps are initiated.

Manipur Education Service: In a bid to infuse fresh talent and open up avenues for career development to the existing employees of the Education(S) Department, Manipur Education Service (MES) will be introduced soon. Draft Regulations are being framed and initial constitution of the service is under process.

Rationalization of posts: Our next target of attention is the disconnect between the type of schools and the number of teachers actually posted merely based on sanctioned strength of posts without reason and rhyme. This has led to some schools getting excess teachers and some needy schools being understaffed.

We have initiated the exercise of rationalization of post and formed a dedicated team to complete it on a war-footing manner. We are confident that the government would not give in to the extraneous pressures from teachers and political class to scuttle it at the last minute.

Transfer and Posting policy: Of the many daks that we received daily, many are proposals for transfer and postings. This has consumed much of our time at the expense of other important works. The Department is reviewing the transfer and posting policy, so that it may be more acceptable to all concerned. Prescribing minimum duration/tenure in a particular place of posting is under active consideration.

Outstanding remuneration/arrears: Another thrust area crying for immediate attention is in regard to timely release of grants to Grant-in-aid schools and remuneration to Contract Lecturers and employees. Owing to financial crunch, it has become an issue of ever bigger proportion as the backlog has accumulated to an appreciable magnitude. We have been pressing the Government to provide sufficient budgetary outlay to address this problem.

Language Development Cell: We are also reviewing the functioning of the Language Development Cell in the Department in view of the imminent setting up of separate Directorate. The cell performs a critical role in safeguarding the regional languages and dialects from external threats posed by dominant language and literature in this age of globalization.

e-Governance: Introduction of e-Governance and upgrading ICT skills of teachers and employees is one of our pet projects. Already, we are communicating and exchanging urgent correspondences with our field officers and schools through emails. The Department plans to eventually shift to e-governance mode in a phased manner. Our PPP partner has been instructed to set up smart schools facilities at T.G Hr. Secondary School, C.C Hr. Secondary School, Renkai Hr. Secondary School and Ukhrul Hr. Secondary School. The Department has appointed a Nodal Officer for e-procurement in pursuance of a DIT's order.

Model Schools: Special Category Model Schools are living up to their nomenclature if the results of the 201 2 BOSEM results are anything to go by. Wangkhei Model High School, Keishamthong Model High School and Ningthoukhong Model High School have produced outstanding pass-percentage above 90% on average. At Wangkhei Model High School, 30 students passed in First Division out of 32 regular students who sat in the exam. Model Schools have certainly come into their own and justified their existence. We are personally involved in their welfare; they will be strengthened further and developed to showcase them as educational institutions of excellence in terms of academic achievement, quality of teachers and infrastructure.

Performance of Govt, schools improving: If you are thinking that it is only just a handful of Model Schools that is saving the face of the Govt, schools, here's the fact-check: As per the results of HSLC examination declared by BOSEM for 201 2-1 3, students of Govt, schools are faring better than previous years. Pass percentage has increased from 42% in 2009 to 54.24% in 201 3. It may be mentioned here that Govt, schools are the convenient punching bags of all sundry organizations and because we have so many Govt, schools, any Tom, Dick and Harry can easily find a school to find fault with. Though we admit that Govt, schools are far from ideal, the tendency to project only their negative side through the media is unfortunate. We feel it is a classical example of missing the woods for the trees.

Vocational Education: The Department is focusing not just on formal education but also Vocational Education which is set to be mainstreamed as per the new national policy. We have sent proposals for introducing Vocational Education in the trades of IT, Retail & Security in a Higher Secondary School of every district in Manipur to begin with under the Revised Scheme of Vocationalisation of Secondary Education.

Mentoring System: One of the innovations that we are experimenting with is the Mentoring System. The central idea is this: Senior officials of the Department voluntarily adopt some of the schools and pay personal attention to the needs of the schools. The conventional way is for the school authorities to approach us to tell us their grievances. What we think is, now we will turn this practice on its head and we will go to the schools instead to look after their needs.

Training of teachers: With the coming of the RTE Act, it has become mandatory that all teachers are trained failing which they are to be removed from service. We had worried that training so many teachers before 2015 was a gargantuan task, given the precarious financial condition and limited institutional capacity of the State to deliver the required training. We are glad to share that Government has come out with a plan in which SCERT along with IGNOU will arrange for training of all untrained elementary school teachers within 201 5 through Open Distance Learning (ODL) mode.

Finalisation of list of Adhoc employees Over the decades, Education Department appointed many adhoc teachers/employees by different names and type of orders at different times and by different authorities. It is both a maze and a mess. When we were told to finalise a list of Adhoc employees, we definitely didn't jump in joy. But someone has to the job. So we called for claims and objections, duty certificates from Headmasters/Head of Institutions concerned who were again physically summoned to the Directorate to confirm the Duty certificates they had submitted. We ended up with a total of 1317 claimants. Based on various parameters, they were further categorized into distinct groups with clear justification. A report has been submitted to the Govt and the outcome is awaited.

Quarters for teachers: The problem of lack of accommodation in the interior parts of the state is taken seriously by the Department. Department has proposed to the Planning Department for construction of Barrack Type Teachers' Quarters at hill districts under NEC funding. If approved, teachers posted at hill districts will find some sort of succour, and we sincerely wish for it to come into reality.

Recognition of schools: So far, we have been reading the RTE Act between the lines to see its impact and implications for Govt, schools. We propose to see the Act complied by the private run schools. As an initial step, the Department is reviewing the recognition status of private schools in the light of the RTE Act, 2009. An appropriate Committee is expected to be formed to look into infrastructure, qualification of teachers and remuneration of teachers engaged in the private school sector soon.

Review of Aided Schools: Aided schools are also under our scanner. The performance of Aided Schools will be reviewed and a policy will be formulated to deal with non-performers. Pay revision of Aided school teachers: Department has not been able to revise the pay of Aided School teachers as per 6th Pay Commission norms due to poor financial position of the State Government. We are working out the financial involvement in case the pay revision were to be implemented for arriving at an objective consideration of the issue.

To be continued..


---
* This article is Co-authored by:
* H. Deleep Singh, IAS
Director of Education(S), Govt, of Manipur
* Ranjan Yumnam, MCS
Addl. Director (Valley), Education(S), Govt, of Manipur
* W. Chandrakumar Singh, MCS
Addl. Director (Hill), Education(S), Govt, of Manipur
The article was published by DIPR, Manipur Govt, on the eve of Indian Independence Day , August 15 2013
This article was posted on August 21, 2013.
---
* Comments posted by users in this discussion thread and other parts of this site are opinions of the individuals posting them (whose user ID is displayed alongside) and not the views of e-pao.net. We strongly recommend that users exercise responsibility, sensitivity and caution over language while writing your opinions which will be seen and read by other users. Please read a complete Guideline on using comments on this website.