Laudable venture for giving a face lift to school education in Manipur
Yangsorang Rongreisek *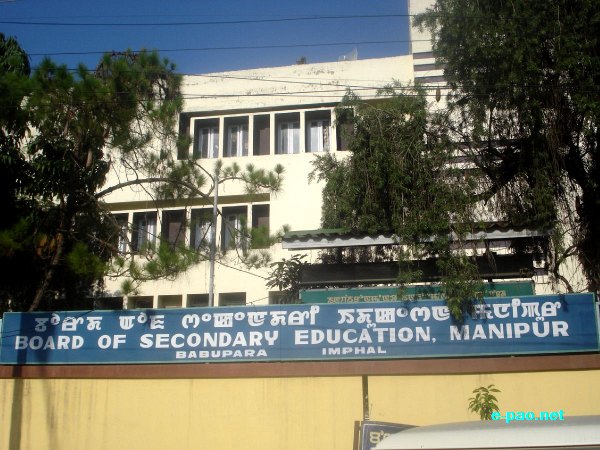 Board of Secondary Education, Manipur Building


It's possible to construct some ideas after having read a long write-up christening it "New dawn for school education - Reporting from ground zero" by three officers of high grades of the Dept. of School Education in Manipur, dwelling mainly on the progression of school education so far published serially in TSE some days ago.

The collective effort of the trio to streamline education structure in Manipur is worth hailing, simply because of the fact that no such report of achievement in certain area of departmental administration was ever flashed for the benefit of the school teachers as well as students Statewide. The venture is, indeed, praiseworthy and amazing.

In the past series of my articles on school education in Manipur had appeared in the reputable TSE. Now I have a short message to air my private view, however secondary it may be. Till the late 70s as we all know, Govt. high schools were better managed, and working discipline was very much intact. By the missionary zeals of the Head Masters of Govt.

High schools, the capacity of the students could be enhanced rapidly through internal assessment, constant counselling and other similar techniques, something like the present CCE enforced in high schools of Manipur. Graduate teachers of the enviable era were quite committed to the profession respecting their head masters and seniors in the schools. They worked on the school text-books even harder than the pupils. Because head masters of that era could work independently without much interferences from the higher-ups.

I mean head masters of yesteryears were able to exercise some of the powers conferred on them. It was an advantage for guidance in school education. The dept. too didn't adopt an over centralized approach, rather a cordial working relationship was evolved between the directorate and head masters of both hills and valley. In this way, Govt. high schools gained confidence of the guardians.

The bottom-line that cannot be overlooked may not be hurting. That is, today, the Directorate doesn't know who the head masters are —whether regular or in charge, and of what high school when there are only 12 regular head masters of govt. high schools for the whole of Manipur as against 184 or so sanctioned posts of head masters in the dept. It may be on account of lack of data base information in the dept.

It is saddening that the shape of school education if to refer to govt.schools has drastically changed, and enough of it has been known relating to the failure of the system as the underprivileged class mostly ends up in the Govt. schools. It is highly regrettable. Moreover, a sizeable number of Govt. high schools have now been reduced to mere enrolling offices.

Ultimately, all the Govt. high schools may become dead-woods since pupils of even poor income groups can make a choice to switch over to ever expanding private high schools which are said to be modern day elite schools in Manipur. Also, the existing 12 head masters of Govt. high schools have no voice in the management of the affairs of school education as their number is marginal, and 9 of them are hill based head masters. They don't get public recognition either due to downward revision of their pay scale. What a pity!

To punish unproductive high school teachers : In a democracy we are practising it, no super human being can punish the innocent. How can the dept. award punishment to the teachers when many a high school doesn't have the requisite teaching staff strength ? Govt high schools having only the minimum requirement of teachers or even less than that should not be disturbed at all and understaffed Govt. high schools provided with adequate number of subject teachers.

An overstaffed high school that recorded zero percentage in HSLCE can be censored but not the understaffed Govt. high schools. In my investigation, graduate teachers recruited in 2007 are by and large master degree holders of fresh blood who don't feel like working in the Govt high schools, and they are always longing for greener pastures so much so that the dept is engaging many of them in the Govt higher secondary schools. Thus, many high schools are facing hardship of shortage of teachers.

Introduction of MES: In my finding, introduction of Manipur Education Service is good for the State but those senior trained graduate teachers without master degree will not be eligible for the MES as 50 % of the post is reserved for promotion from amongst master degree holders. It can be examined in depth whether MES Rules, 2012 can still be amended so that the rules will cover senior trained graduate teachers who are assets of the dept and subjects expert.

In Schedule II of the rules, it is shown that PTs with post graduation degree with B.Ed, Graduate Teachers with master degree with B.Ed., any asst. head masters of high schools and head masters of junior high schools will be eligible for the post with due regard to seniority. I am sure none of them has fulfilled the prescribed term and condition. This much can be pointed out at this stage without going at length.

The centralized edifice of decision-making in which even minute procedural matters like issue of release orders of teachers on transfer, grant of leave to teachers, etc. to be done by the Directorate has greatly demoralized head masters. Likewise, abrupt transfer of teachers from one understaffed high school to the other over-staffed high or higher secondary school, sometimes against no sanctioned post without the knowledge of the head masters, re­countersignature of monthly pay bills of the employees already countersigned by the controlling officers, and many more of such practices have also hindered every scheme of school education.

To conclude, in order to minimize the burden of the Directorate, it is only fair if the dept. reverses its decision to abandon its over centralized mode of administration in school education and allows head masters to exercise their powers as admissible under rules of the dept.

It is my cherished dream that the head of the dept will skillfully employ different meters to suit the fast changing scenario in the vast education sector which is like a mini empire. It is also highly expected that the head will be anxious to afford to every head master the readiest and easiest means of bringing to his notice whatever may require his intervention or guidance.

Let the laudable venture for giving a facelift to school education in Manipur create the right pattern of staffing in Govt schools in the foreseeable future. For a positive mindset.

Thank you.


---
* Yangsorang Rongreisek wrote this article for The Sangai Express
This article was posted on August 26, 2013.
---
* Comments posted by users in this discussion thread and other parts of this site are opinions of the individuals posting them (whose user ID is displayed alongside) and not the views of e-pao.net. We strongly recommend that users exercise responsibility, sensitivity and caution over language while writing your opinions which will be seen and read by other users. Please read a complete Guideline on using comments on this website.