The Fate Of Our Mother Script
By:- Sumel Yumnam *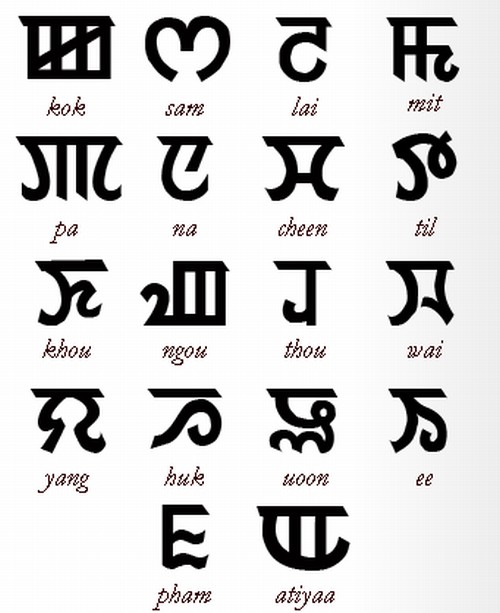 Is it right to abandon our own mother and adopt other people's mother? Would you love to call other's beautiful mother as your own and neglect your own? Does our conscience permit? Don't we feel guilty? Is it really worth? And what may be the results?

The one result which every Manipuri may have come across, through their own experiences, during their lifetime is, 'confusion'. When we are ask to write something about ourselves in our script, are we not going to be confused? Are we going to write in Bengali script or Manipuri script? And how many of us know how to write in Manipuri script?

Is it not a shame for us?

We are using a script which is alien to us, which is from a far-off land, which does not come from our mother, which is not from this soil, which is being enforce upon us by our own people. The funny part is, we are good in adapting other people culture. We became accustomed to this foreign invaders. We know that, this do not belong to us, this is not the script of our ancestors but still, we do not care. And those who care and know, they are not doing enough to bring change.

Is it not our duty to change the mistakes that our forefathers have made? Is it not the duty of this new generations who are intellectually stronger to rectify these mistakes ?

A day will come when all of us will be enlighten and our hunger for our own mother's script will overwhelmed us.

We can make that day happen, today,...... now,........ this instant....

People from other state think that we don't have our own script. They think that we are using a 'borrowed' script. They are right in what they see. We cannot blame them. Is it not our fault? We are hiding our own script under shelves and using other people's script. It is like promoting other people brands instead of my own.

People with no script means, we are culturally poor, less developed society, less intellectual. Are we happy and satisfied when people think we belong to the reserved category. Are we proud of being one?

We know this is not true. We belong to a race with rich culture and heritage. Our script is highly developed. But we are not doing enough to use it, instead we are mostly using this 'borrowed' script. Why do we need to show partiality to our own mother? Why are we still using a script which is foreign to us? Why cannot we used our own script and proudly see our script written on our currency notes.

Though in recent times, steps have been taken up to make Manipuri script reached to the masses, it is not enough. There are several hurdles coming from different sections of the society. It is going on in a snail's pace. The growth and change has to happen rapidly. Otherwise several generations will be at a lost. These generations will become adults without knowing their script and its values.

Let us imagine a young man completing his engineering and earning in double digits salary with a high status in society but not knowing how to write his name in his mother script. Can we say he is a complete man? Can we say he has achieved his objectives in life? What are the worth of those objectives which has nothing to do with his values? Where does he stand? Where is his identity? He may be a big shot in name and status, but he is one of the poorest of the poor.

To implement the process and for a rapid change, a separate body need to be established, measures need to be taken to make Manipuri script a compulsory subject in High schools. Young generations and students should be encouraged to take up this subject. Seminars, workshops, and conferences should be conducted on the importance of Manipuri script. The value of our script should be inculcated to them.

Our government is a late riser in this matter, but now it has taken up steps and measures to make our script available in schools. This may not be enough. Why do we have to wait only for the government. Is it also not the duty of the common people, civic bodies and non-governmental organisations to take up this issue.

To remind everyone that it is time we wake up from our slumber and realised the importance of our own script. Are we going to wait for some people to do our things. This is our responsibility, every Manipuri's responsibility.

All this things will be a success if we started the change process in a peaceful and democratic way.


---
* Sumel Yumnam (a Social Change Agent) contributes to e-pao.net for the first time. The writer has a Master Degree in Social Work with specialization in Human Resource Management from Bharathidasan University. The writer can be contacted at sam(dot)yumnam(at)gmail(dot)com
This article was webcasted at e-pao.net on 01st June 2011.
---
* Comments posted by users in this discussion thread and other parts of this site are opinions of the individuals posting them (whose user ID is displayed alongside) and not the views of e-pao.net. We strongly recommend that users exercise responsibility, sensitivity and caution over language while writing your opinions which will be seen and read by other users. Please read a complete Guideline on using comments on this website.