Meitei mayek or Manipuri alphabet : The origin of alphabet and development of writing
Dr Irengbam Mohendra Singh *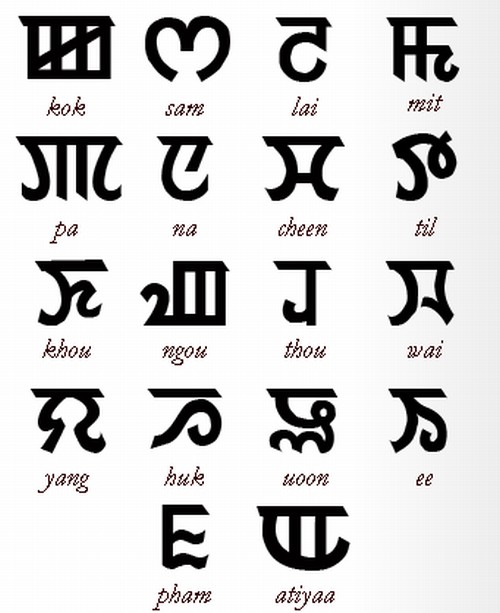 Meitei mayek Characters


This is not an article about the boring premise of a series of overlapping stories about who the Meiteis are - migrants; what language is Meiteilon - Tibeto-Burman; and where Meitei mayek is borrowed from. - Bengali. All guesswork.

The time has come for every self-respecting young Meitei person to put out the spark ignited by some foreigners, which has now become a fire spreading across middle-aged Meitei intelligentsias that, we ourselves, our language and our alphabet are borrowed from somewhere else.

The days of some of our mythology-befuddled forefathers (my father never believed it) who were drip-fed the idea that Meiteis are the descendents of Arujan of Mahabhrata is long gone. Mahabharata itself is regarded as fiction my many including myself. The brain-washing was intended to rid Meiteis of their tribalism and bring them to mainstream Hinduism.

Remember, what you think of yourself - Meiteis, Meiteilon and Meitei mayek is more important than what others think of you and them.

It was only right that amidst the controversy about the number of letters in the Meitei mayek or the Manipuri alphabet, the Government of Manipur in 1980, decided to accept 27 as the preferred number of letters (Manipur Gazette, No. 33, 1980), regardless of what numbers they were originally.

The importance of the number of letters in the alphabet is to enable the language to be articulated with perfect speech sounds with a system of graphic symbols that can be used to convey all thoughts. The old Meitei mayek lacked a few speech sounds. For example, ancient Meiteis pronounce P instead of B. There was no B. That is why they called Meitei Pangal instead of Meitei Bangal (Muslims coming from Bengal); Cheitharon Kumpapa instead of Cheitharon Kumbaba.

An efficient alphabet has letters that spell exact speech sound by sound as in English, unlike Japanese or Chinese (Mandarin) characters that are phonetically deficient.

The largest script is Devnagari - Vedic script that has an alphabet of 53 letters. The Hindi alphabet in order to represent both Sanskrit and modern vocabulary, has been expanded to 58 with the 'khutma' letters ie letters with a dot added to represent sounds from Persian and English.

We know that the origin of Meitei mayek is in Kangleipak (Manipur). The matter ends there. We don't have to copy type someone's guesswork that keeps changing. It is like the old joke: a copy typist was given a letter to type but it had a dead fly stuck on a line. She typed the letter and lifted the dead fly and pasted it carefully on the spot as in the original letter.

Let's move on to higher and better things, such as Meiteis are about to say the magical word Abra Kadabra to make Bengali script disappear and transliterate all books into Meitei script.

During my student days there was no regular spelling system in Meiteilon (to spell means to split a word into its letters). Meiteilon could be Meiteiron. Ishing (water) could be Esing. But the spelling is now regularised as words undergo a spelling reform to realign the writing with the contemporary spoken language.

What's more thrilling - Manipuri language in Manipuri alphabet will soon be printed along with other 15 Indian languages on the Indian promissory banknotes. Its rank fostered by the technological brilliance is that most inquisitive Indians will know there is a major Indian language - Manipuri with its own alphabet.

While bubbling over with this excitement and enthusiasm I decided to do a mini study (not PhD style) in the origin of alphabets and history of writing, and publish a column in a simplified essay for young students.

The date of origin of the Meitei mayek is unknown - only guess work - 11 or 12 or 15th century. It is more than unlikely that some of the Meitei puyas "that did not fly away" (as if they would) that were allegedly burnt, would have given the date. Ancient puyas were undated and unauthored.

The Meitei alphabet like the Korean Hangul alphabet is unique. It is named after parts of the human body. The Hangul alphabet of Korea was created by Sejong the Great. It is a featureless alphabet, where many of the letters are designed from sound's place of articulation. For example, P is designed to look like the widened mouth or L to look like the tongue pulled in.

Like Meiteis and Meiteilon the Meitei mayek has no known descent from any alphabet that is currently employed all over the world. It is different from the Tamil alphabet used by Burmese, Devnagri by Tibetans and Pictographs by Chinese - the alphabets used by peoples from whom Meiteis are guessed to have originated. Guesswork is always at the risk of being flamed.

Like the Korean language I believe, the Meitei language is an isolate - as it cannot be classified into any language group even after extensive efforts. More than a hundred years after Grierson's classification into Tibeto-Burman it has now become a bastard. If this state of affairs continues for a while, Meiteilon will be termed a "language isolate". However, this is a subject best left to language experts.

The history of the English word alphabet started in ancient Egypt from the second millennium BCE. However, it is widely believed that the original alphabet reached the modern world via the ancient Greeks, but there is no knowledge of how and when it appeared in Greece.

The fundamental advantage of the alphabet or script (a writing system based on letters) over other forms of writing systems lies in its economy. The prestige of any script is of paramount importance in the history of scripts all over the world.

The prestige of Meitei script is the historical fact that it has been in use for writing Meiteilon for over 2,000 years until it was replaced by Bengali script during British rule. A highly advanced Bengali literary system with its printable die or type, helped by Bengali clerks from Sylhet, motivated the British to introduce it.

The influence of Bengali Vaishnavite religion in the backdrop of illiterate Meiteis was not inconsiderable. The first primary book from which I learnt Bengali script was called 'Lairik Mapi'- the Beginners' Book, beginning with Ima Ipa, Itao Inao, Tada Mama. It was written by a Bengali-educated Meitei from Cachar.

All alphabets including the Chinese and Japanese pictographs are symbols to represent sounds or phonetic signs. And all writing systems use a mixture of phonetic (study of all spoken sounds) and semantic signs, such as facial expressions and body language, which in written language, are things like paragraph, structure and punctuation. Words, and script that employ words, involve both sounds and signs.

There are a few archaic scripts such as Mesopotamian cuneiform, Egyptian hieroglyphs. Linear B and others, but they are now the preserve of the scholars.

The origin of modern Indian scripts are equally as unclear as the origin of Meitei script. The earliest known Indian inscriptions are those of Ashoka (c. 272-232 BCE), They are rock edicts written in two contemporaneous scripts - Kharosthi, and Brahmi. Kharosthi was written from right to left. Ultimately, Kharosthi died and Brahmi survived.

Some years ago my wife, son and I went to see the Ashoka Edicts at Dhauli hills, 8 km south of Bhubaneswar. It is presumed to be the area where Kalinga War was fought.

Linguists say that more than 200 south and southeast Asian scripts derive, directly or indirectly from the Brahmi script - that is nearly all the Indian scripts. They include southern scripts, used to write Dravidian languages, as well as northern scripts used to write Sanskrit and its descendants. (They overlooked Meitei mayek).

In the case of Meitei mayek it might have been that Meiteis used their sophisticated knowledge of phonology and grammar to organise their alphabet differently from that of the Brahmi alphabet in which, as in Meieteilon, consonant sounds that express inherent vowels, ie syllables are of utmost importance. This has something to say about Meitei civilisation.

Writing was born for administrative purposes eg counting the number of goods exchanged. The spontaneous invention of writing came about thousands of years ago in an independent way in different parts of the world and it took further thousands of years to mature as we see it today.

Next came phonetic writing system based on the mechanism of 'rebus' - the representation of a word or syllable by an object the name of which resembles in sound the represented word or syllable. That was followed by syllabic writing - using a single symbol for an entire word, and finally alphabetical writing arrived.

Experts believe that one day, all these scripts will probably go the way of earlier scripts that became extinct, depending on the power, prestige and vitality of the cultures that use the script. Thus the Iraqis and Egyptians now use the Arabic script.

Manipuri alphabet or Meitei mayek, luckily, has just been resurrected from its death bed, hidden behind Bengali script. We should be very grateful to the "Meetei Mayek" activists - the MEELAL.


---
* Dr Irengbam Mohendra Singh wrote this article for The Sangai Express as part of 'Diaspora Speak' Column
The writer is based in the UK and can be contacted at imsingh(at)onetel(dot)com
This article was posted on September 10, 2014.
---
* Comments posted by users in this discussion thread and other parts of this site are opinions of the individuals posting them (whose user ID is displayed alongside) and not the views of e-pao.net. We strongly recommend that users exercise responsibility, sensitivity and caution over language while writing your opinions which will be seen and read by other users. Please read a complete Guideline on using comments on this website.