<!EpnHeading8>Public rally demands end to crime against women<!EpnHeading8End>
Source: The Sangai Express
Imphal, June 29 2013 : A public rally was held today demanding an end to all sorts of crimes against women and children and it was followed by a public meeting at Leimayol Arts Centre, Singjamei Chingamakha.

The rally which was flagged off from Kakwa Lamdaibung by MLA Th Bishwajit was participated by people belonging to different communities of both the hills and valley.

Members of JACs constituted in connection with different cases of rape and/or murder also took part in the rally.

The rally started from Kakwa and passed through Singjamei Bazar before culminating at the hall of Leimayol Art Centre for a public meeting.

The rally cum meeting was organised by different associations including Women Action for Development, North East Dialogue Forum, Tangkhul Shanao Long Imphal, Tangkhul Shanao Long Ukhrul, All Tribal Women Organisation Chandel, Kuki Women Union, Naga Women Union, People's Platform Secretariat, RLP etc.

The participants carried along placards which read as, "MLAs, wake up", "Stop genocide", "We want justice", "We want peace", "Punish rapists according to law", "Strengthen all police stations", "Punish women murderers", "Introduce gender budgeting in Manipur", "Investigate properly all cases of crime against women" etc.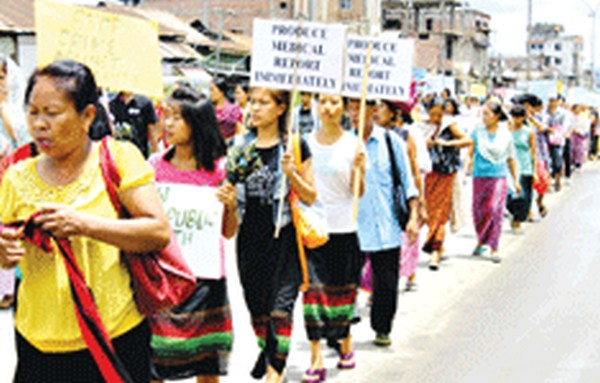 Participants at the public rally
Addressing the public meeting, WAD secretary Sobita Mangshatabam lamented that crime rate against women has been rising every year.
Girls as young as two years and women as old as 70 have been raped.
All the rapists should be awarded exemplary punishment.
Apart from rape, girls and women are suffering from domestic violence.
During the months of May and June this year, five women died due to reported suicide and uxoricide.
There were gruesome reports of women being hacked or stabbed to death by their own husbands or family members.
In spite of all these ruthless cases, there have been very few cases which have been properly investigated and charge-sheets filed in time, Sobita lamented.
It is all the more unfortunate that the incumbent 60 MLAs do not see any merit in discussing the soaring level of crimes against women and possible measures to check it.
Naharol Thoudang Editor Khoirom Loyalakpa noted that Government has been unable to bring justice to numerous cases of rape and murder including the cases of Nilam Panchbhaya, RK Tamphasana etc.
The Government's failure to bring justice is indirectly abetting criminals to continue with their nefarious activities.
Chinglen Maisnam observed that there is no clear cut separate fund allocation for women and children in the State's annual budget of Rs 9400 crores for 2013-14 .
Even as gender budgeting has been already introduced in many States, the Government of Manipur has not even considered it.
It would require public pressure for the Government to introduce gender budgeting.
The meeting also drew up a charter of demands including a demand for disclosure of the exact figure of legal actions taken up against cases of sexual violence rape and domestic violence.
Sensitization of security personnel on gender and laws to ensure protection of women is another point of the charter.
Sensitization on gender issues at school level, formulation of gender budgeting policy for all departments including Social Welfare Department and timely payment of pension under social welfare and other schemes to deserving citizens were some other demands drawn up at the meeting.
Revival of Manipur Human Rights Commission, appointment to Government offices in gender neutral manner, formulation of Manipur Urban Street Vendor Policy, extension of monetary aid to victims of crime and domestic violence and women living with HIV/AIDS were also listed in the charter of demands.
The meeting was also attended by TKS president Grace Shishak, RLP president Panti Golmei and Kuki Women Union president Rose Mangshi.
It is said that copies of the charter of demands drawn up at the meeting would be submitted to the Union Home Minister, the Governor of Manipur, the Chief Minister, the Home Minister, the Assembly Speaker as well as MLAs.
* Comments posted by users in this discussion thread and other parts of this site are opinions of the individuals posting them (whose user ID is displayed alongside) and not the views of e-pao.net. We strongly recommend that users exercise responsibility, sensitivity and caution over language while writing your opinions which will be seen and read by other users.
Please read a complete Guideline on using comments on this website.