<!EpnHeading20>Visa on Arrival to begin from August<!EpnHeading20End>
Source: Hueiyen News Service
Imphal, June 29 2013 : As per directives from the Union Ministry of Home Affairs to begin Visa on Arrival service from August this year, a high level official team of State Government inspected the Land Customs office complex at Moreh today.

According to an official source, the official team inspected the Land Customs office to check necessary requirements to facilitate the Visa on Arrival.

The official team included Principal Secretary of Commerce and Industries O Nabakishore, Additional DGP (Intelligence) Santosh Masela, Joint Secretary (Home) Gobri, SDPO of Moreh Balram, who is also Immigration Officer, Deputy Commissioner (Customs), Imphal, General Manager of BSNL, Manipur, and information officers of Manipur Information Centre.

The team thoroughly inspected the office complex to take up necessary modifications and repairing works prior to the beginning of Visa on Arrival service.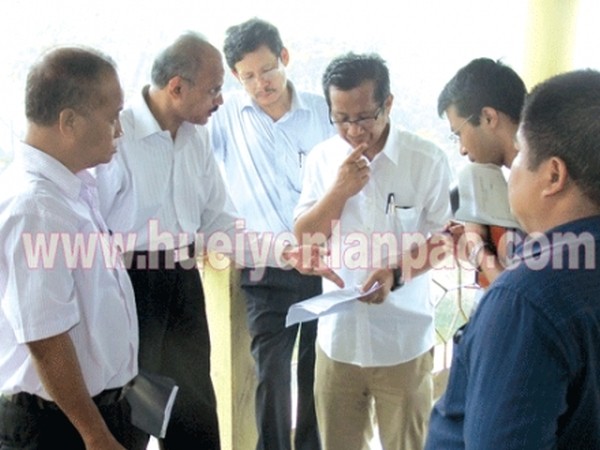 Official team inspecting necessary requirements
The works for starting this service have been delegated to several departments.
The BSNL has been entrusted with the task of laying optical fibres to provide internet facility round the clock to the visa office.
The National Informatics Centre (NIC) would provide computers that can be used for 24X7 services besides installing facilities for internet connectivity, while the State Home Department would be responsible for providing security.
A prominent official of State Industries Department told Hueiyen Lanpao that the present office complex of Land Customs needs to be modified in view of setting up computer room, VIP lounge and other rooms for officials.
He said that the State officials along with other Central officials inspected the Land Customs office in order to begin modifications and repairing works for starting Visa on Arrival service from August.
India is trying to build up good ties with Myanmar in terms of trade and mutual cooperation.
The Indian officials are in constant communication with the Myanmarese authorities regarding Visa on Arrival service, the official noted.
He further stated that many Myanmarese people are willing to come to the State to have medical treatment.
Chief Minister Okram Ibobi has even assured of providing healthcare assistance to Myanmar, and so the Visa on Arrival facility would help many Myanmarese to come to Manipur without any disturbance after completing certain formalities at Moreh, the official added.
* Comments posted by users in this discussion thread and other parts of this site are opinions of the individuals posting them (whose user ID is displayed alongside) and not the views of e-pao.net. We strongly recommend that users exercise responsibility, sensitivity and caution over language while writing your opinions which will be seen and read by other users.
Please read a complete Guideline on using comments on this website.